We are proud to team up again with American artist Trenton Doyle Hancock for "Color Flash for Chat and Chew, Paris Texas in Seventy-Two", this monumental tapestry commissioned by the Museum of Fine Arts in Houston, on permanent display at the new "Nancy and Rich Kinder Building."
The 10×24 ft. piece depicts a multihued forest saturated with color, for Hancock the world's most nurturing substance and an antidote to racism. The title pays homage to the "chat and chew" visits his aunt hosted for friends and family in the 1970s.
The rug is made of wool and silk on a cotton foundation and is meticulously hand-carved for high-contrast detail.
Two smaller editions of the piece (60×132"), which explore different color hues are available exclusively through James Cohan Gallery in New York.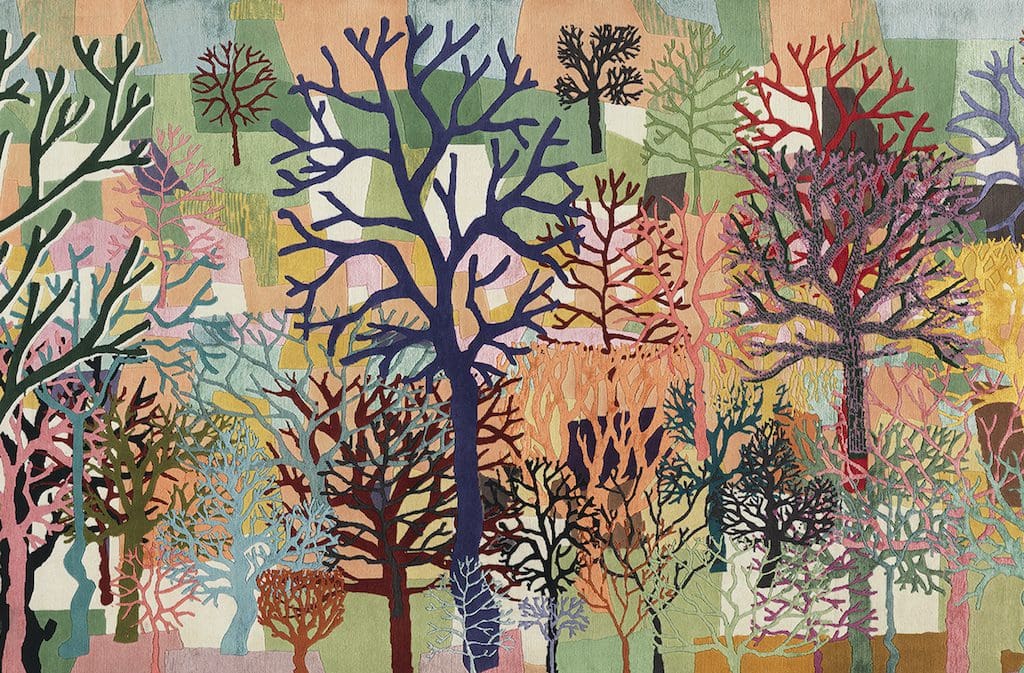 TRENTON DOYLE HANCOCK
Trenton Doyle Hancock (b. 1974, Oklahoma City, USA) is a multidisciplinary artist whose body of work ranges from paintings to sculpture, animation and beyond. He grew up in an all American household governed by Christian ideals. Pulling from his own personal experiences, art history, myriad pop culture references and an obsession with superhero comics, he has constructed a fantastical narrative known as "The Moundverse" – populated by characters and plots that explore universal concepts of morality and ethics and everything in-between.
MFAH
The Museum of Fine Arts, Houston, is among the ten largest art museums in the United States. Established in 1900, the museum collection numbers nearly 70,000 works and embraces the art of antiquity to the present. The new "Nancy and Rich Kinder Building" is dedicated for the display of the Museum's outstanding and fast-growing international collections of modern and contemporary art, it has been designed by Steven Holl Architects.
Installation view: photo by Thomas Dubrock, courtesy of the Museum of Fine Arts, Houston.
© Trenton Doyle Hancock 2020. Image courtesy the artist and James Cohan, New York. Photo by Phoebe d'Heurle.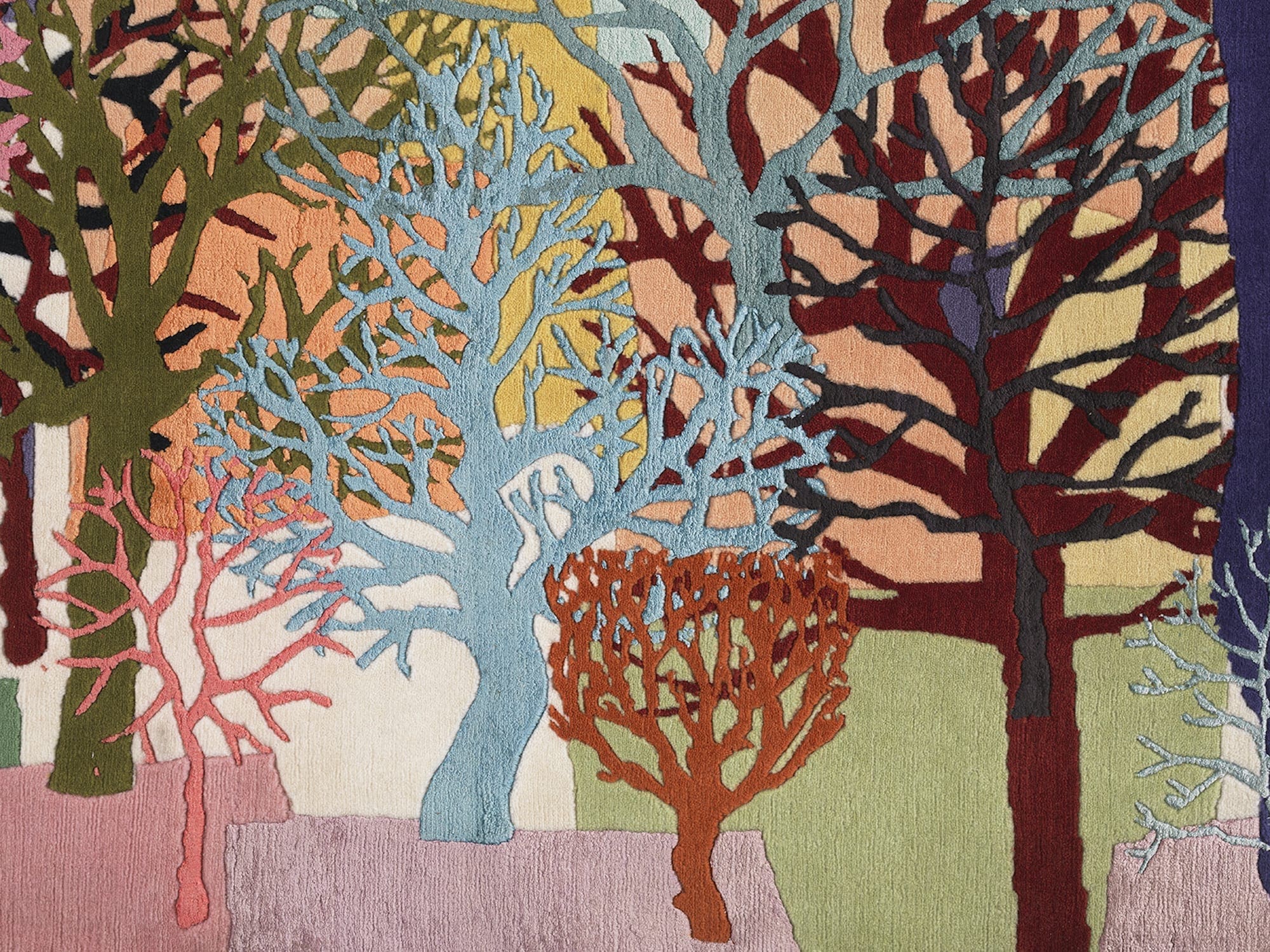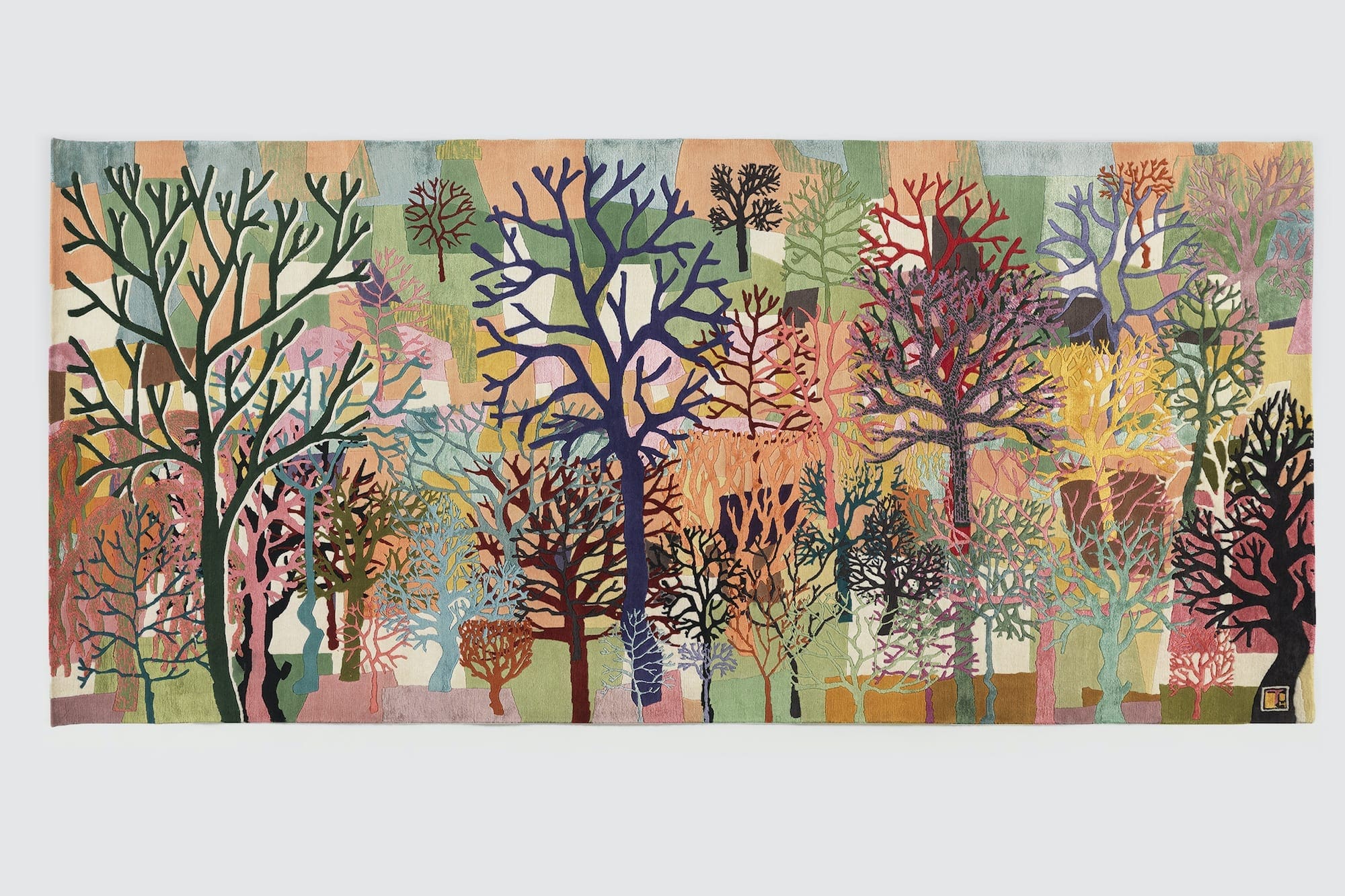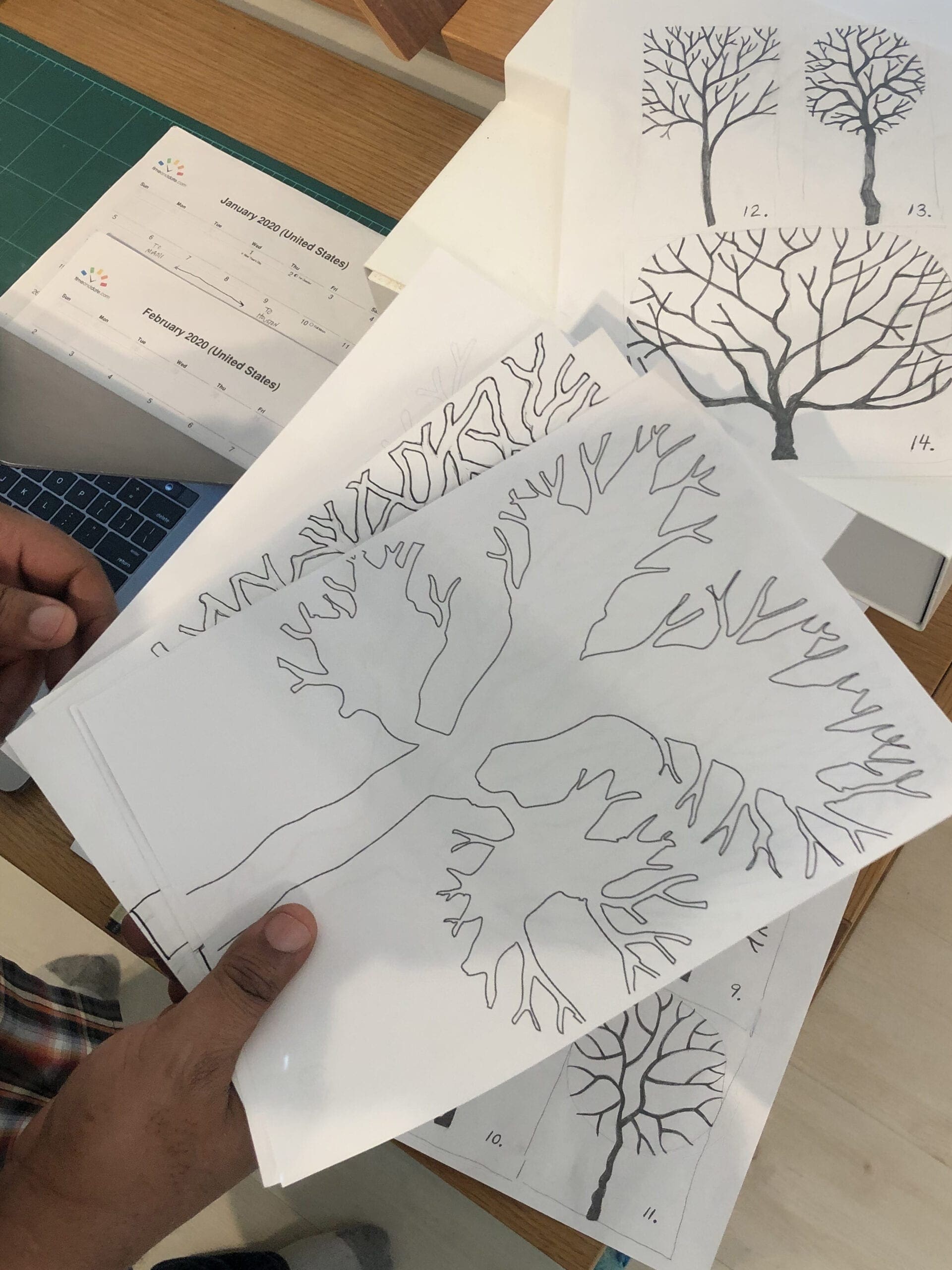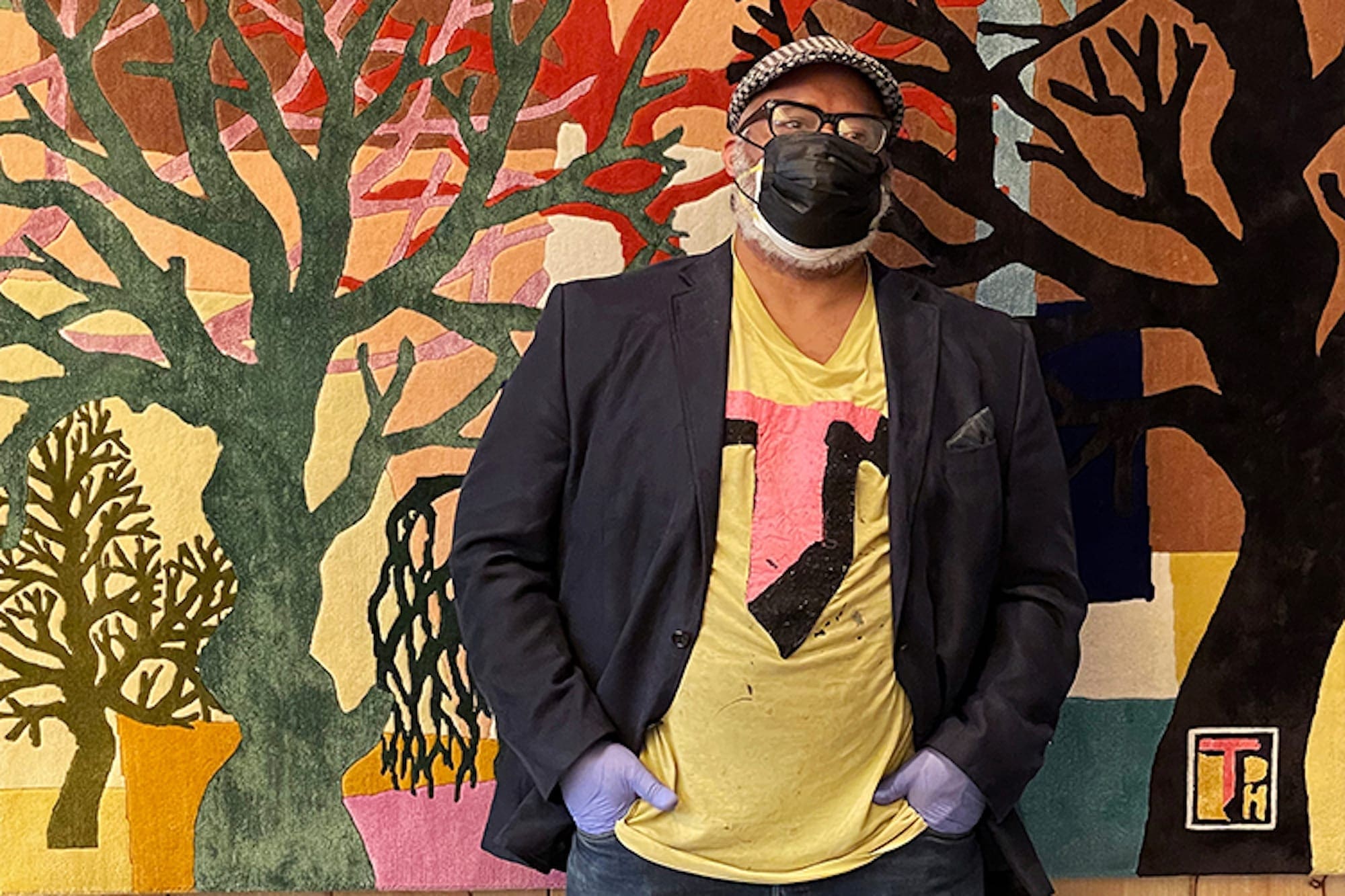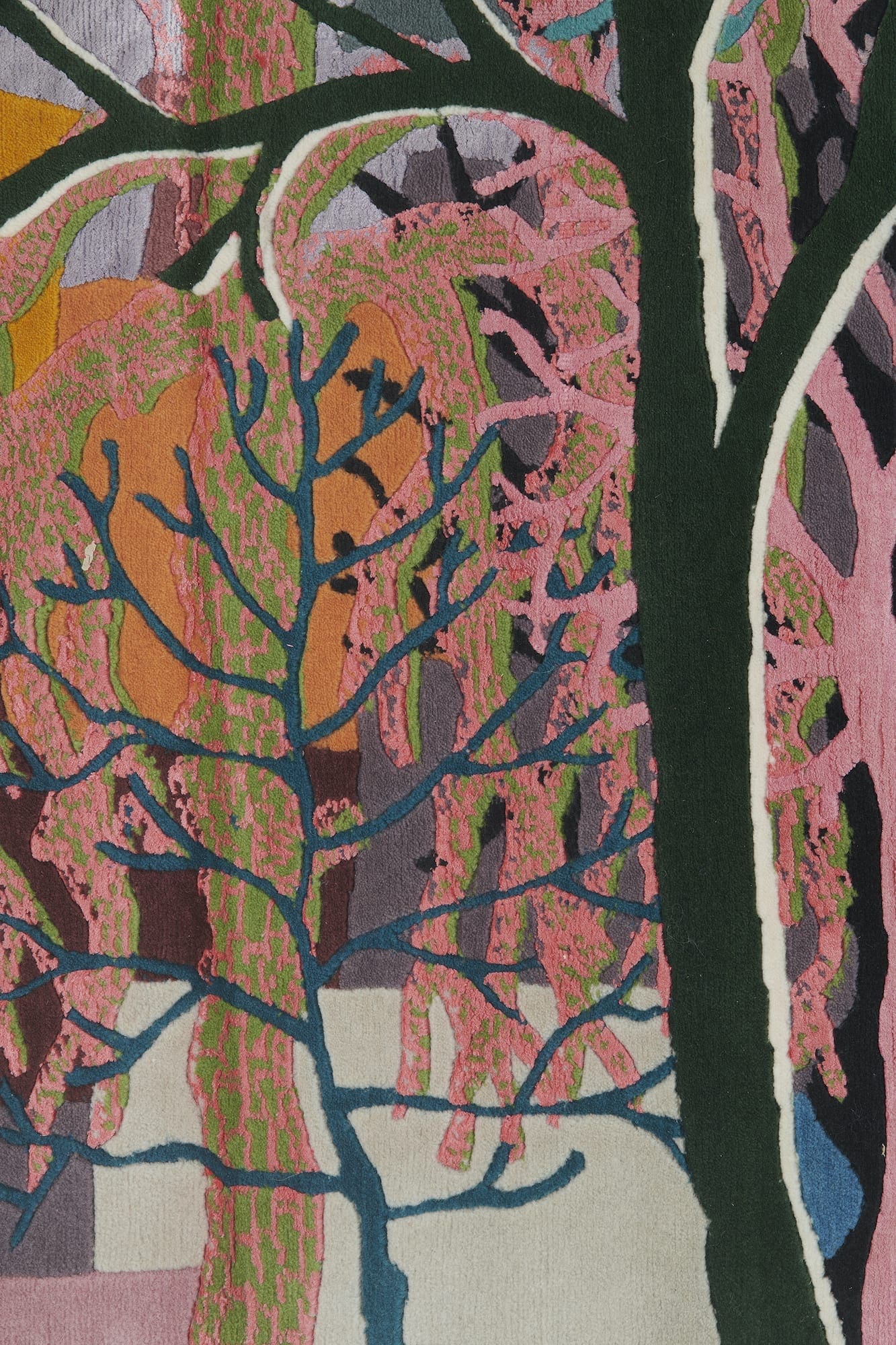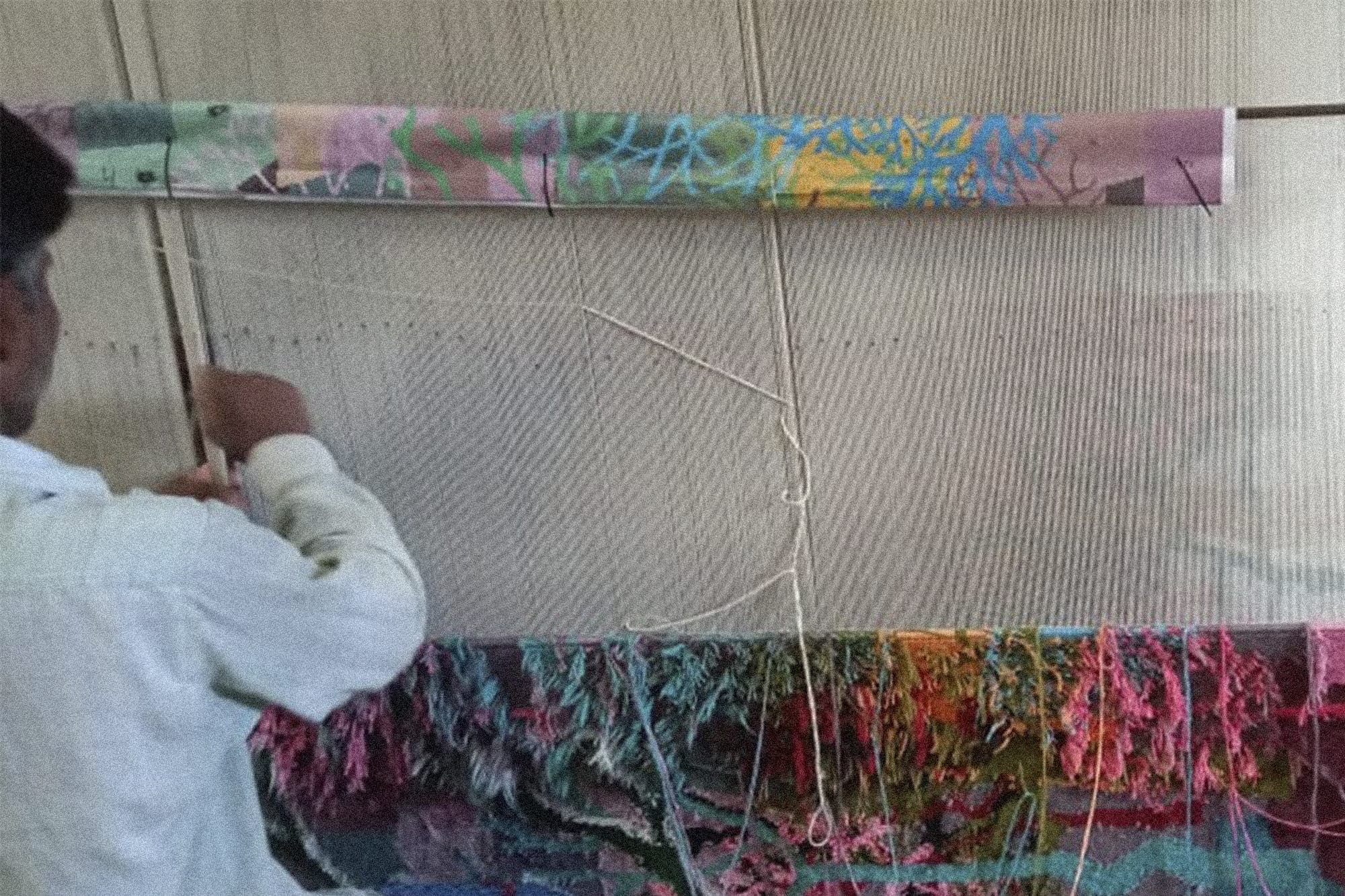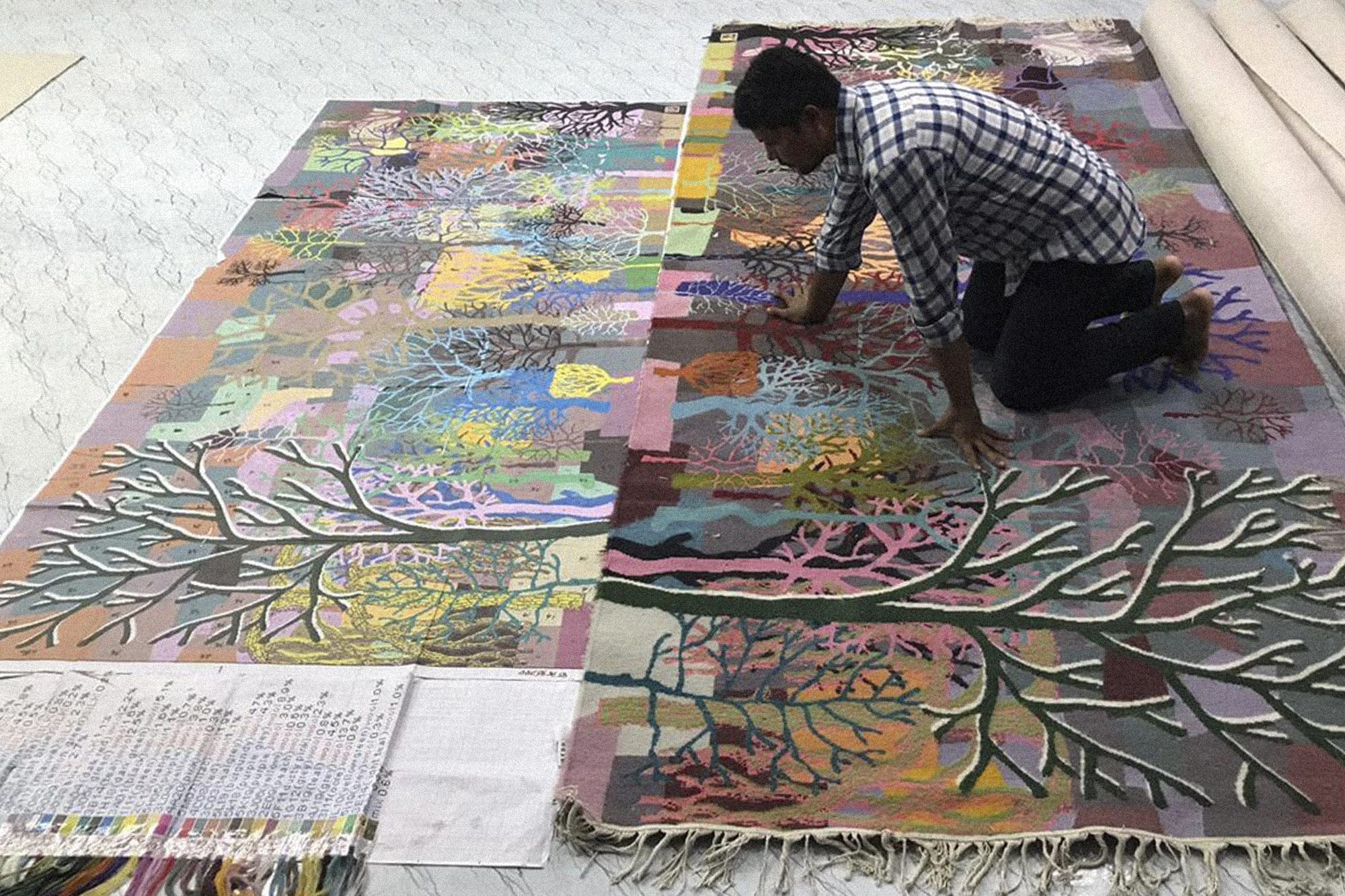 Our CEO Jaime Odabashian and Trenton recently discussed the collaboration:
Jaime Odabachian: Please could you tell us how this new commission, "Chat and chew Paris, Texas 1972" for the MFAH fits into your "Moundverse"? 
Trenton Doyle Hancock: The tree iconography has been part of my work for over twenty years now, and I describe it as the magic side, the side for potential and growth. For me it also connects very specifically to the geography from where I grew up in Paris, Northeast Texas.
What made you choose this particular image for the MFAH comission? 
The MFAH wanted something similar to "Good Vegan Procession #5", which they had previously exhibited. That piece was originally a backdrop for  "Cult of Color: Call to Color," by Stephen Mills, 2008. It measures 54ft wide by 18ft high. It's a very tactile piece. Since I did not want to make a scale replica for the smaller space the commission would live in, my suggestion was to create something new but keeping it in the world of textiles and that's how Odabashian came on board.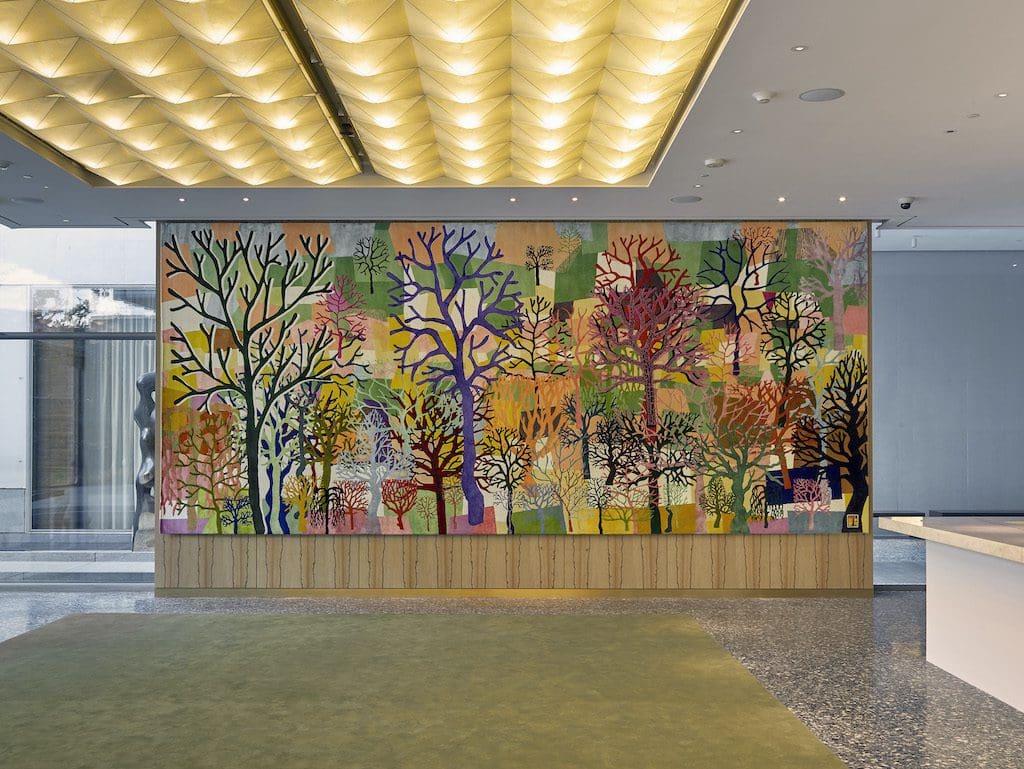 Could you explain the process of working with us in terms of translating it into a tapestry?
Myself and the museum agreed on was something with a very similar feel in terms of color, lyricism, and general emotional impact. The scale (10ft by 24ft) is still quite large, so I made templates of trees in my sketchbook at a manageable scale, and shared them with Johanna Boccardo at Odabashian. Together we started to reimagine build up the composition on the computer. Once I got to the Odabashian studio in Miami we defined the forms and colors on the computer and with many samples to hand to decide techniques and materials. I wanted to make sure we could control that the piece had a consistent tonal range and that we could diced what stood out and what didn't. From there it was a case of refining the design on the computer and then sending the patterns and samples off for production. It was a fairly tight turnaround and with Covid we were limited to digital updates, but as always the finished piece came back and exceeded my expectations.
How did you feel when you saw the finished piece? How did the artwork evolve?
I was excited! "Chat and chew Paris, Texas 1972" has maybe 4-5 different depths to it and there's no comparison to what you see on a screen. Of course it's not as tactile as "Good Vegan Procession #5" because those that has maybe 25-30 layers of depth. The two things are part of the same world but different, which is what I intended. As I mentioned the new commission is still a very big piece – so it's got presence and its completely hand made, it has a lot of presence.
How did this experience and compare to our previous collaboration on "Mound #1 The Legend" in terms of the learning curve and the final result?
Like all the projects we have done – I think four or five by now – it's been really fascinating to see the layers of information and the different teams of people we have to bring on board to realise our vision. This perhaps was not as complicated as "Mound #1 The Legend" since that had an architectural dimension to it but the weaving of this piece in terms of the design is probably more complex – so it was something new again for me. I like that with each collaboration I learn new things and that gives way to new ideas for the future.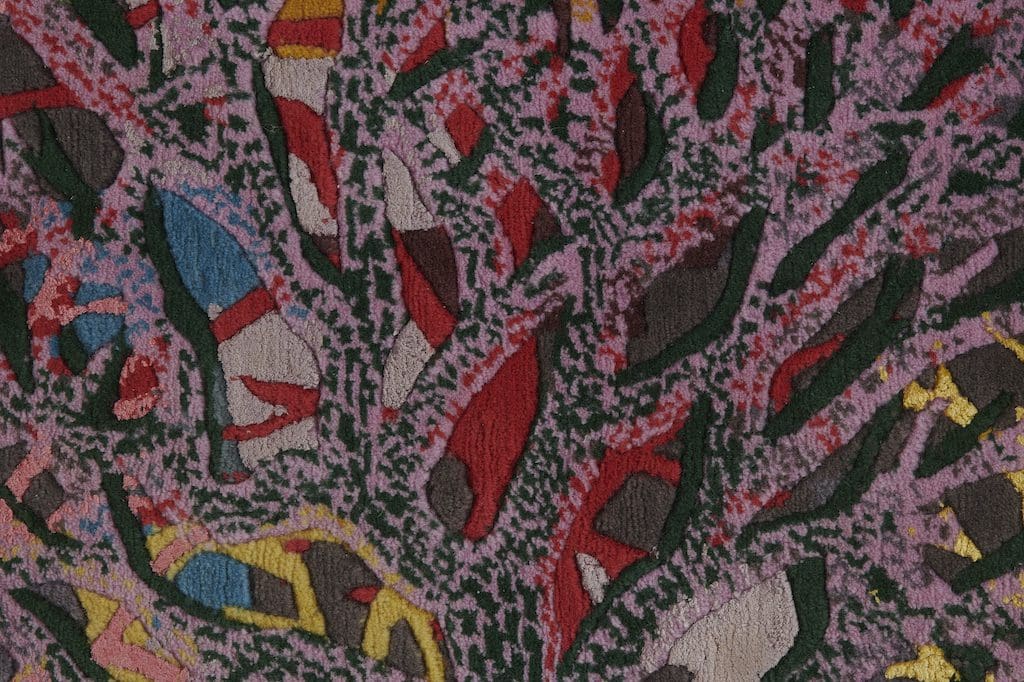 Has this project given you ideas for things like that you want to do in the future?
Yes, I have a complete bucket list of things that I want to execute in textile, and I think I found my soulmate in Odabashian.
Has working on such a large and important commission in your home town made this project even more special for you?
I'm very excited for the museum and its team. Especially for Alison de Lima Greene, now she has this dedicated space, and I really do think she'll be able to shine and stretch her abilities as a curator, and for Gary Tinterow who is the director of the museum who has been very hands-on in its evolution over the last eight years.
This new building will take what is already an incredible institution to new places. It's going to be an international destination, this whole museum is about: highlighting contemporary ideas, behaviours, and art within this stunning building. There are so many huge artists who have contributed site-specific works, so for me to represent Houston and and be among those names is very special.
Finally could you talk about the smaller editions of "Chat and chew Paris, Texas 1972" created for James Cohan gallery?
They measure 60 by 132 inches so they are much smaller than the piece at the MFAH. These have a different color palate – they are a kind of 'winter' version. They will be an open edition and available exclusively through James Cohan, my gallery in New York.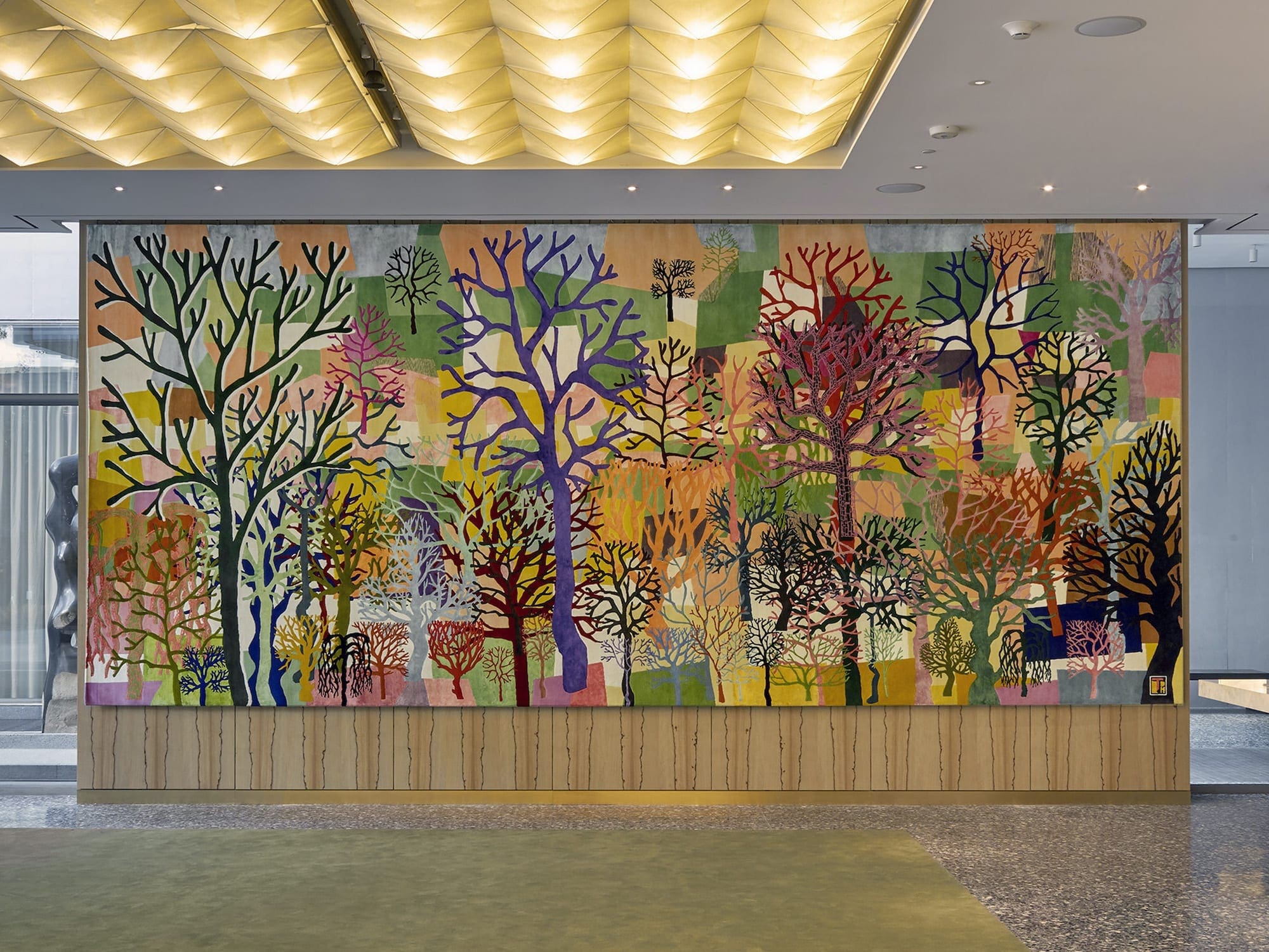 Color Flash for Chat and Chew, Paris Texas in Seventy-Two
Wool and silk on a cotton foundation
Meticulously hand-carved for high-contrast detail
Unavailable (Unique Piece)