Over the last 3 years Odabashian worked with with Trenton Doyle Hancock on a sculpture that pushes rug making into new territory – creating a 13 x 28 foot hand-knotted sweater for 'Mound #1 The Legend'.
Mound #1 The Legend
Trenton Doyle Hancock (b. 1974, Oklahoma City, USA) is a multidisciplinary artist whose body of work ranges from paintings to sculpture, animation and beyond. He grew up in an all American household governed by Christian ideals. Pulling from his own personal experiences, art history, myriad pop culture references and an obsession with super hero comics, he has constructed a fantastical narrative known as "The Moundverse" – populated by characters and plots that explore universal concepts of morality and ethics and everything in-between.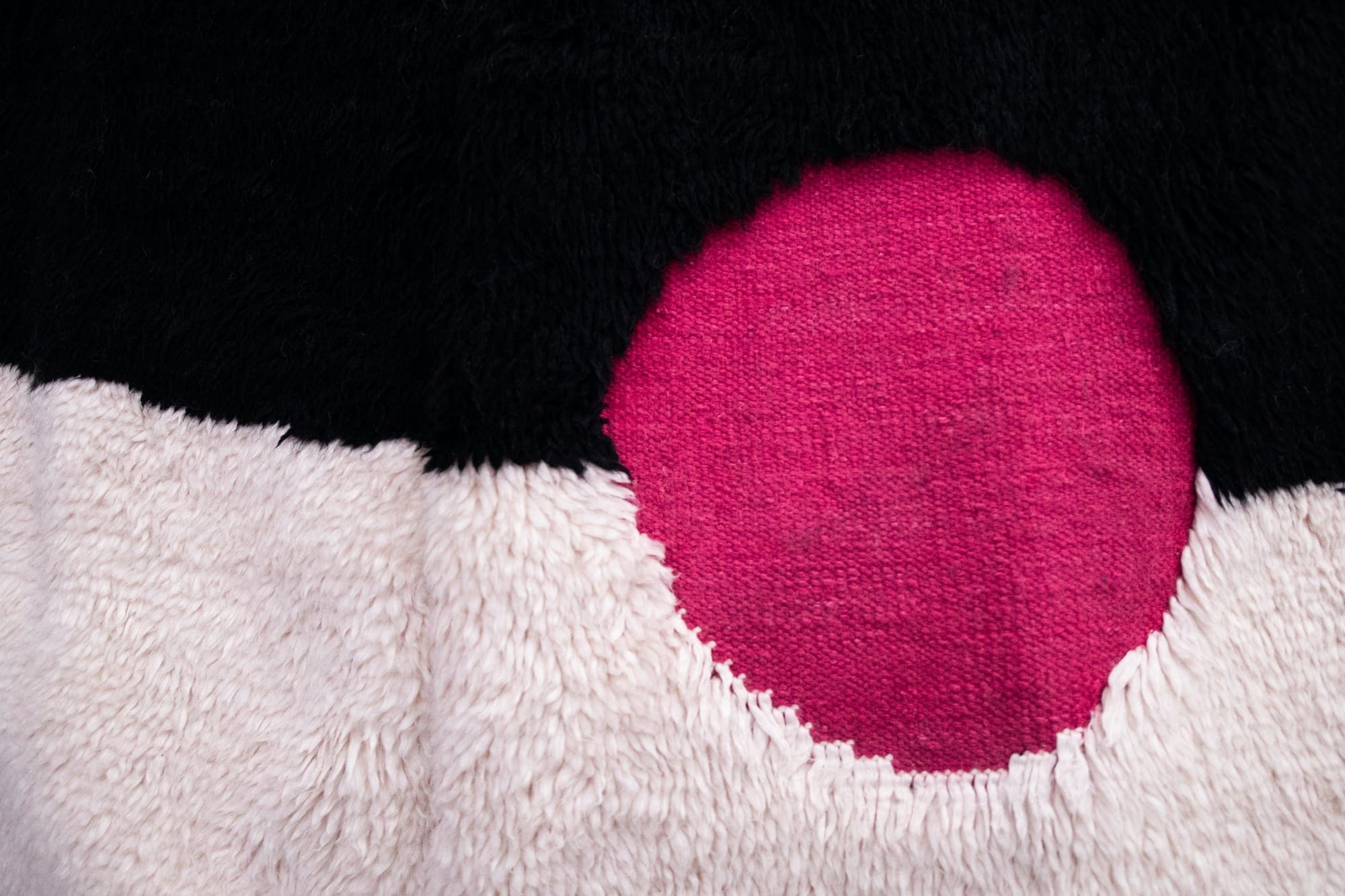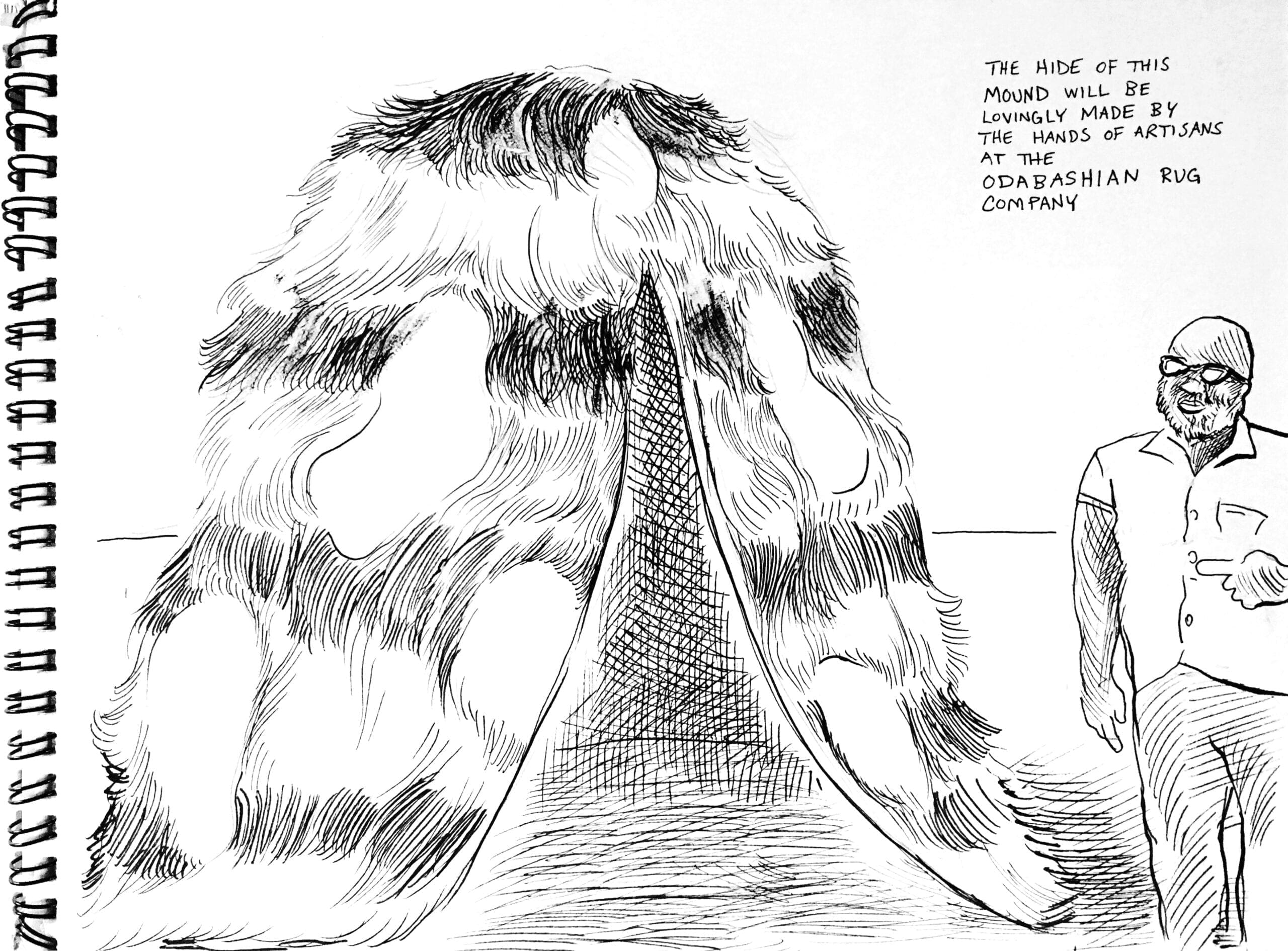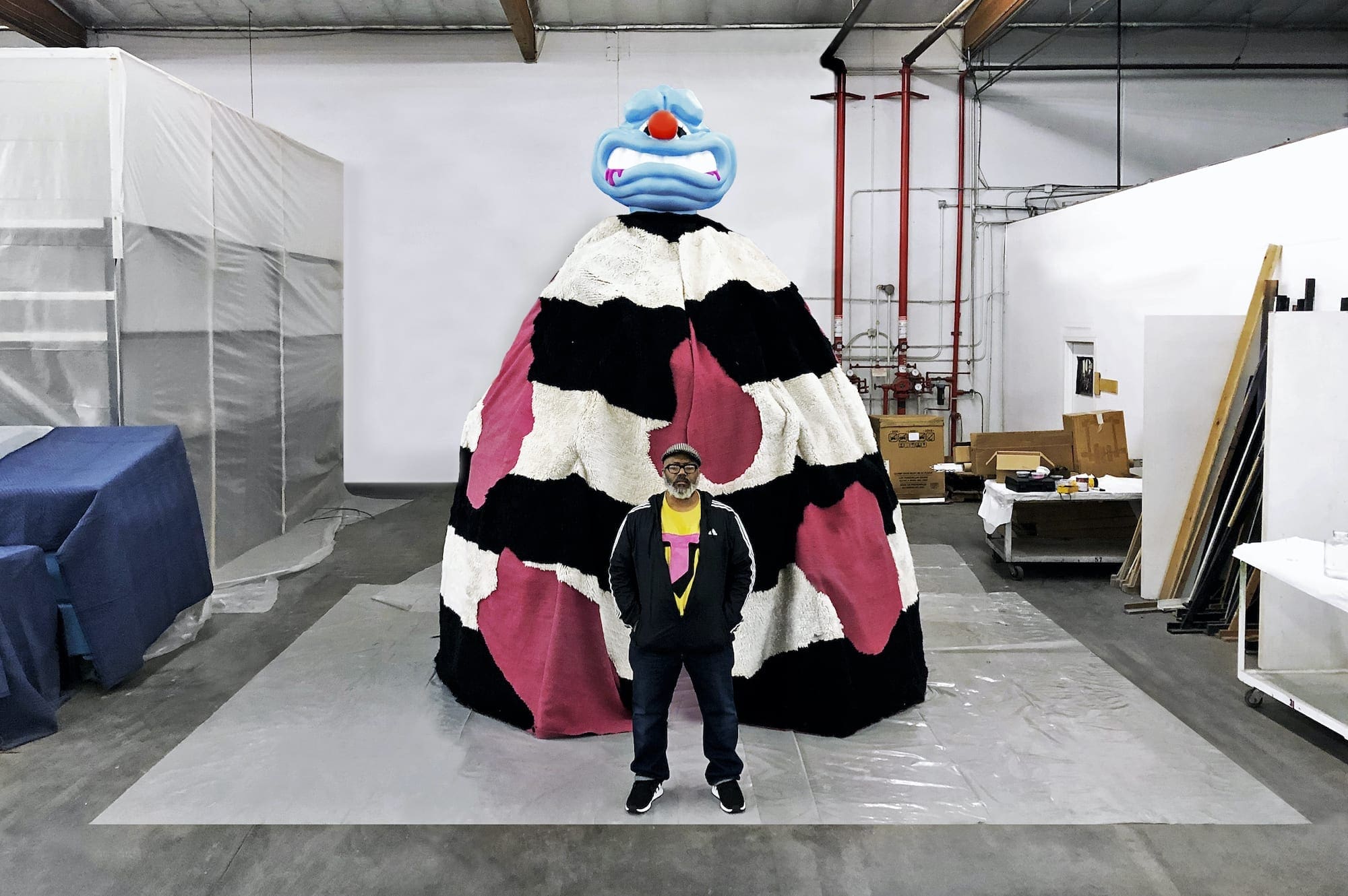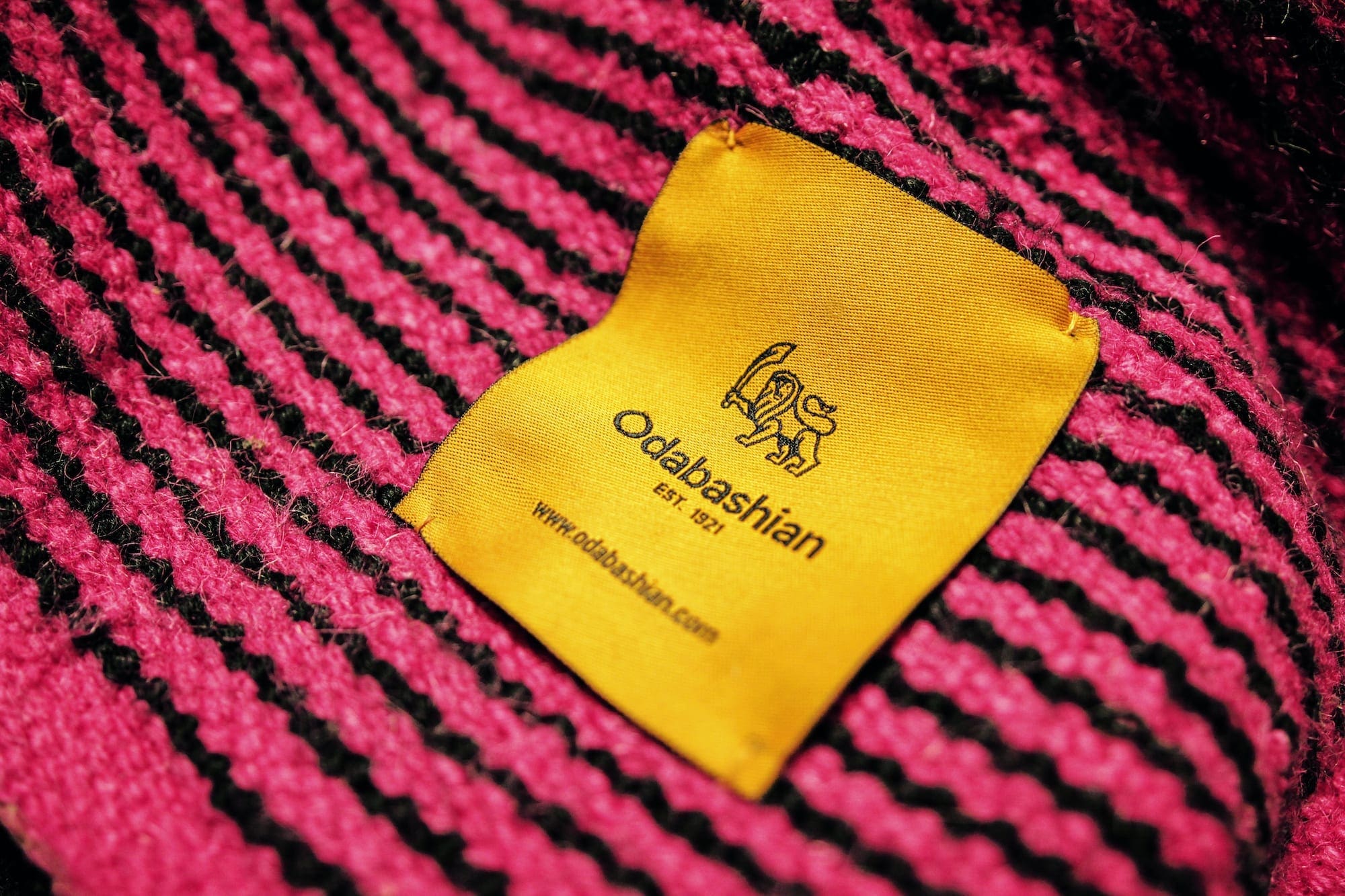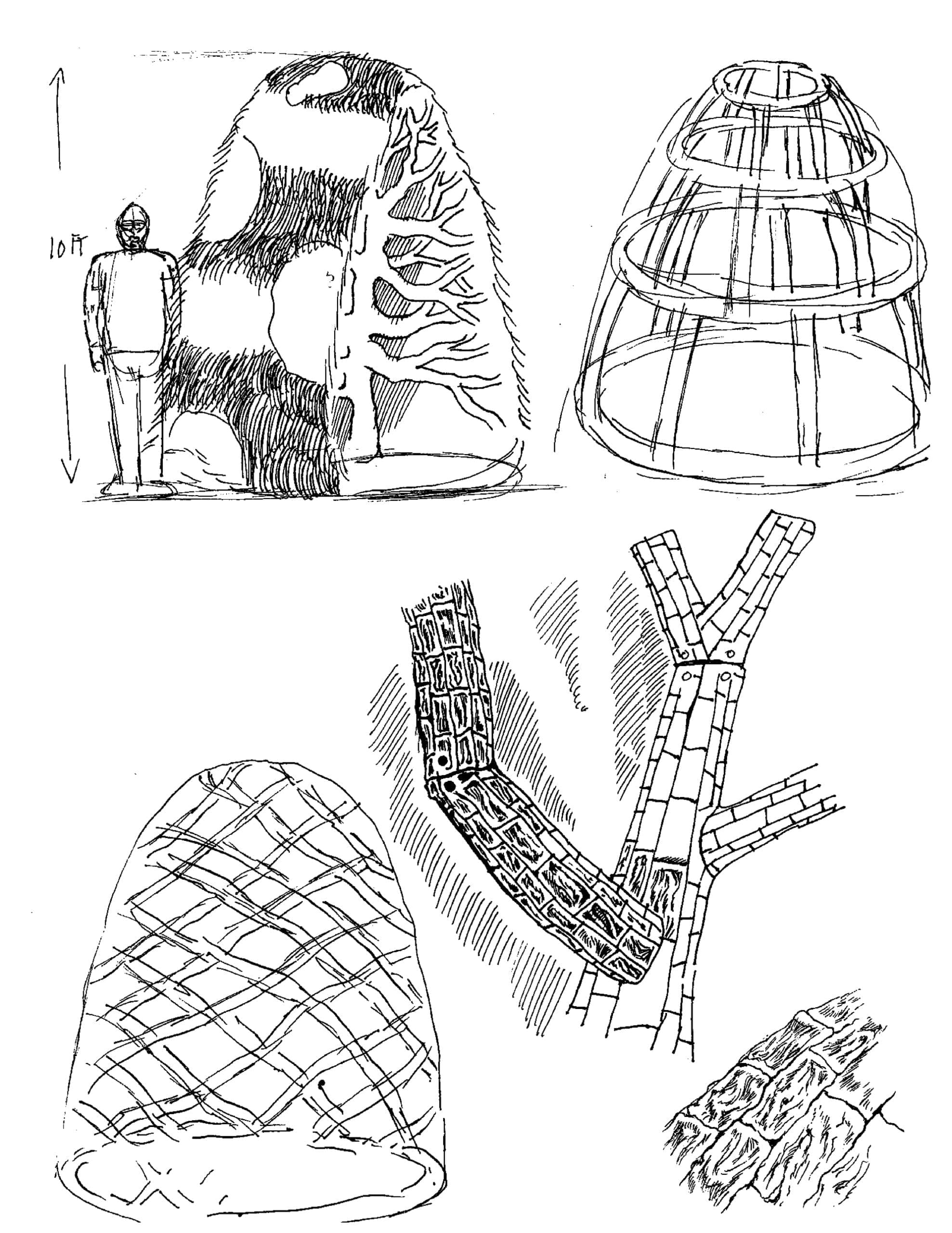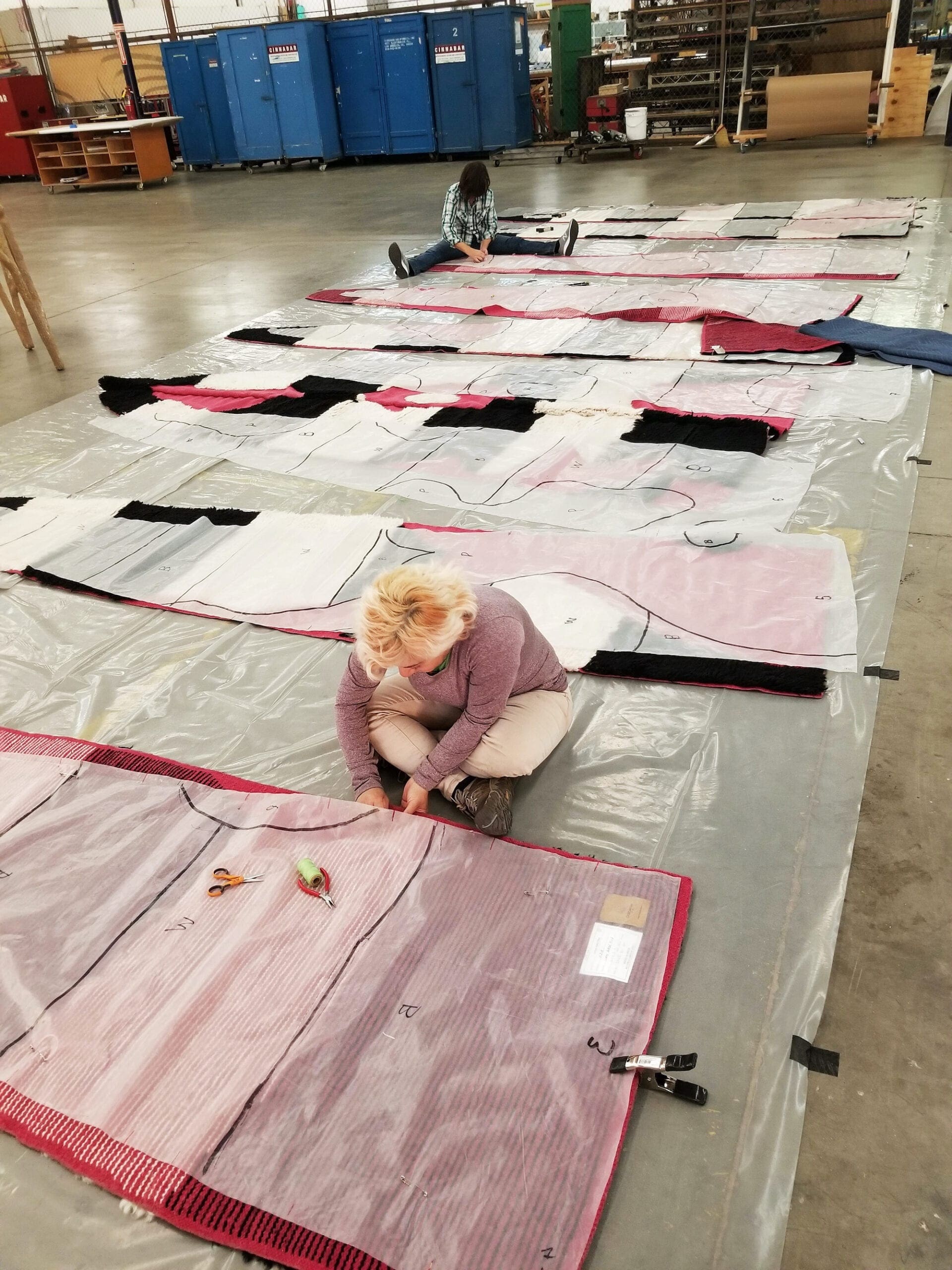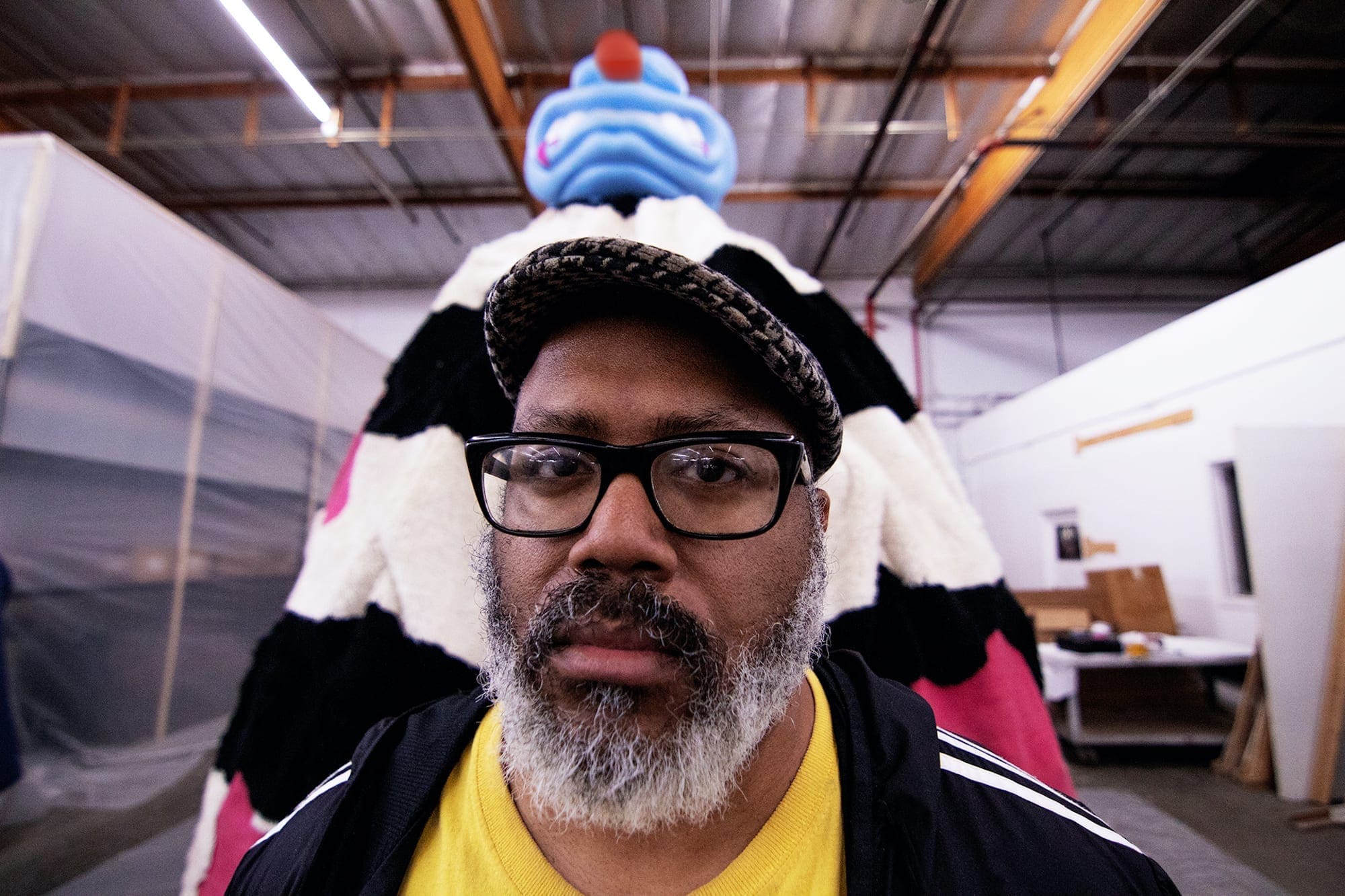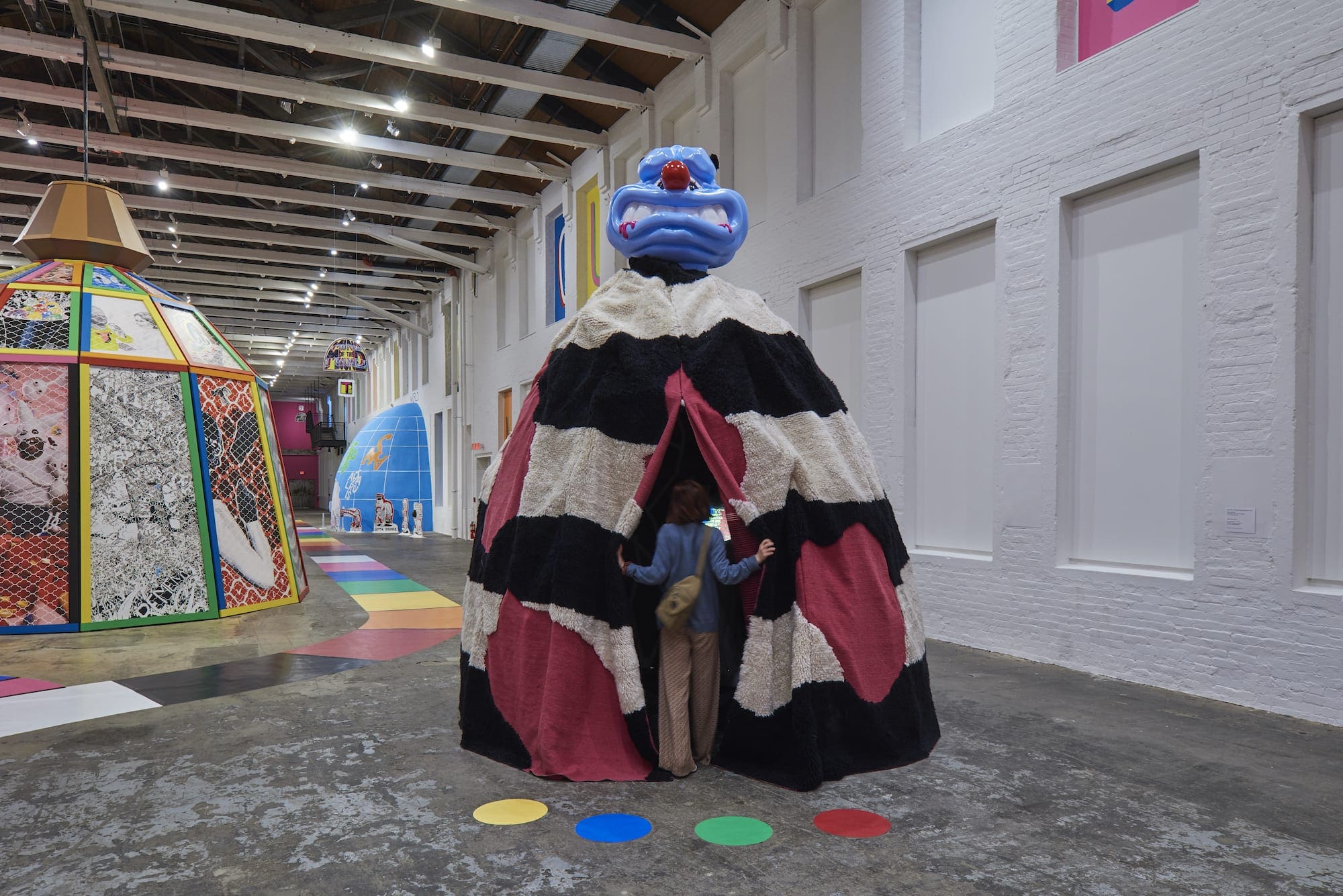 "The Moundverse is a creation myth, it's a way for me to understand my surroundings, as I've experienced them. There's thousands of creation myths. But I don't feel it's my duty to know all the particulars about all of them. My understanding of them is through, my experience and the documenting of my so-called truths." – Trenton Doyle Hancock.
The next chapter in The Moundverse will come to life on March 9, 2019 at the Massachusetts Museum of Contemporary Art, when Trenton's solo show 'Mind Of The Mound: Critical Mass' opens.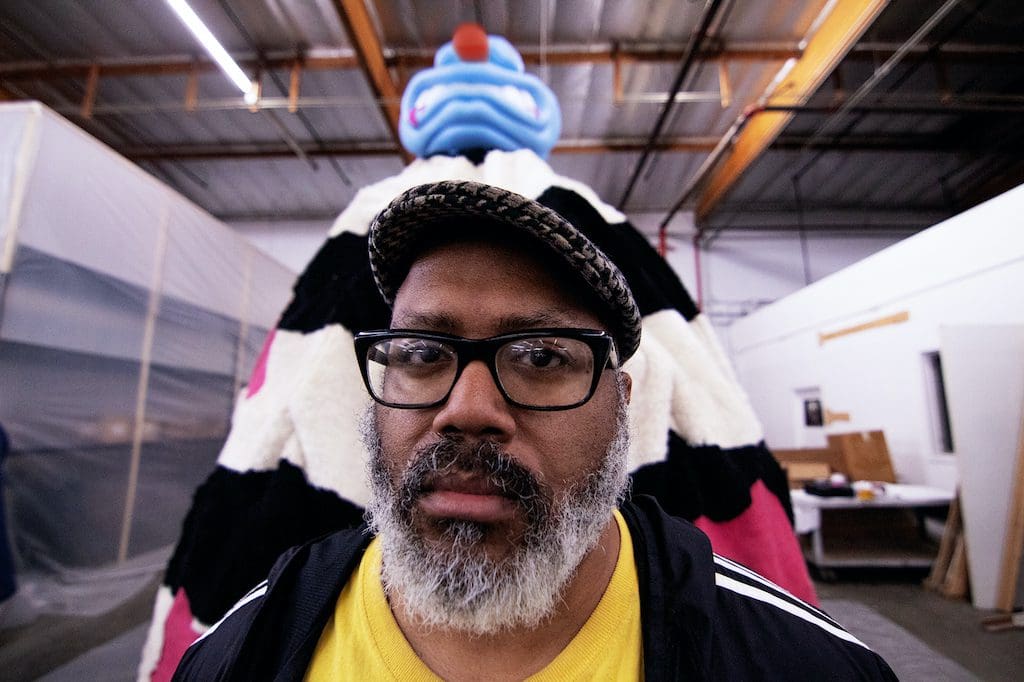 Mound #1 The Legend is one of many new works created for the show. The 13-foot tall sculpture took over three years to complete – starting when Hales Gallery Director, Paul Hedge introduced Trenton to Jaime Odabachian. Enthused by early discussions on how the artwork would come to life Odabashian brought on-board Juan and Laurie Corral at Cinnabar to develop The Mound's structure and sculpt its head – or processing unit as Hancock refers to it.
"This project pushed us out of our comfort zone but it fits perfectly within the scope of what we are trying to accomplish as a brand. We want to push the hand-knotted medium into new directions that people haven't thought of before." – Jaime Odabachian, Odabashian Co-Owner.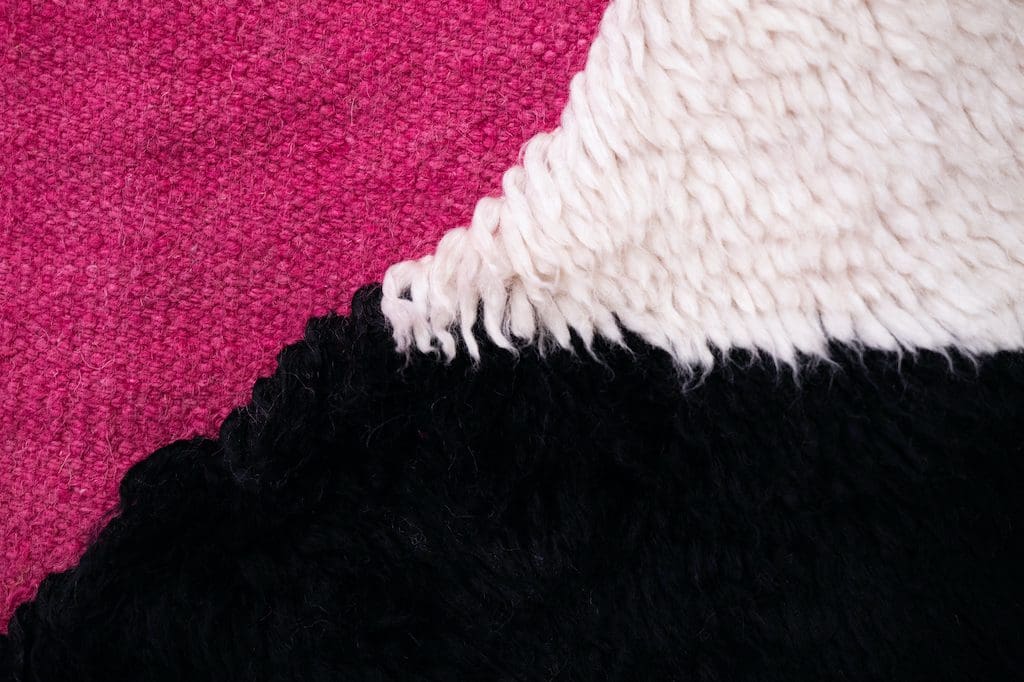 The Mound's "Sweater" was produced by Odabashian in Varanasi, India taking five months to weave. It is made from 100% New Zealand semi-worsted, high-luster Merino yarn, woven using a Moroccan knot over a flat woven kilim on an Egyptian cotton foundation.
The structure of Mound #1 The Legend was fabricated by Cinnabar in Los Angeles, USA. The Mound stands at approximately 13 feet tall (10 ft Mound + 3 ft for the head). The body is constructed from tubular steel, covered in an epoxy clay used to achieve a cartoon, tree bark texture. The head is made from hand painted fiberglass.
Mound #1 The Legend will be exhibited as part of Mind Of The Mound: Critical Mass – on show at the Massachusetts Museum of Contemporary Art from March 9, 2019. The Teenage Mound Pelts are available via the museum, Odabashian or Hales Gallery.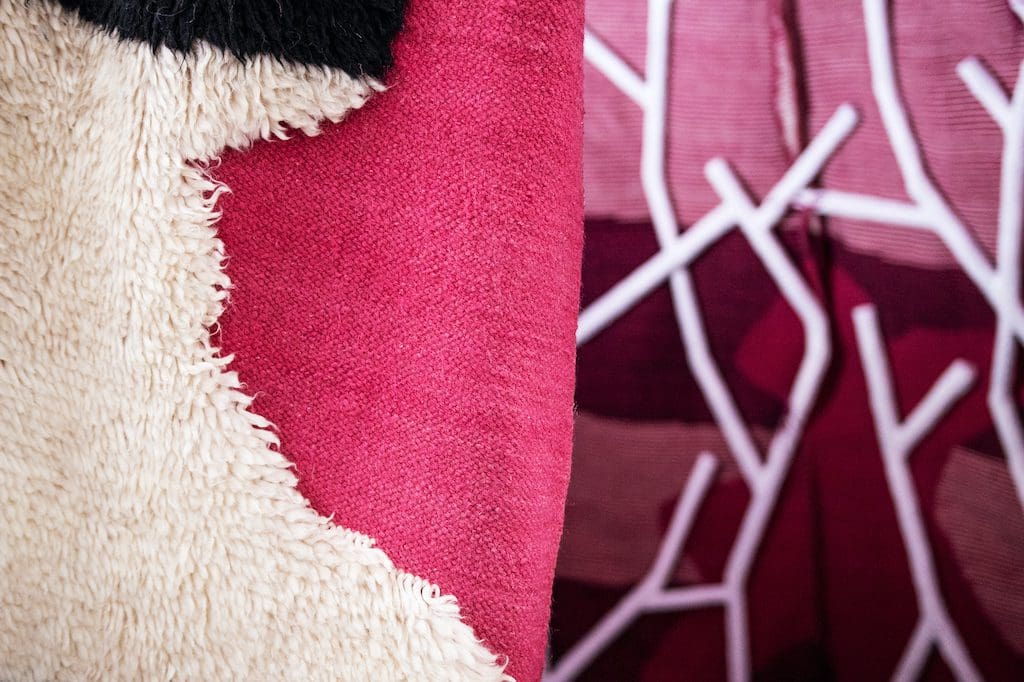 SALES
For all inquiries contact:
info@odabashian.com
Media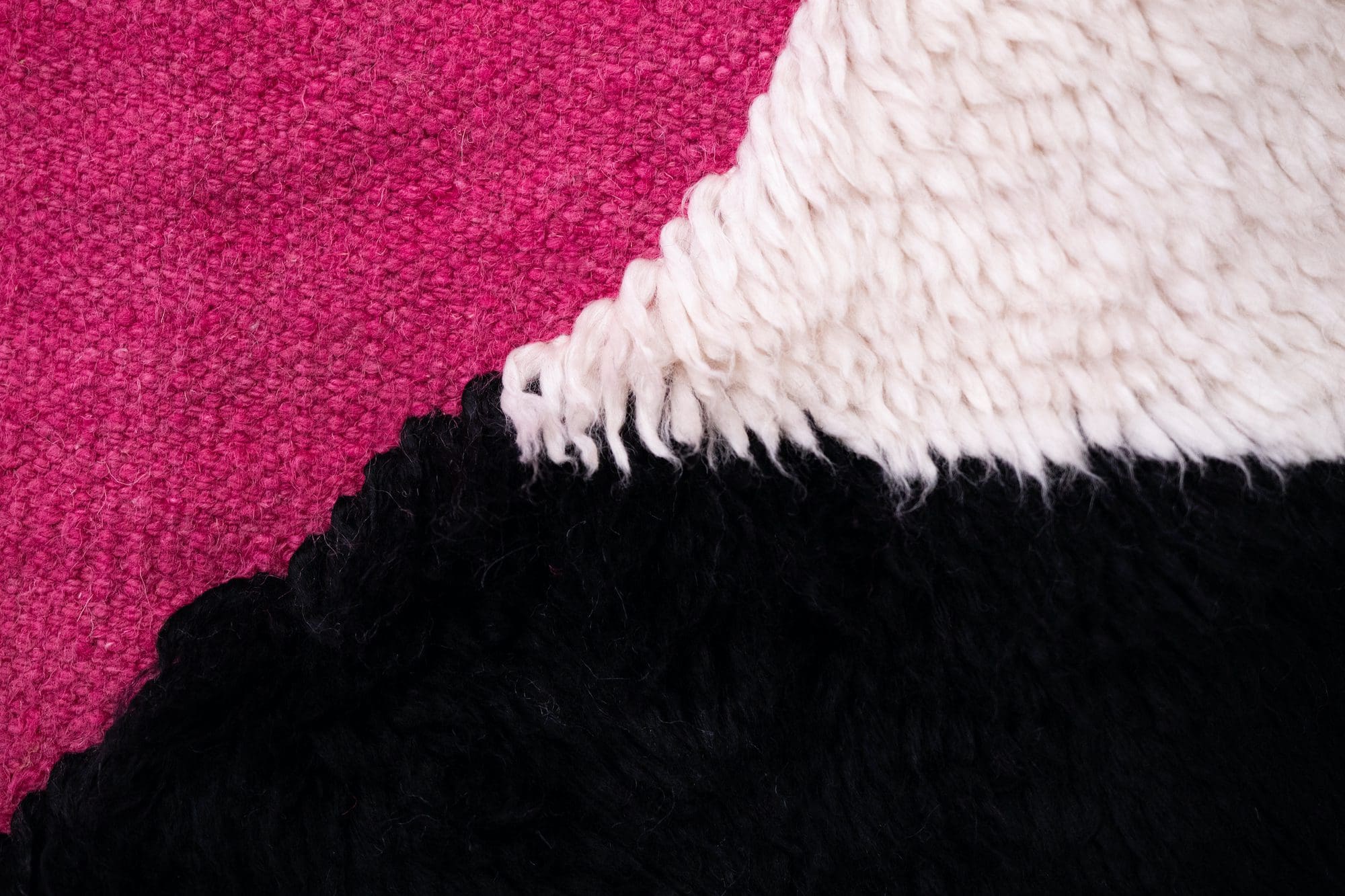 Mound #1 The Legend
100 % New Zealand WoolNatural Dyes