Our relationship with Little Wing Lee and her design practice, Studio & Projects, goes back many years, through the development of several hotel rug designs for Ace Hotels in the US and Canada.
The piece "Okra" is the first design from their upcoming rug collection inspired by the variety of plants brought from West Africa to the United States.
The pattern illustrates the shape and beauty of the okra plant and the exchanges of ideas from one continent to another. We were very intrigued to see the result of developing them in a hand-woven media, a feat that we believe has never been done before.
"Okra" is one of the seven works exhibited at The Gallery at Ace Hotel Brooklyn in conjunction with NYCxDesign 2022 in their inaugural Black Folks in Design exhibition. The show runs until June 29.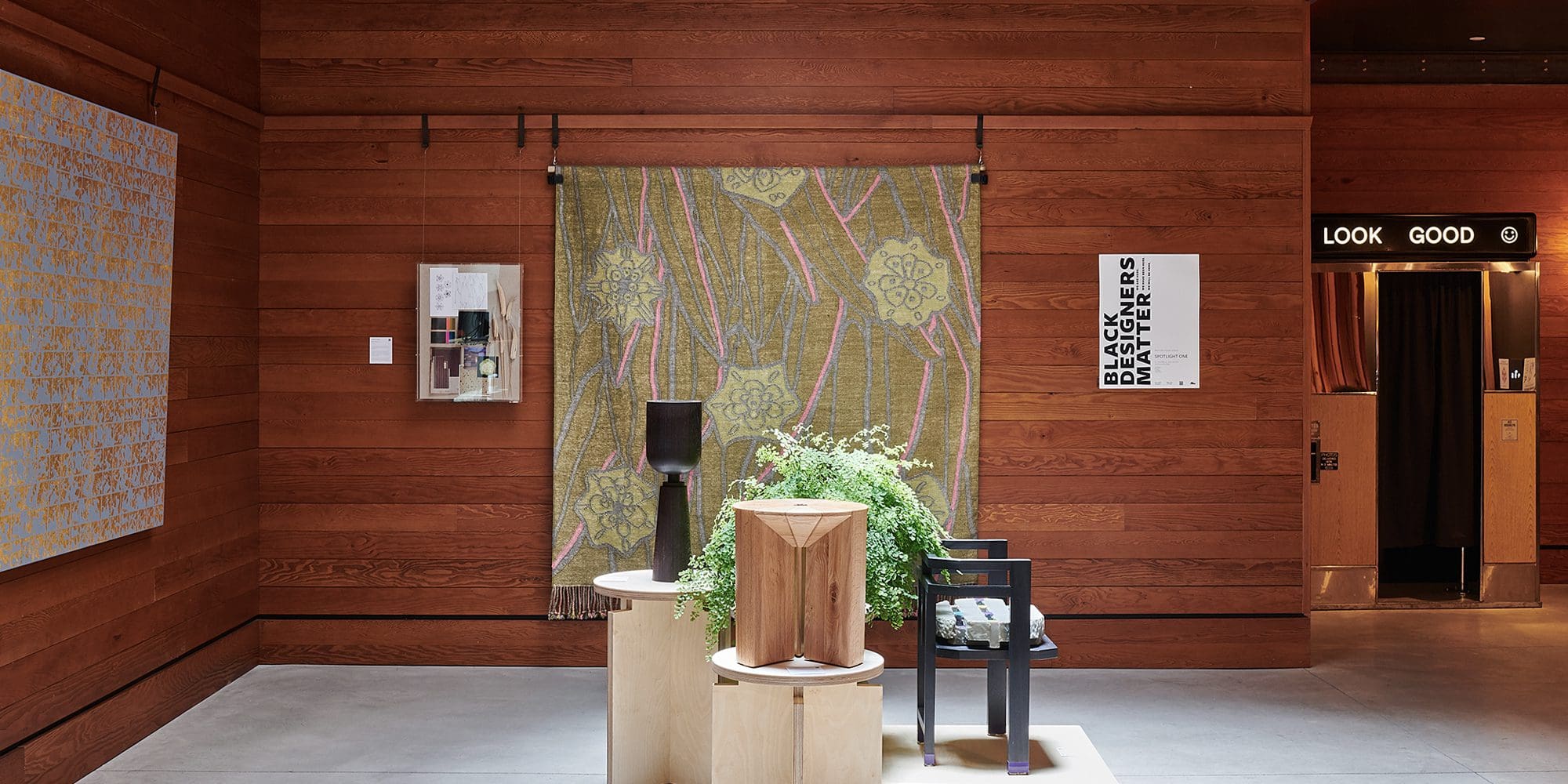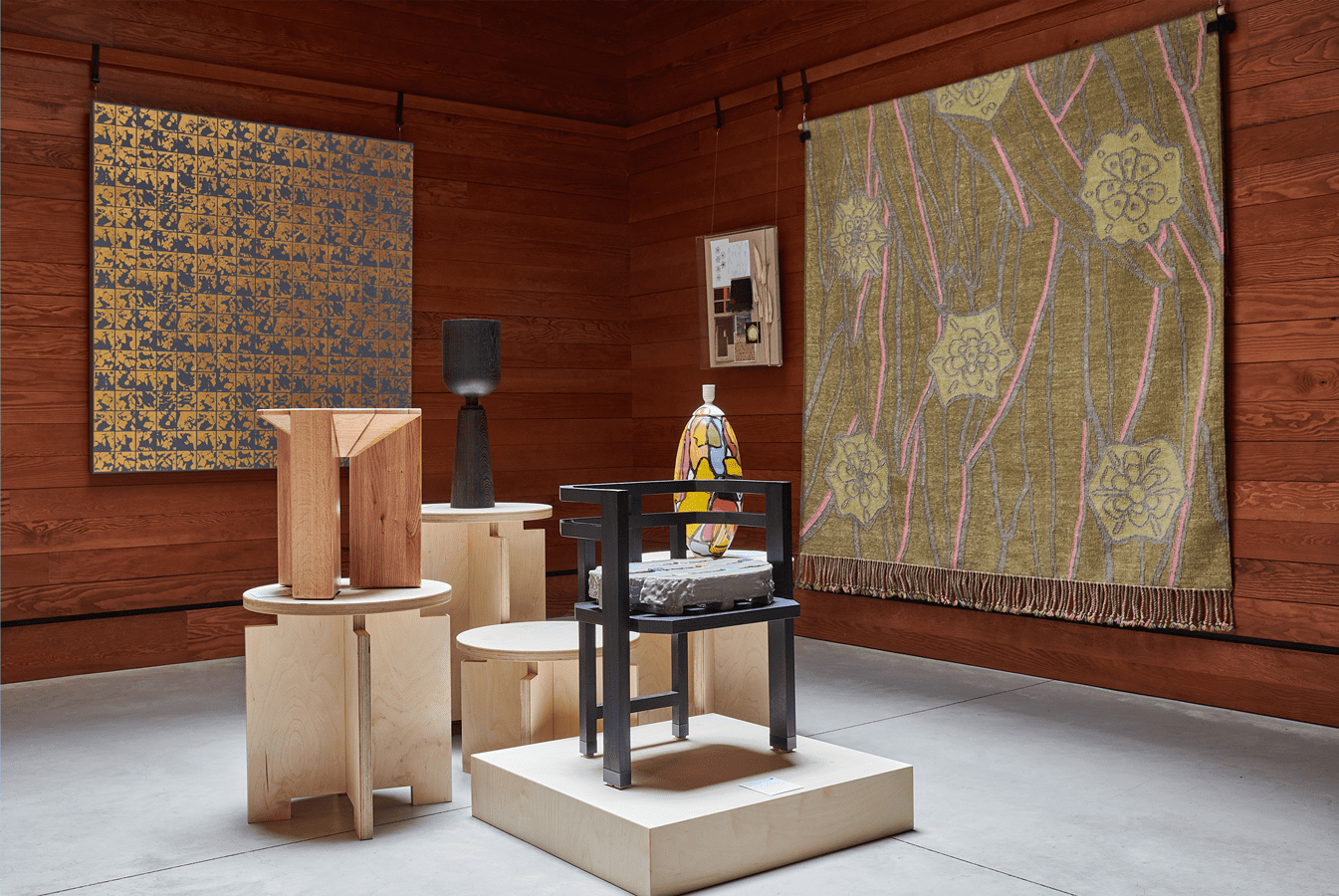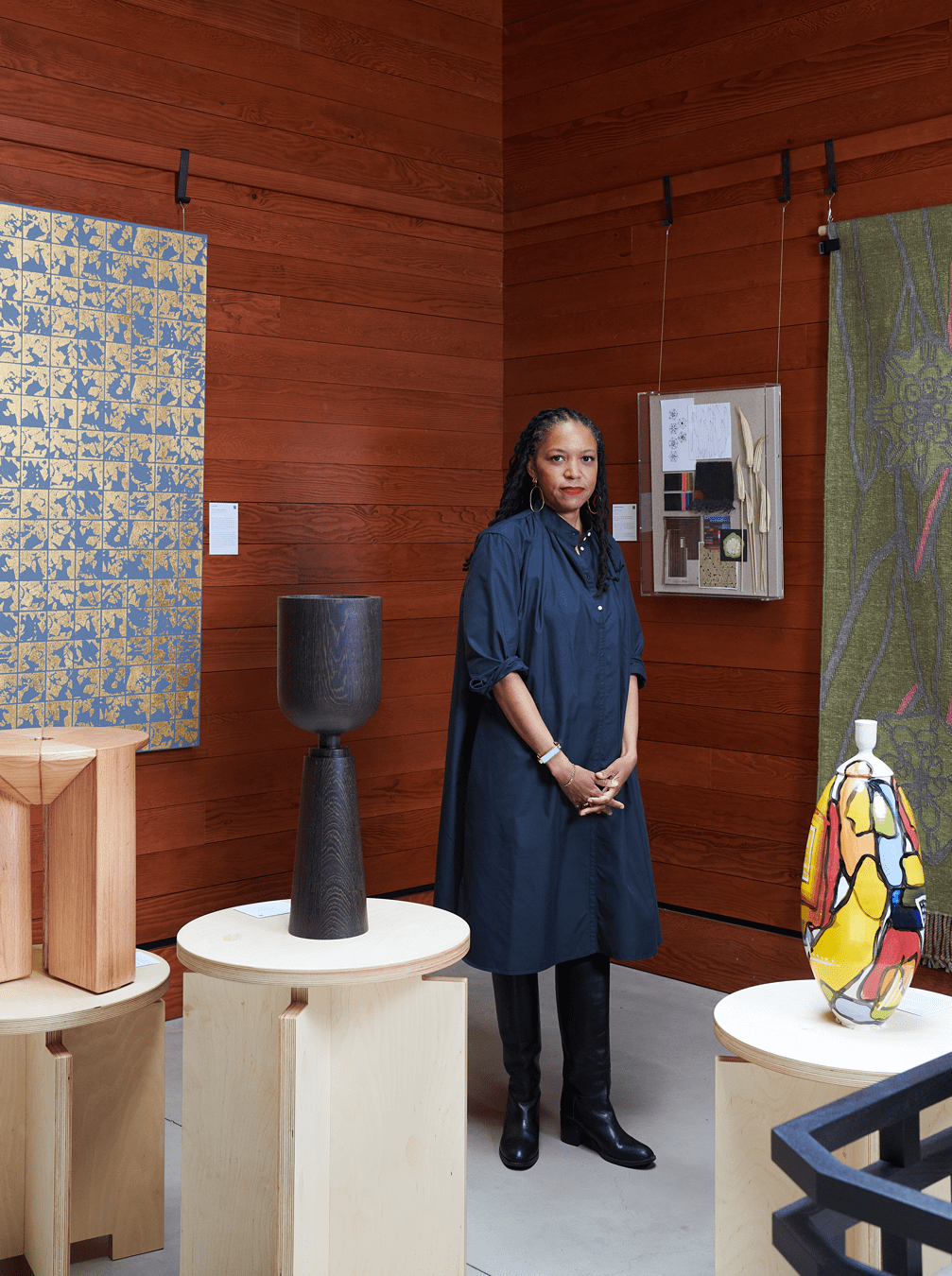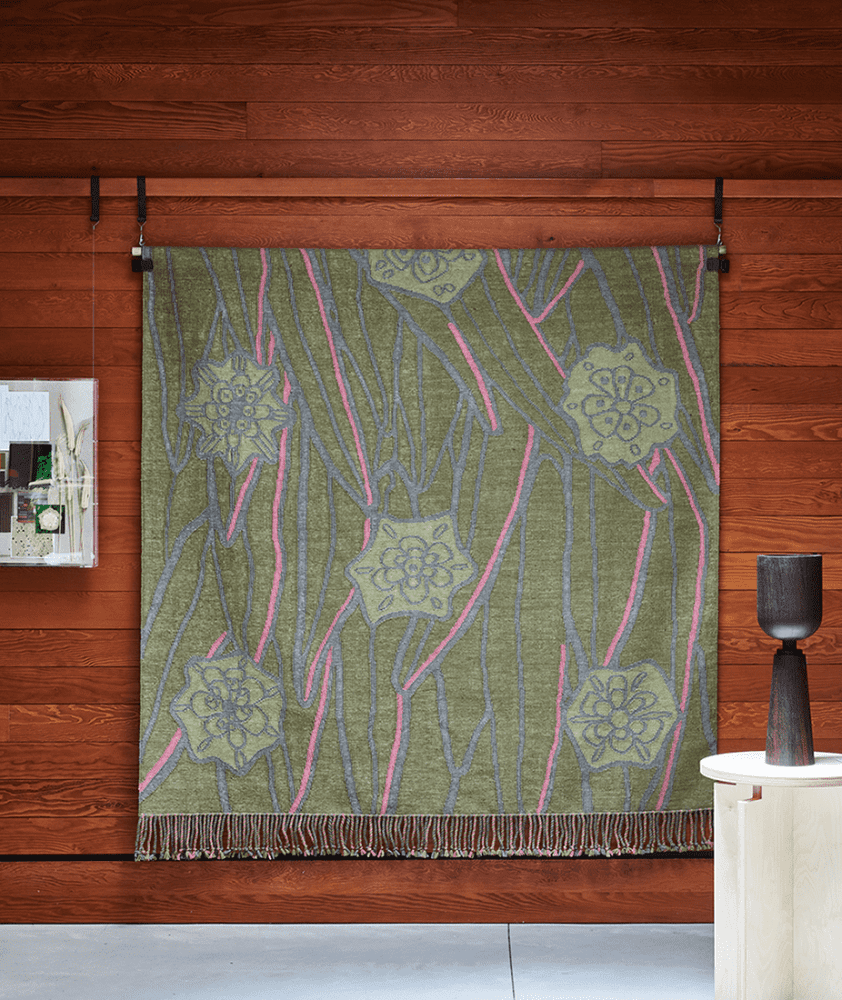 How did you come to meet Odabashian and collaborate with them?
I first met Jaime, I can't remember how many years ago, if it 5 or 7 years ago; we were working  on an Ace project, I'm the design director at Ace Hotel, and we're working on a project and a colleague of mine had met previously and thought that we should meet just to talk about a future collaborations for Ace Hotel. So that was our first kind of meeting, here at the studio in New York City; and we just had a very easy conversation, Jaime is a great person, it is easy to chat with him. That is kind of how we started our relationship; from then, I started speaking with him about Ace Toronto, which is a new hotel of Ace Hotels which it just opened early this week, so part of the concept was to highlight Toronto as this global city, so a lot of the designs have global inspiration of these layers of the world; so we wanted to show that in the rugs and in the public spaces as well as in the guest room suites, and so we wanted to custom rugs as well as vintage rugs, so we thought this will be a great collaboration with Odabashian. We collaborated on several pieces, which was kind of inspiration, a concept to Odabashian to develop these kind of custom vintage rugs through all the property. That's how we started working together and then through conversation, you know Jaime and I think Odabashian is really interested in cut of the story behind the designs. I come from a documentary film background so I'm very interested in history, and people's stories, and how they kind of got to where they are in the world, and so we had a lot of conversations over time just about my design influences, my personal history, and because I am not a rug expert I had a lot of questions about the techniques, or the history of  patterns; so that's how we came collaboration with this collaboration. 
We understand that you have also lead two other recent projects with Odabashian: The Ace Toronto and The Ace Palm Springs. Can you let us know a bit more about each of those and how they turned out?
I know less about Palm Springs, I can talk about it a little bit, but that wasn't my project. For Palm Springs we were always kind of refreshing the designs in the hotel, as the hotel is being used. I know that for all of the guest rooms we wanted to add a new color palette and texture and design to this guest rooms, so we developed a few patterns that I think were illustrated in a patterned color, and then sent to Odabashian to developed these rugs that are placed in the guest rooms. But again, that wasn't my project so I can say so much about it, that's what I know. 
Okra is "inspired by the variety of plants brought from West Africa to the United States". – How did you come to settle on this source of inspiration?
As you can tell I love plants and flowers and then I'm kind of looking at antique and vintage rugs you see a lot of botanical inspirations throughout the world, and I was thinking that I've never seen kind of botanicals or flowers from the US or from West Africa kind of exhibited. Jaime and I had a long conversation about the rugs moving kind of from Middle East through Africa, so through that conversation I started to kind of look at plants and flowers that were quintessential American we might think of. I have roots in the South, cause my grandparents are from the South, so I look for resources and I was thinking about peanuts, or sweet potatoes, okra, I've never knew what these kind of plants or flowers really looks like. I made a research discovering that the peanut flower is really beautiful, it's like a little orchid, or the shape of the peanut leave, it's also this beautiful oval shape, looking at okra is kind of the shape of the pods and then its sliced kind in the intersection of the okra. Also has this kind of this rows pattern that if you look at different types of okra rows, that pattern changes, which I thought was really beautiful above but that was kind of a good place to start for inspiration. I'm an interior designer, trained in interior architecture, so of course I always think about the grid and very rational, I love graph paper and so in conversation with Jaime he was like "Little Wing it's the graph paper"; it's the grid combined with this kind of botanical story cut of layered over it, and oh my gosh! This is like the perfect blend of my own kind of design and approach of this, very rational, combined with this color palette and pattern, so that's how kind of the design was developed.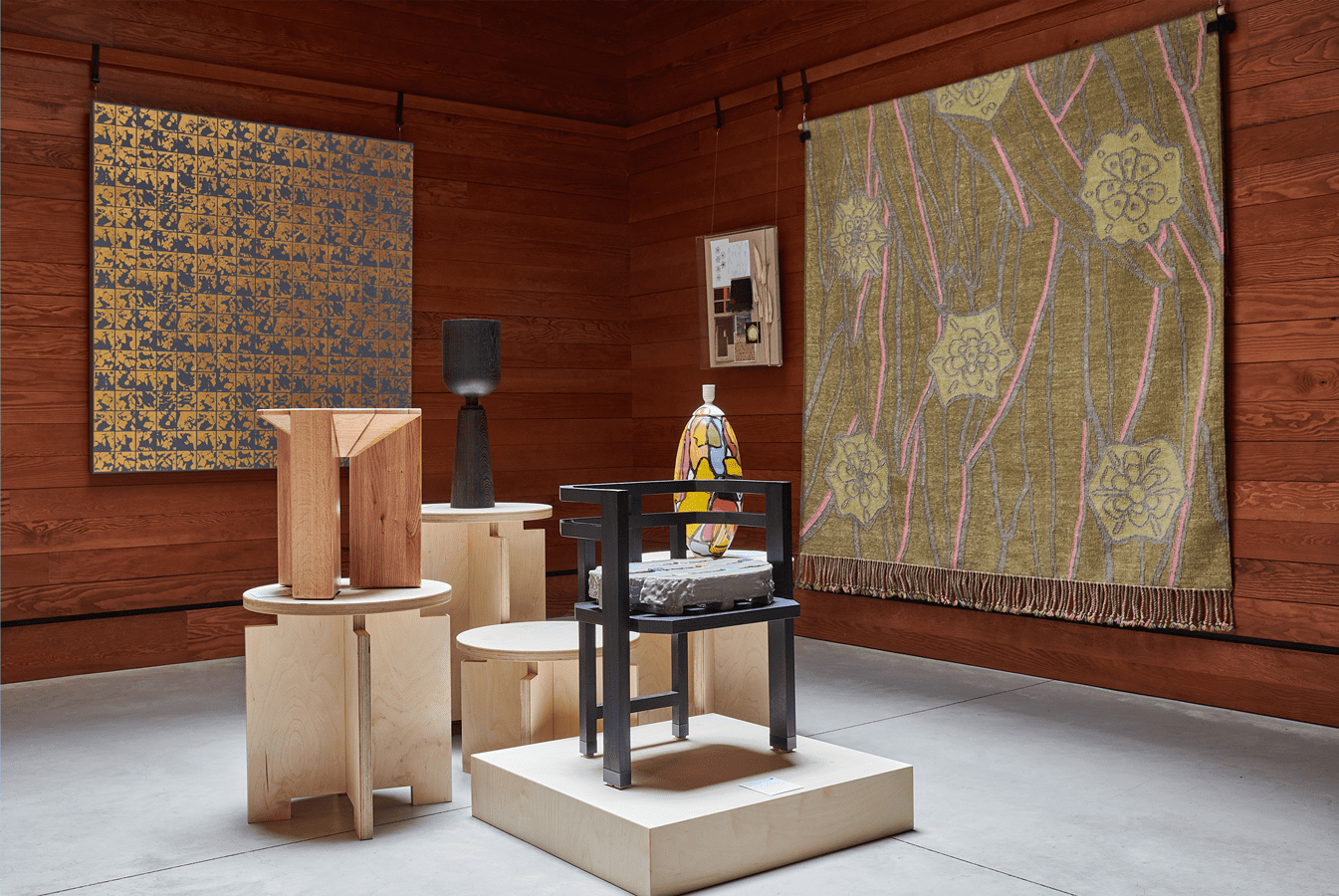 In terms of production, we understand that you have developed several rugs previously – did you decide on using a horizontal weave from the outset or was this something that Odabashian suggested?
I think that when we started, again I'm not an expert in rugs and carpets, and so Jaime sent me several samples to look at the different weave techniques and the materials. So through that process we kind of narrow down to two techniques that we were interested in, and then based on the design that we developed we kind of landed on the flat weave which we thought was kind of highlight the pattern.
What was the most rewarding part of the project and subsequent exhibition?
I think the most exciting part is to see the prototype in person, as you are designing you are selecting colors, you're looking at the weave and the pattern and how all these elements are coming up together; and so, I remember when the package arrived to the studio, and I was so excited to cut it open and to see it in person. Was very exciting to kind of see the design come alive. And then of course the exhibition, I was the curator for the exhibition, and again, you're working with designers from around the world, and we design kind of layout of how it is exhibit; and then once you have all the pieces hung networking with the art installer for that moment when the space is clear, and it's clean, and you can kind of step back see how all the pieces are working together, is super exciting. Then for opening events party, like any party, there is always Who is going to come? Is anyone going to come? Will they have fun? It was a huge success, everyone came, at least the people that we invited showed up and had a really great time, and I think just to hear people's reactions from the rug was also extremely satisfying and it's wonderful that your colleagues and people from press were really excited about your design; and people wanting to place orders, to have this piece but in their homes was also very exciting. 
Do you have any upcoming exhibitions? 
We are in talks with a few galleries, which is exciting but nothing has been settle with a gallery here in New York, and then we've been introduced with another one in LA.  
How would you describe the process of collaboration with Odabashian?
I found that collaborating with Odabashian to be extremely easy and fun, I think that they have a history of working with artist and designers; and I think they appreciate and value the input from the designers, and want to put them together all the tools to produce the most successful and exciting piece for the designer, so I found the process to be extremely easy. I think when you are collaborating with manufacturers and vendors, to have the opportunity to collaborate with people that are experts  in their field is also exciting and reassuring for someone like me who's not an expert in rug manufactory, or in the history of rugs globally, so to have that kind of resource makes the project extremely fun and exciting, because I love to learn about the process and the history behind the pieces that we're developing.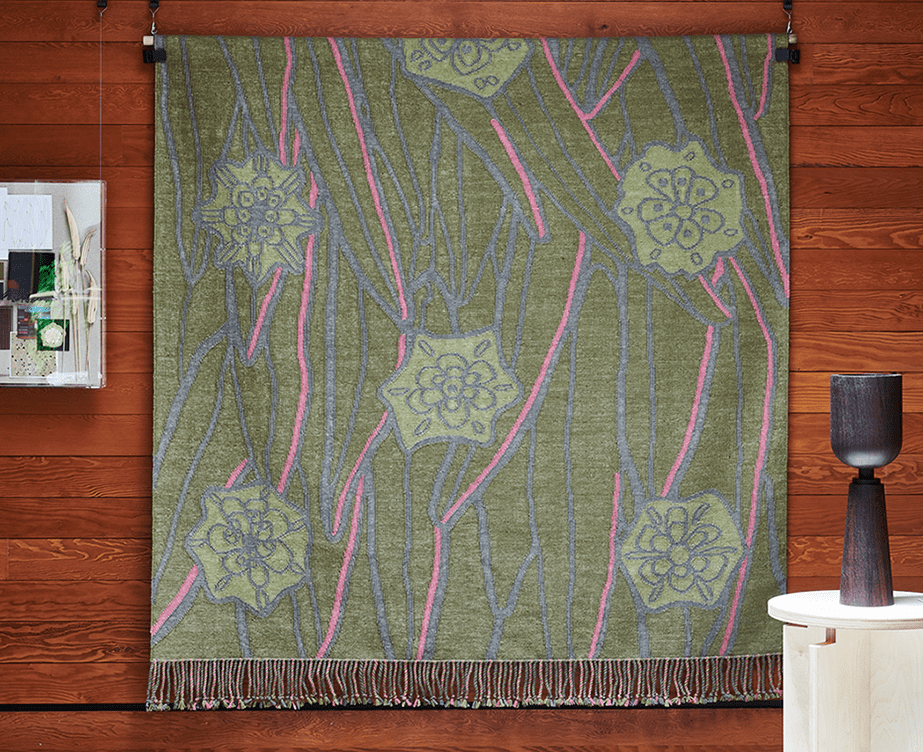 Okra
Traditional horizontal weave