American-Mexican artist Ray Smith reflects on mythology, power and questions truth in modern America with his piece "Gringo Voodoo", which has been translated into a gobelin style tapestry by Odabashian. The edition of 3 is made using 100% New Zealand wool and measures 120x180cm.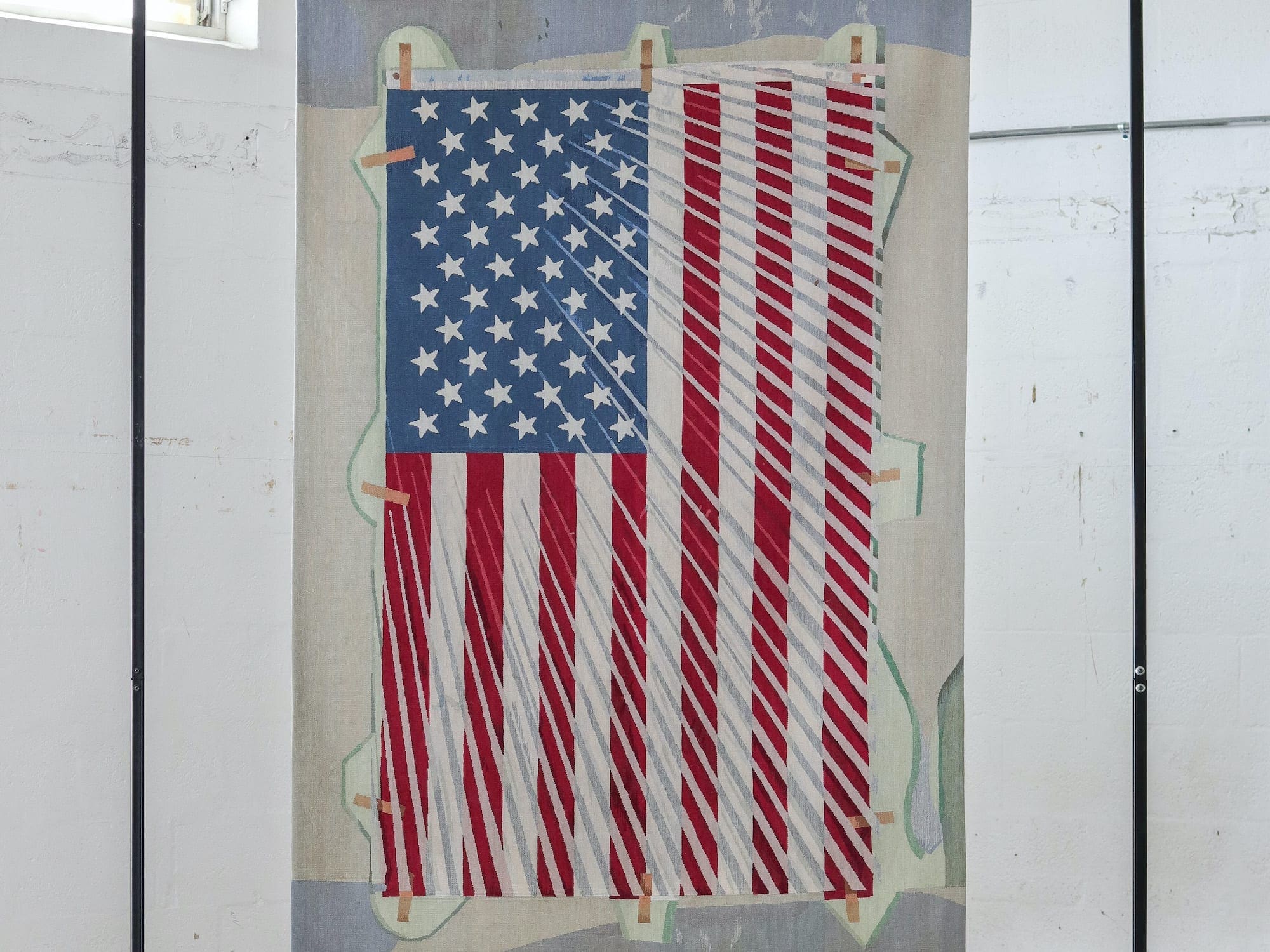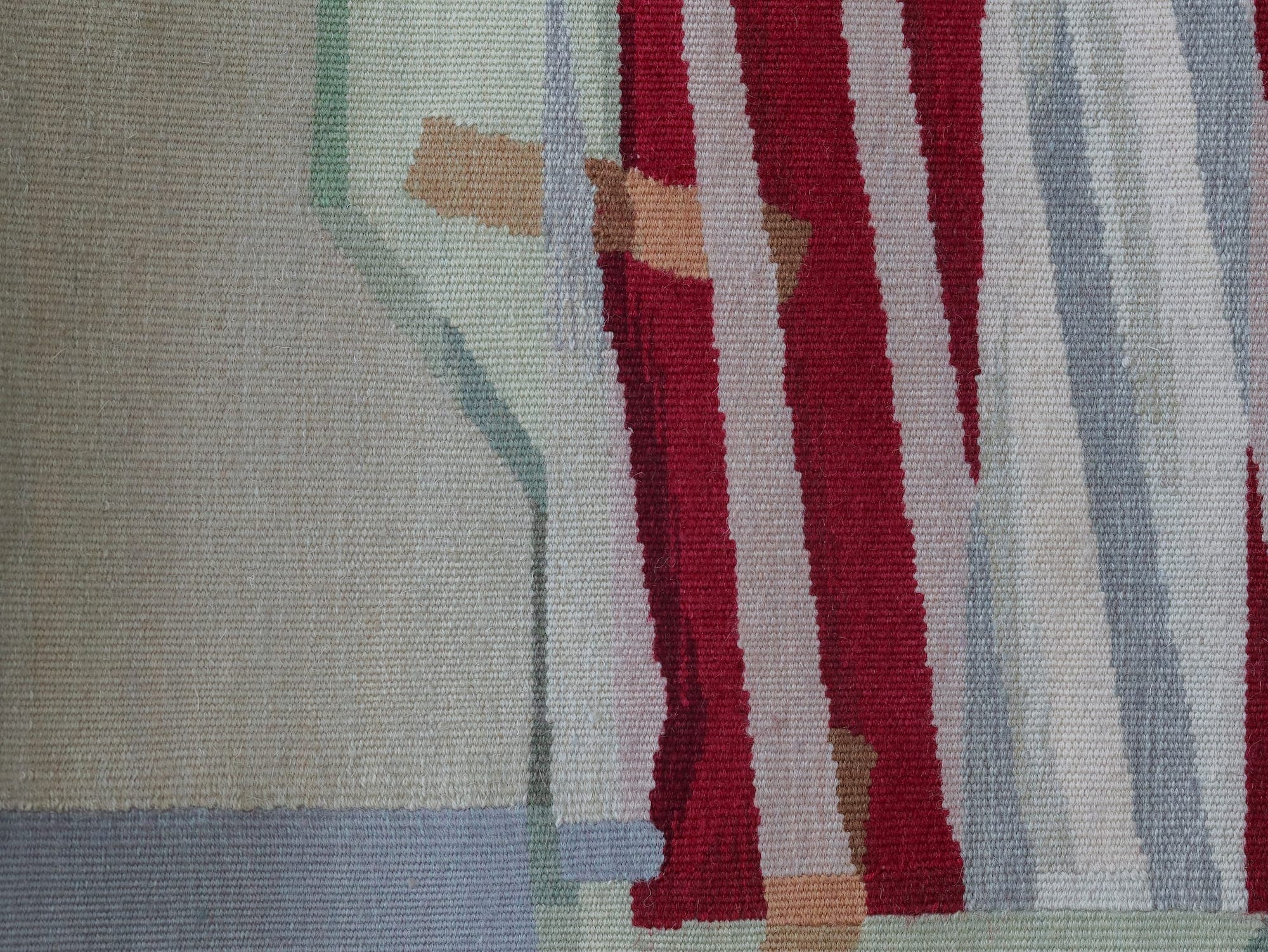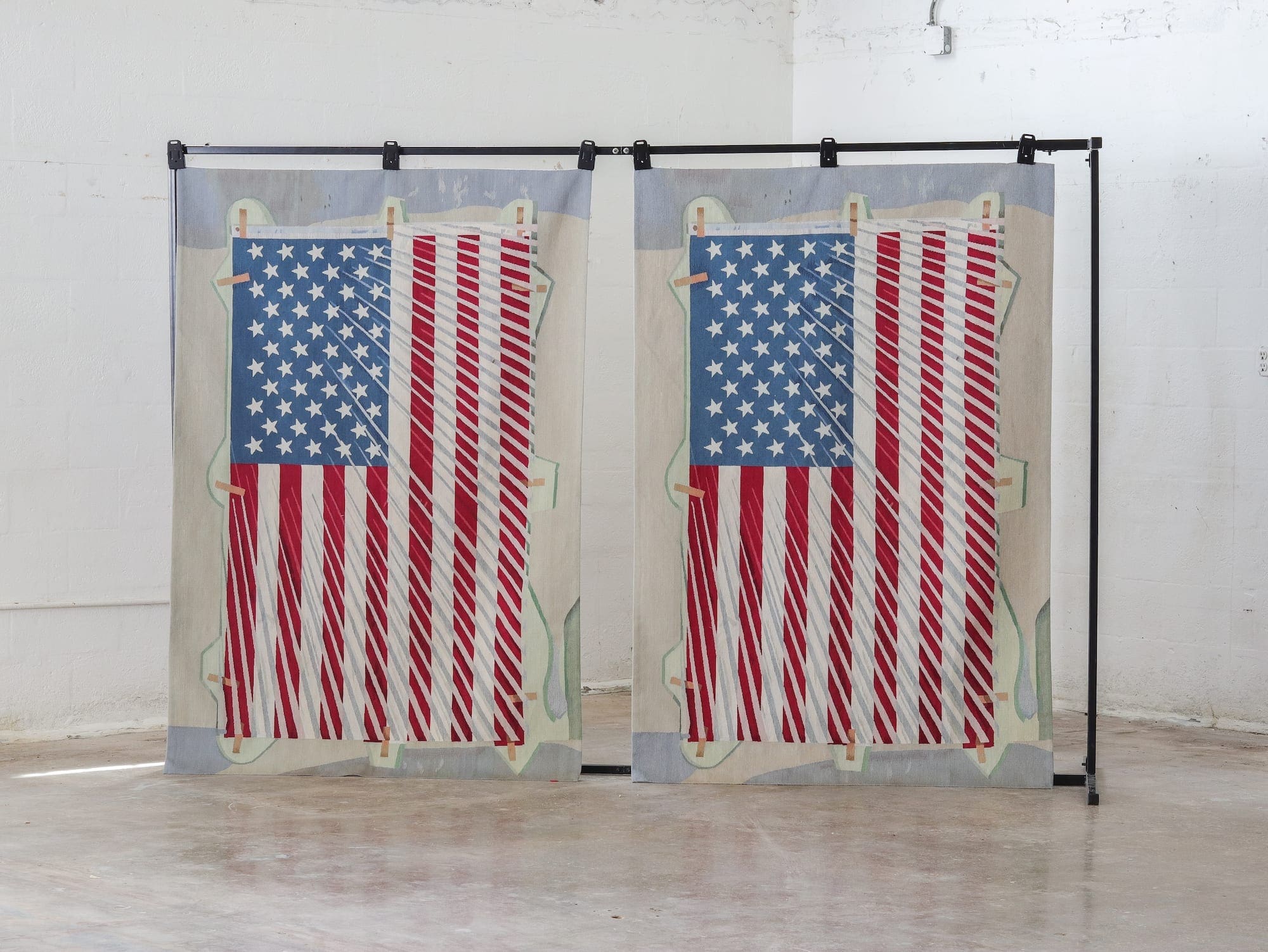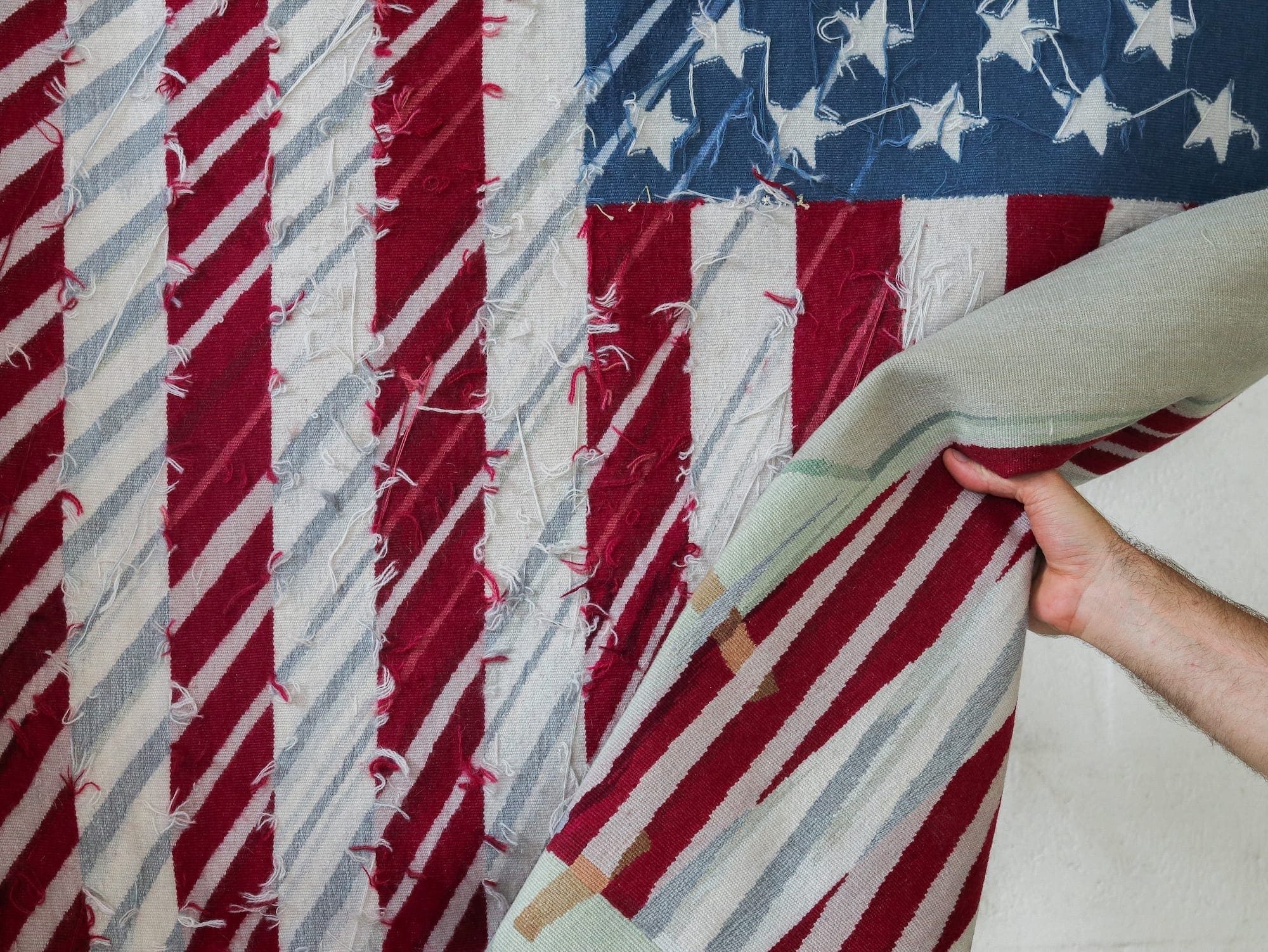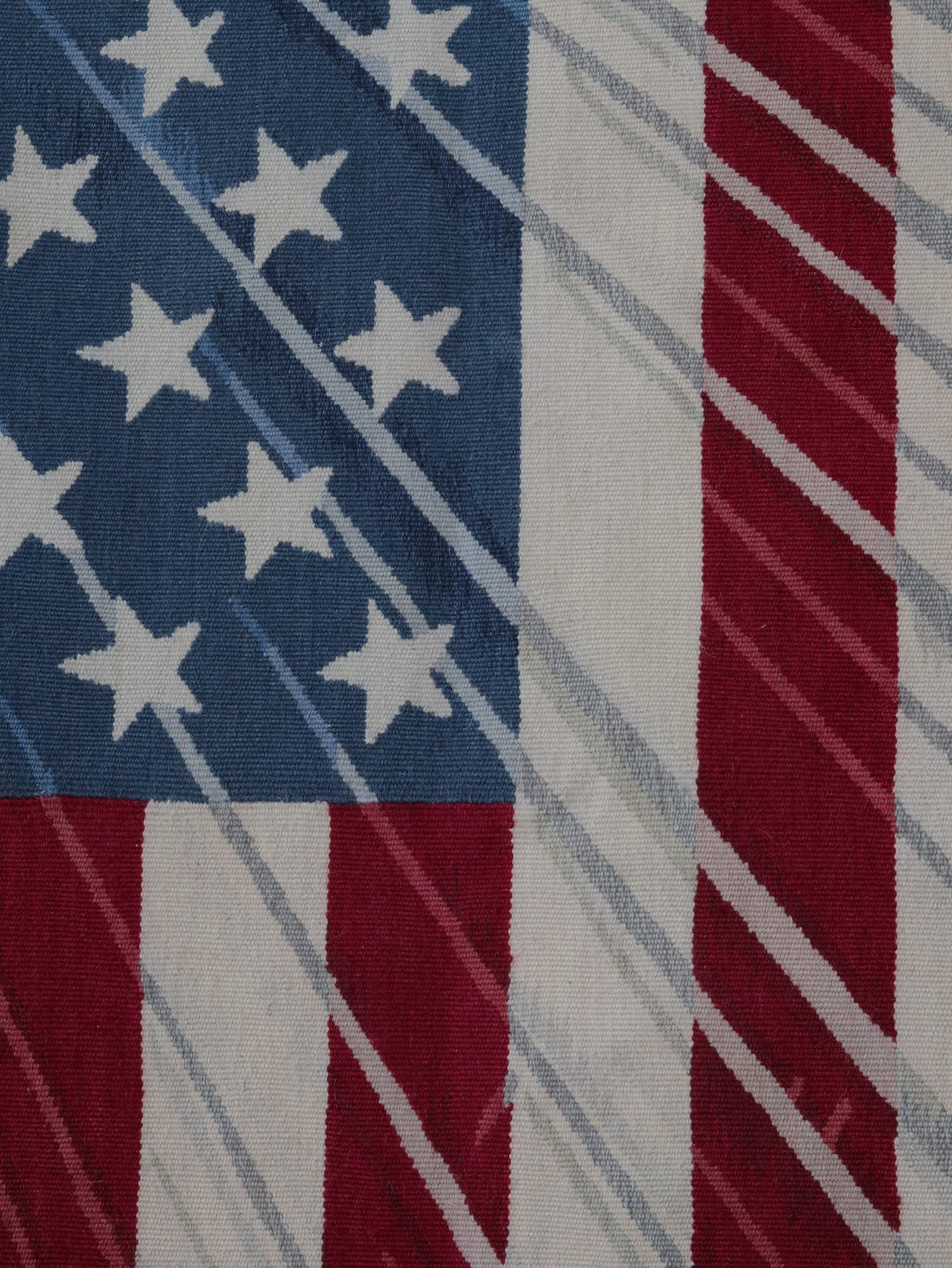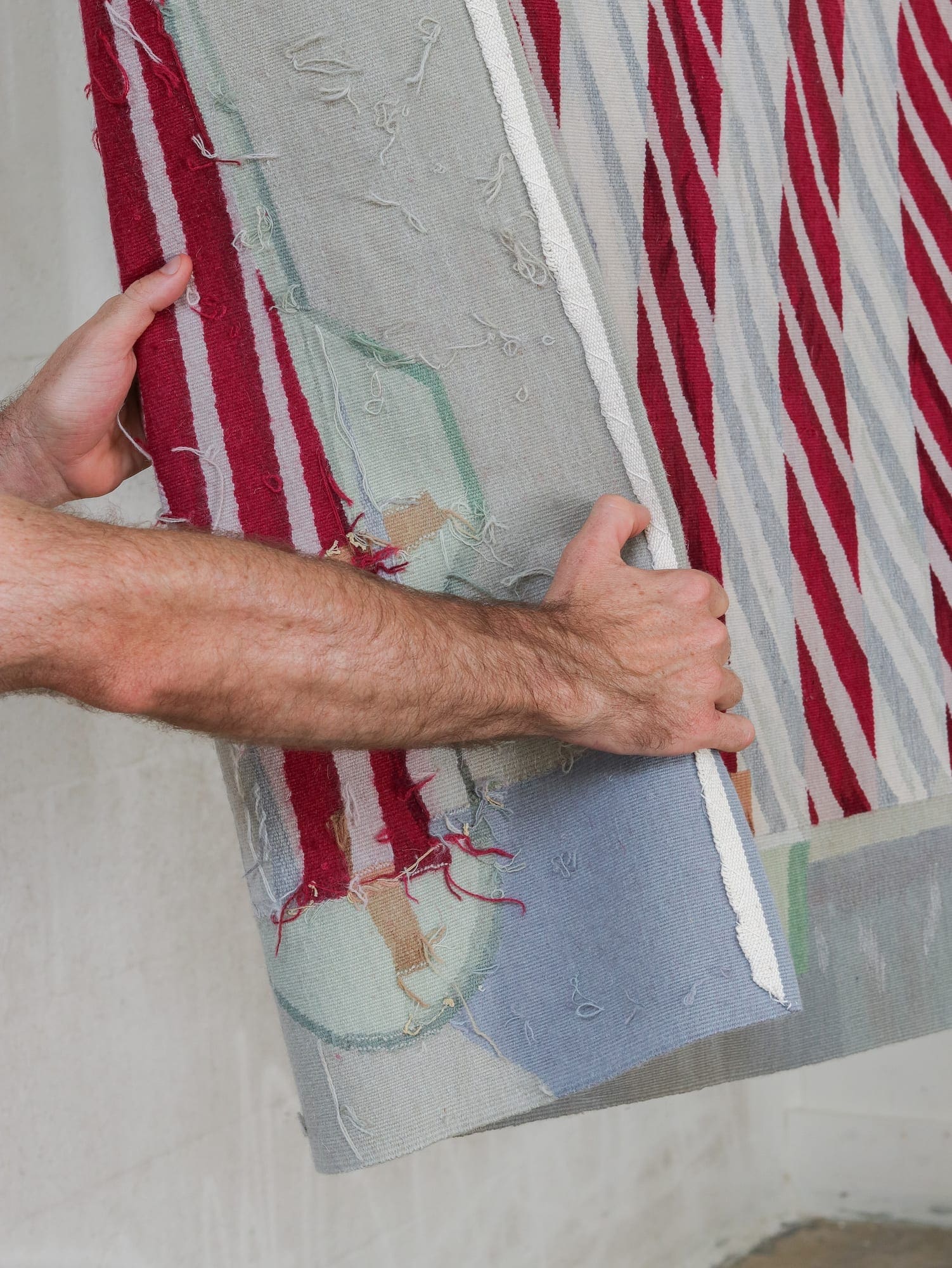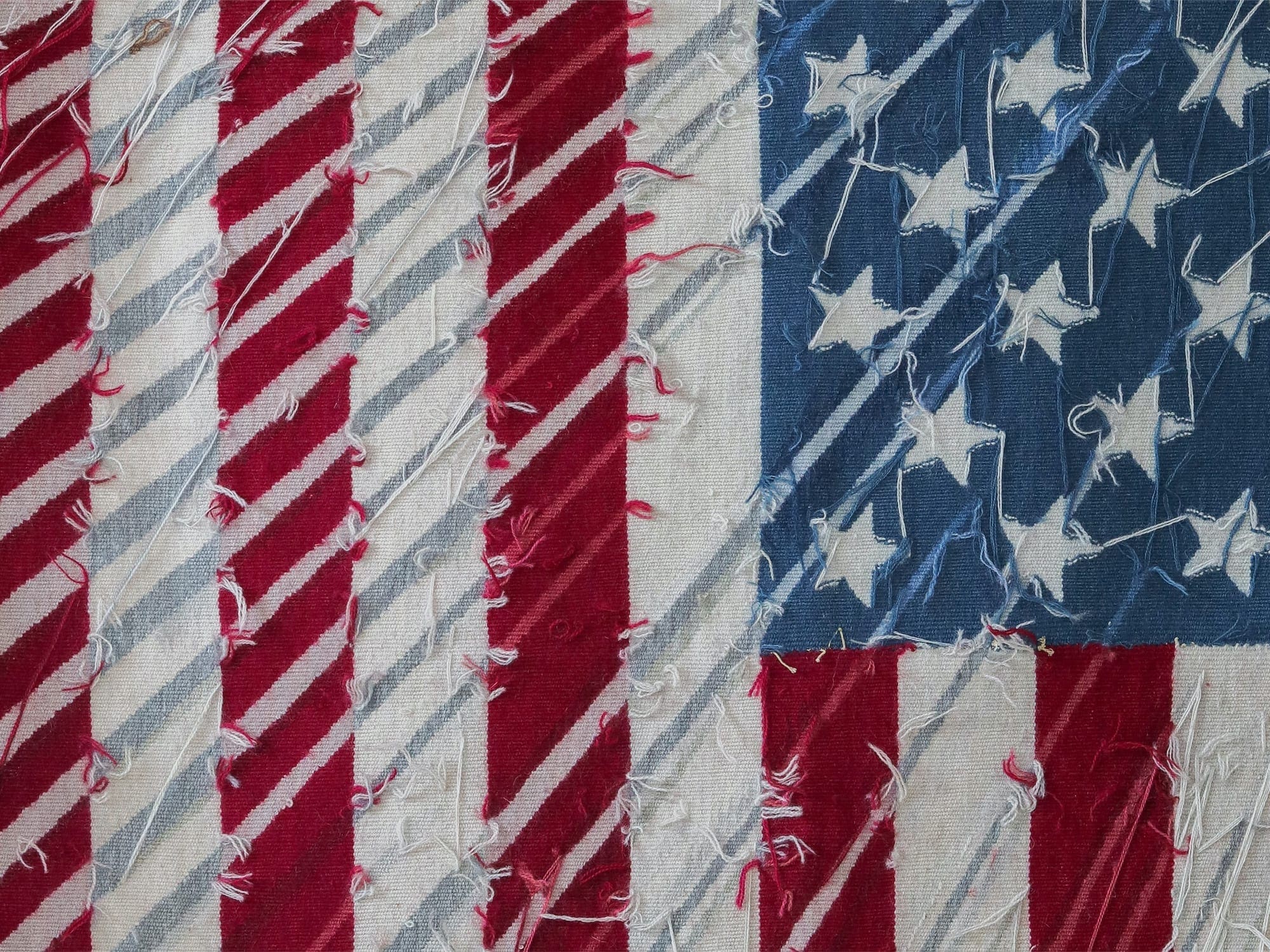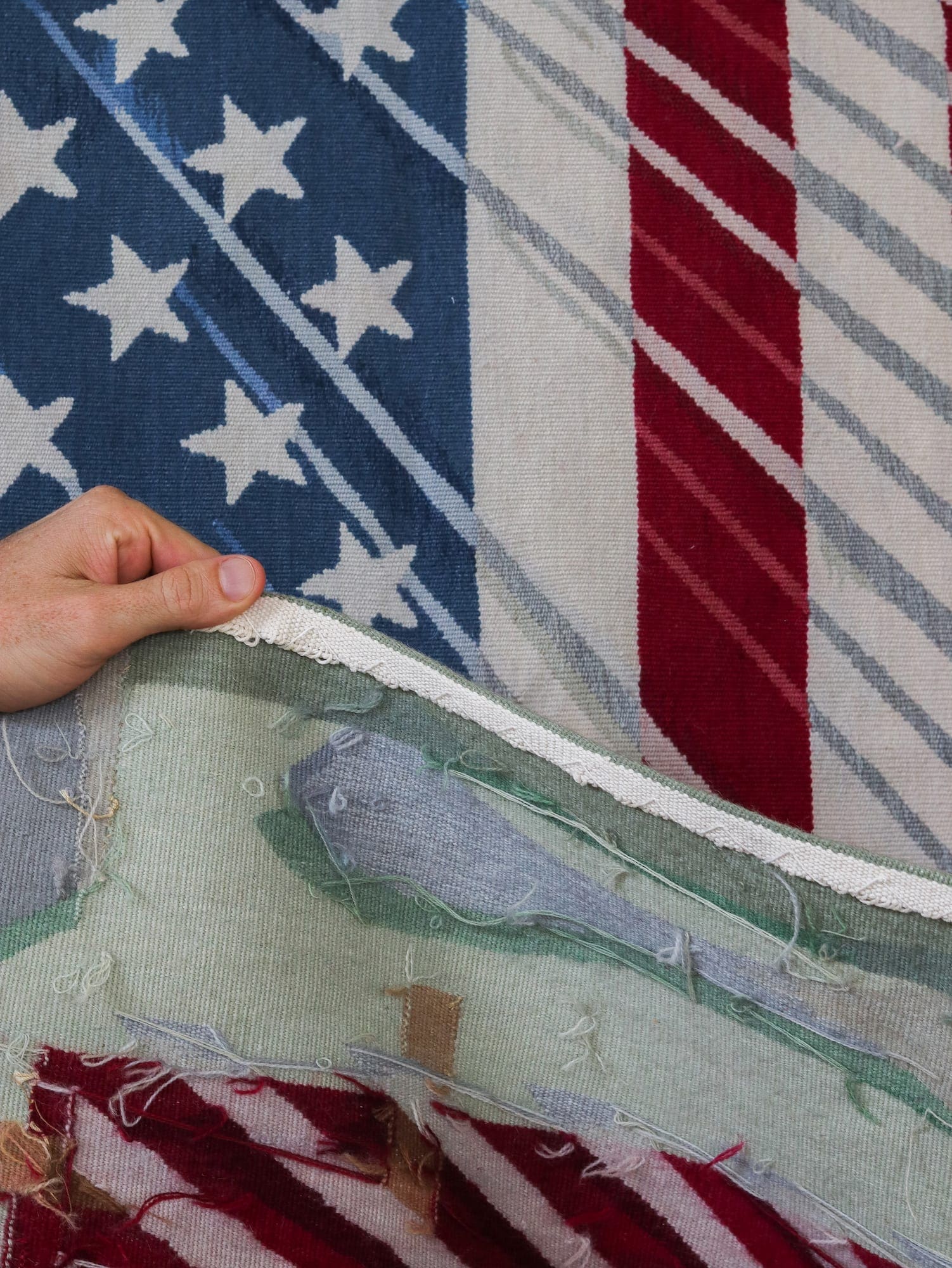 Our latest artist collaboration translates Gringo Voodoo by Ray Smith into a highly detailed tapestry woven in the gobelin technique. In the excepts below our C.E.O., Jaime Odabachian, discusses Ray's experience growing up between the U.S. and Mexico and the collaborative process with the artist.
Jaime Odabashian: Please could you tell us about where you grew up and your evolution as an artist?
Ray Smith: I was born in Brownsville, Texas, U.S.A. right on the border with Mexico but I never really lived there. My father wanted me to have dual citizenship, which was illegal at that time, but he figured out that if I were born in Brownsville I'd be a gringo, so, I was born there.
Right after I was born we immediately came back to Mexico and got my Mexican birth certificate. I was "born" in two different places at the same time. I was officially two people, on the U.S. side I was Ray Smith, and on the Mexican side Raymundo Esmith Iturria.
I grew up in Mexico City in the sixties, then I went to college in Cholula, Puebla. I loved it! It's just a wonderful place, under the volcano. Now I live on the other side of the volcano in Cuernavaca. All of Mexico has a unique energy, an ancient ritual magic of some sort that permeates absolutely everything. Different mythologies crossover the entirety of all Mexican culture right up to today. It's not like it is in the United States, where you have this distinction between, what was, which is pretty much ignored, and what is today, that is simply manufactured.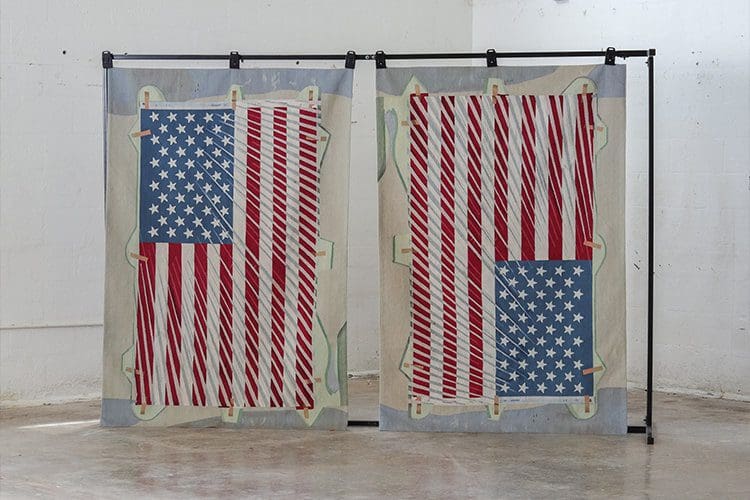 Jaime Odabashian: Can you elaborate on the concept of "Gringo Voodoo" and how it began?
Ray Smith: Gringo Voodoo was born in 1964 when the Mexican government brought the Tlaloc sculpture, the big rain god, from Coatlinchan to the Anthropology Museum in Mexico City. My dad picked me up to look over the balcony of our home so I could see Tlaloc on his way. My dad was fascinated by the Mexican mythology and preHispanic cultures, as am I.
Later, we visited the newly opened Anthropology Museum and I started learning about human sacrifices, the astrology, the calendars, and all of that kind of stuff. As a kid I was kind of shocked by the sacrifices and rituals. The rich history of Mexico and its magical stories made a big impact on me.
Around the same time I was also flying to Houston, which was the big international sensation at the time. It was where they were ripping men's hearts out and changing them with another man's heart (heart transplants) and they had rocket ships that were going to the moon. I started to see everything American as this kind of stretch forward without anything behind you. To always identify yourself by the next day. For me it was no different to the mythology I had learned about in Mexico. I didn't see science in Houston, I didn't see anything new, just a different type of voodoo – "Gringo Voodoo".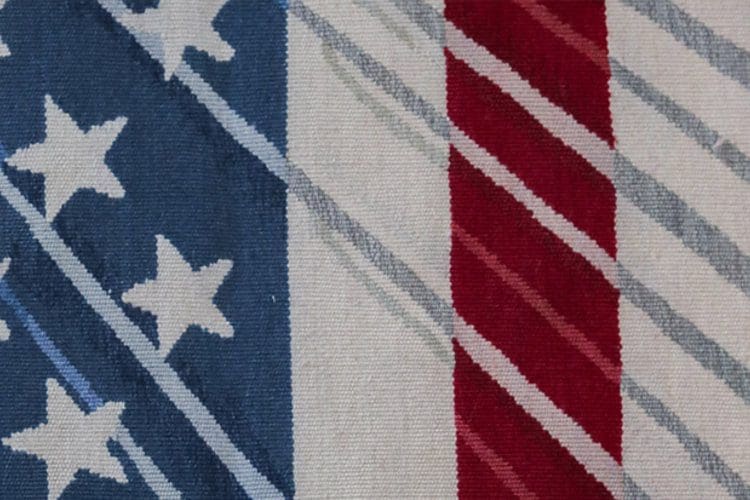 Jaime Odabashian: What was the inspiration for the "Gringo Voodoo" tapestry?
Ray Smith: It was born from a series of works that are a combination of mirrors and painting. The two things became integrated and it had to do with watching what's going on in the United States in terms of politics and power and wondering where truth is and where is not. It was something I was observing from two sides as a dual citizen. I noticed that many of my peers in the United States only understood it in a sort of theoretical way but not in a historical way. Through the process of making those works I became even more aware of my vantage point from my relationship with both countries.
After you and I met through a mutual friend and realised not only did we get along well but also our parents and grandparents were friends, and that your story is also split between Mexico and the U.S. it made sense to collaborate on the "Gringo Voodoo" tapestry.
Jaime Odabashian: What did you enjoy about working with us? Which part did you enjoy the most? 
Ray Smith: The friendship, the fact that we're both dedicated to what we do and that we're both very interested in expanding what we do into new areas, experimenting with it. I love that there is this ancient medium of weaving but its being used to create contemporary works of art. I also love that Odabashian connects artists all over the world together on a single piece or collection.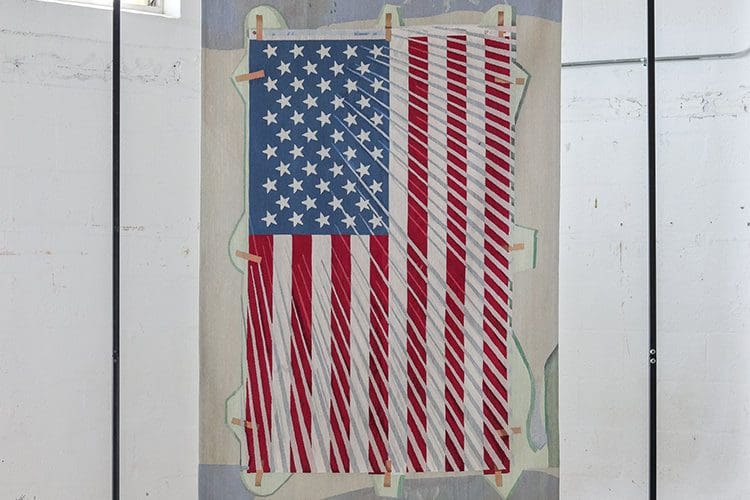 Jaime Odabashian: Do you prefer collaborating or working alone on a piece?
Ray Smith: They are both important to me. I love working with other artists. In this case you have weavers whose daily routine is an art form, the way that they work is so rhythmic and somehow their bodies seem to be responding in a kind of independent memoir. I don't want to attempt to do that, I want to collaborate with these people because I know that they understand new answers and ways about this that I couldn't possibly be able to understand in detail, I'm honored by their translation of my work.
Jaime Odabashian: What was the most complex part of translating your work into a textile? 
Ray Smith: I don't know. A tapestry of this quality is almost like a computerized image. Woven carpets probably are the first computerized images in some way. The tapestry produces itself almost and there's a consciousness of that, the language of repetition, and it's probably a much higher level of communion than many of us even imagine. Right now I'm working with ceramics. Another ancient art form that by working with the pure materials transcends you into new realms mentally. Working with different mediums, mirrors, textiles, ceramics, its a different type of complexity that is very stimulating and rewarding for me.
For all inquiries contact info@odbashian.com