We recently collaborated with Cecilia León de la Barra for "8 Sequence," a rug that, she describes as "an intuitive and fun pattern created almost by itself."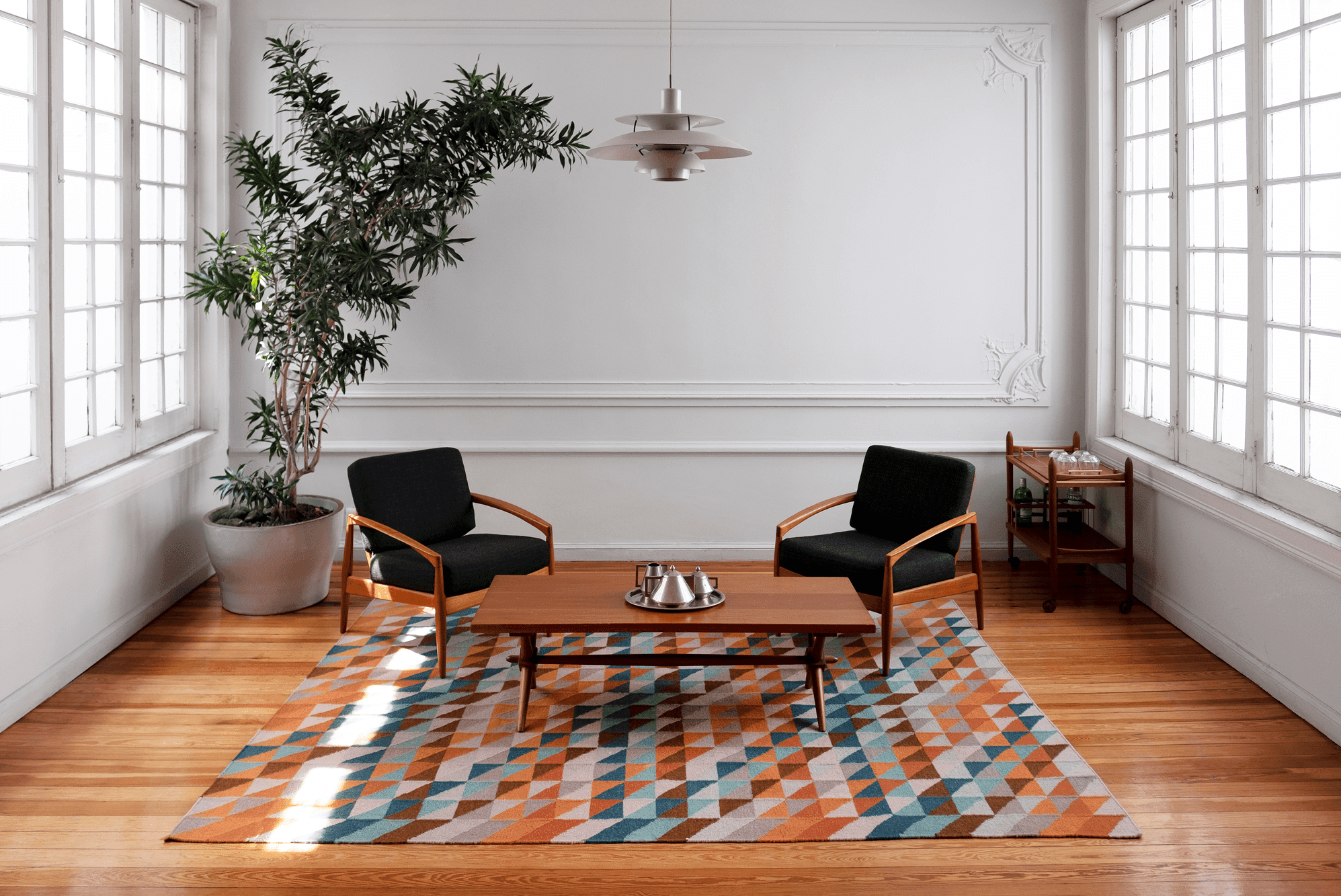 The warm and casual design consists of a square grid divided into triangles, filled with colors using the '8 Sequence' inviting the viewer to navigate through the composition of colors and geometries – with the pattern feeling slightly different every time.
We spoke to Cecilia at her Mexico City studio to learn more about her roles as a designer, educator and curator and took a deep dive into the process behind 8 Sequence.
Do you remember the moment you first became interested in design?
A specific moment no, but I remember specific objects. I had a Fisher Price portfolio, you could build anything with that kit; it had a table, drills, screws… it was amazing! I loved that toy.
Later in high school, I was "the one that did the drawings," but I didn't consider myself good; I just had a loose hand, and I liked it. Everybody was always telling me "you are going to be a graphic designer."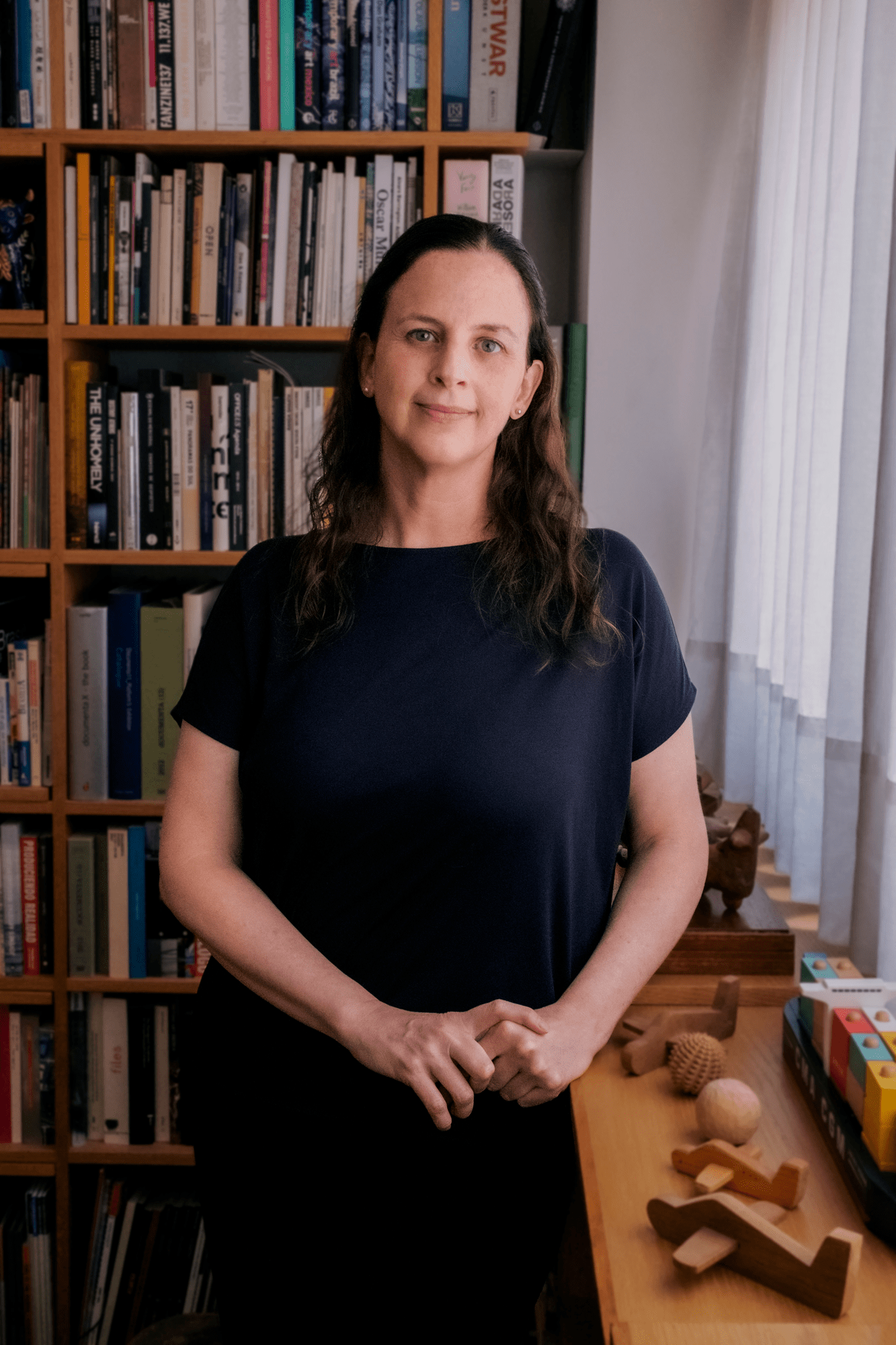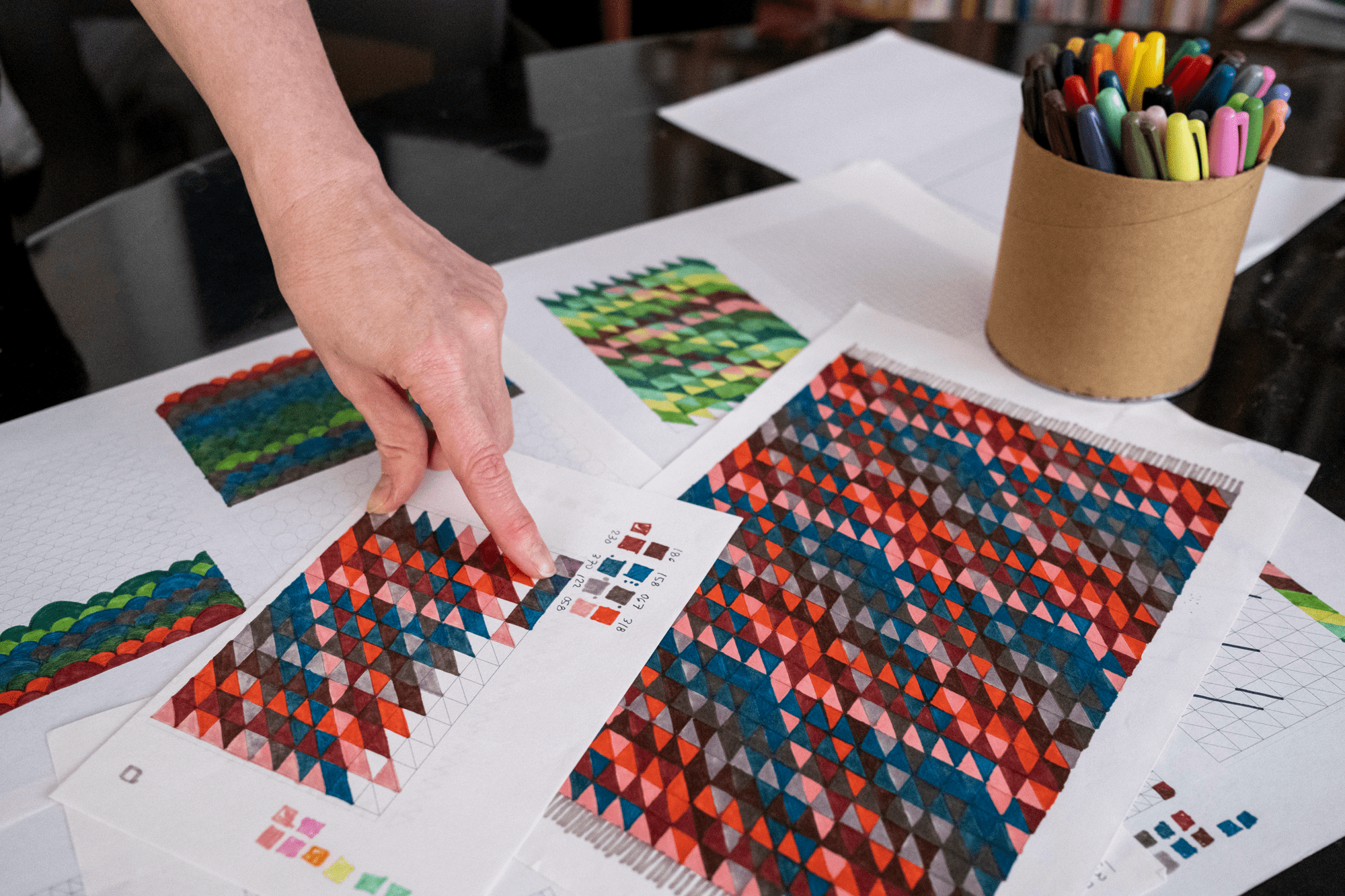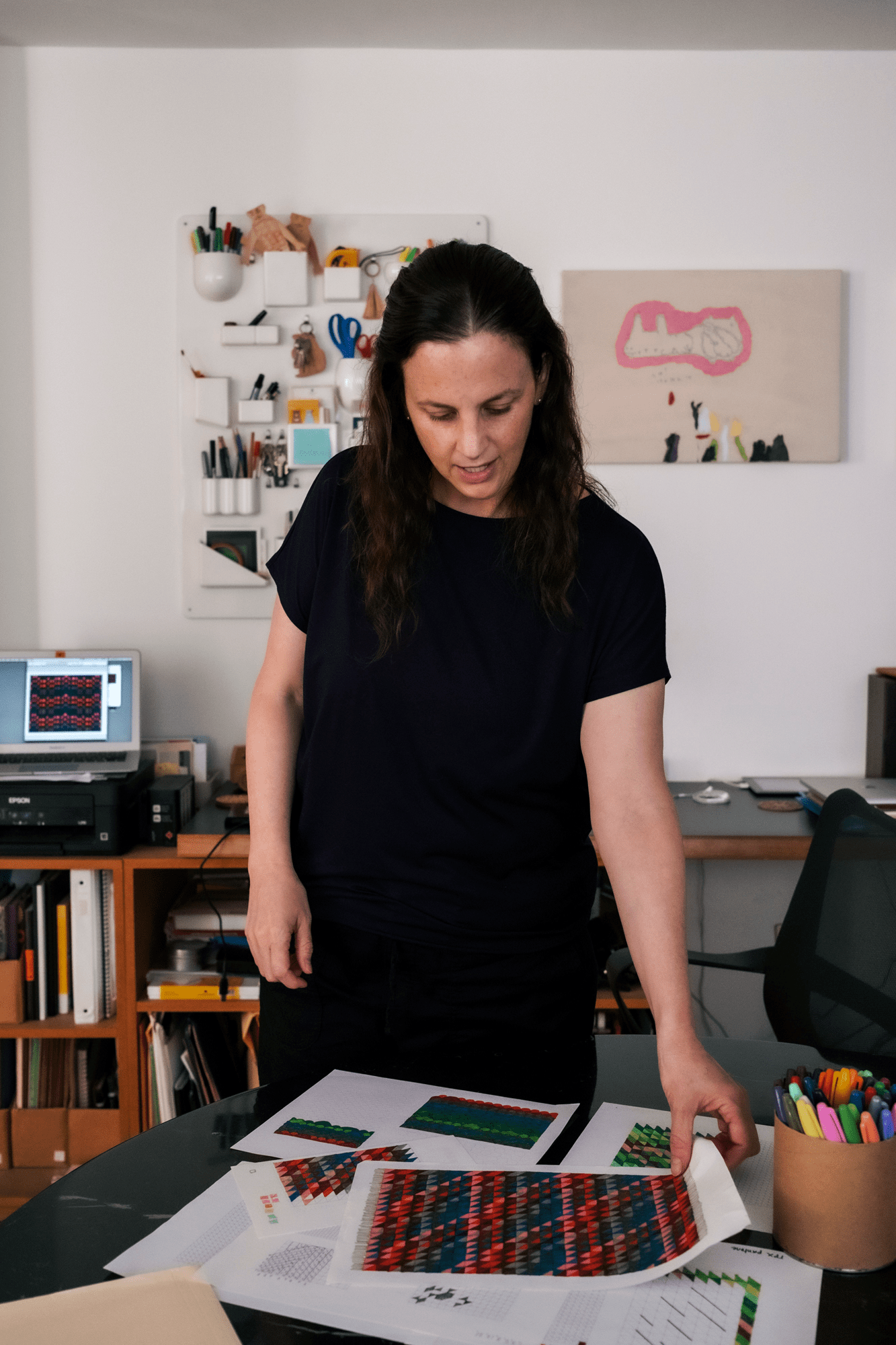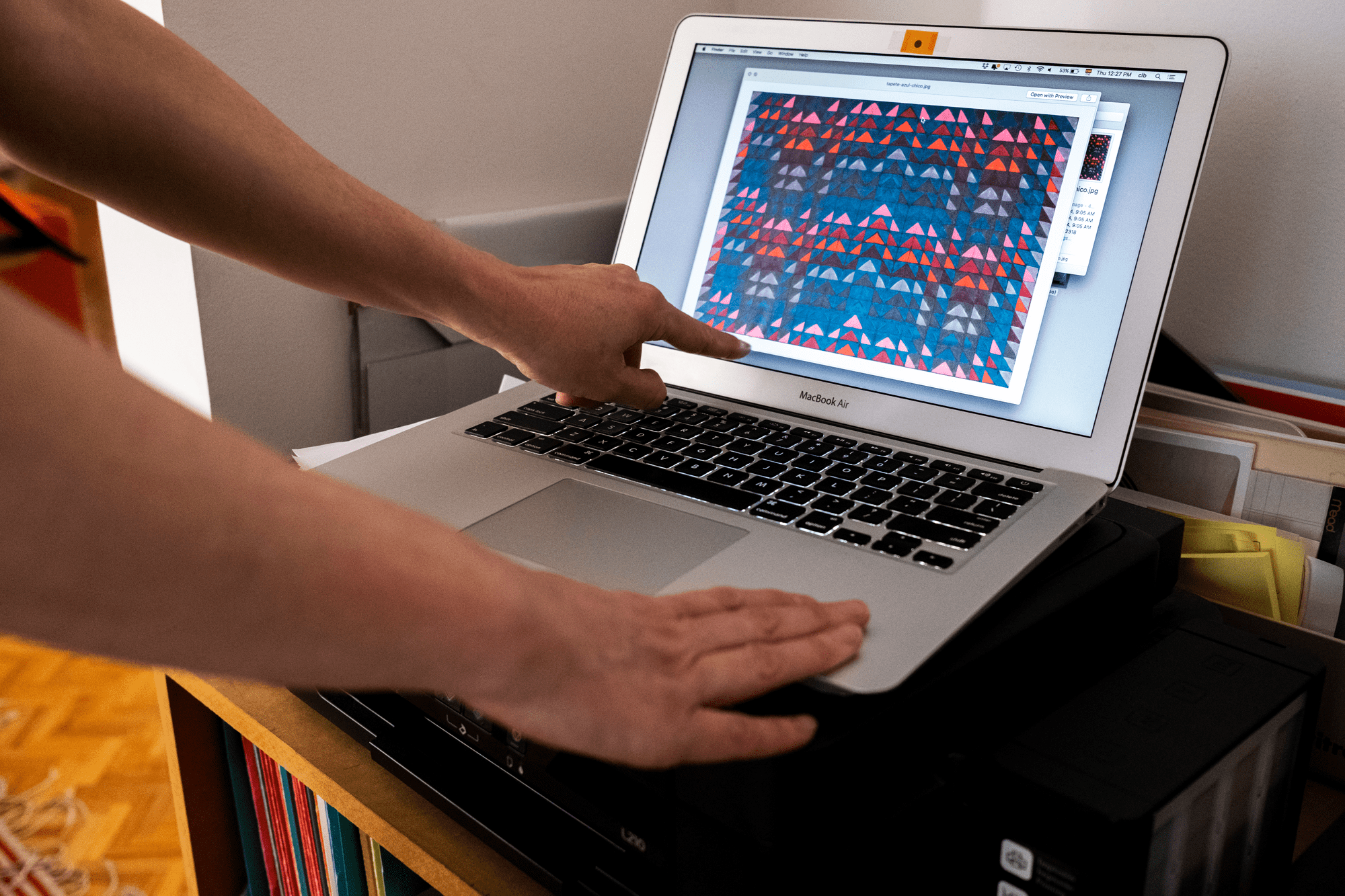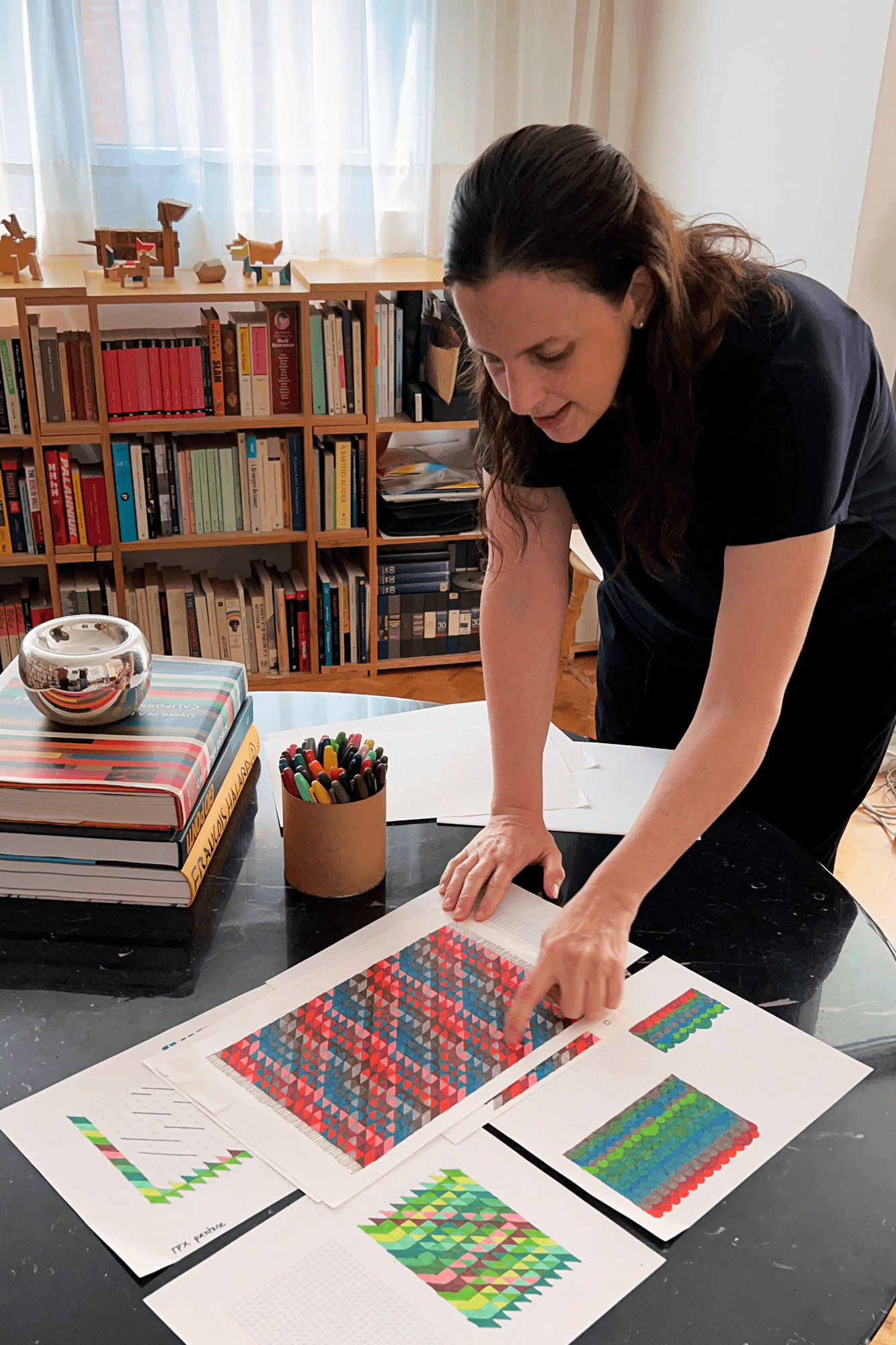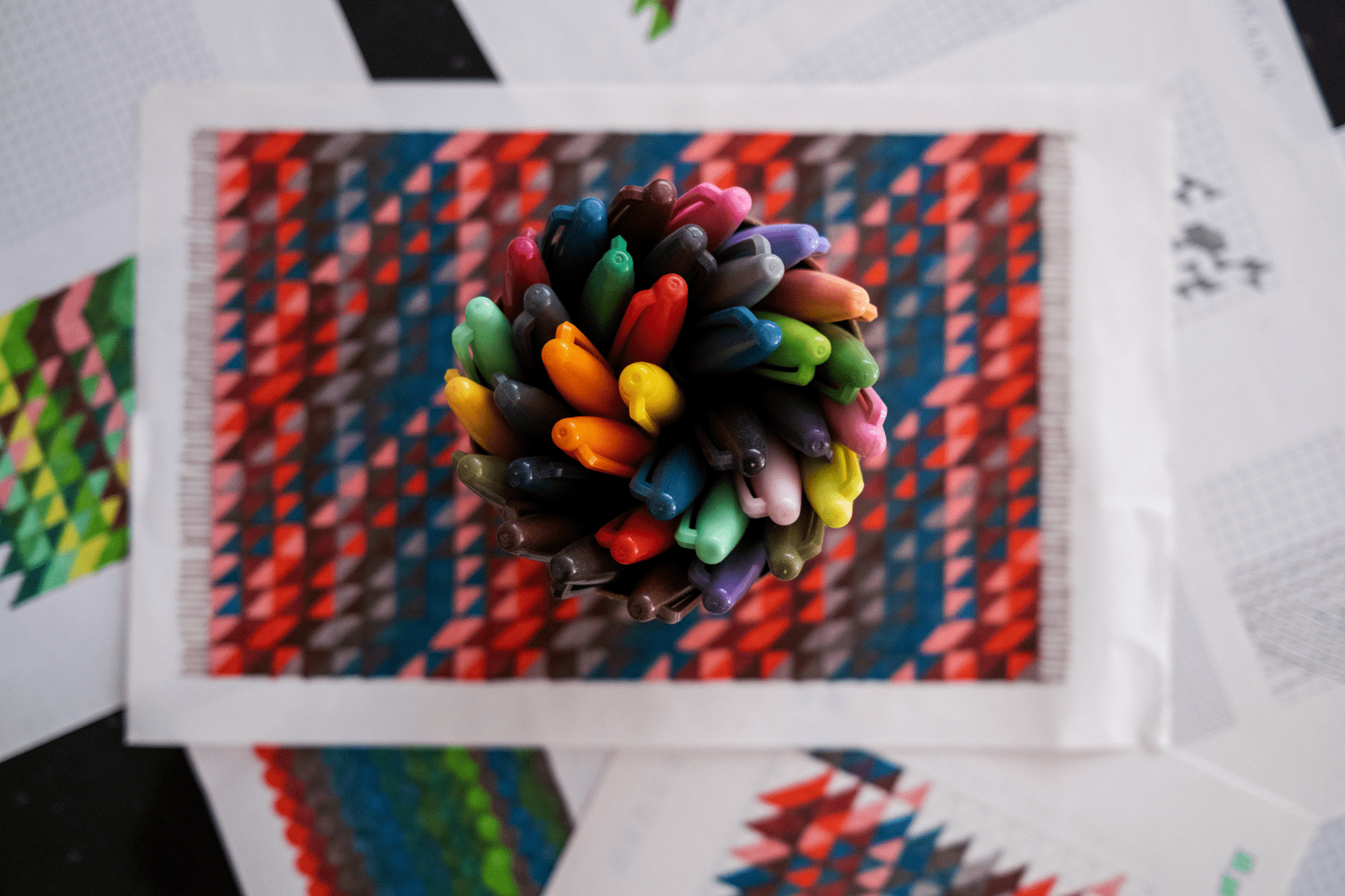 In the end, you chose industrial design…?
I started the process of studying graphics, then on the day of enrollment I saw the pamphlet for the industrial design course and it grabbed my attention. In addition to color and form, it involved physics, mathematics, and it seemed like a greater challenge, so I signed up.
Even today, it's difficult to describe what industrial design is because it encompasses so many things, and that's what I like about it. It gives you a lot of things to figure out, and because of that it's very rewarding.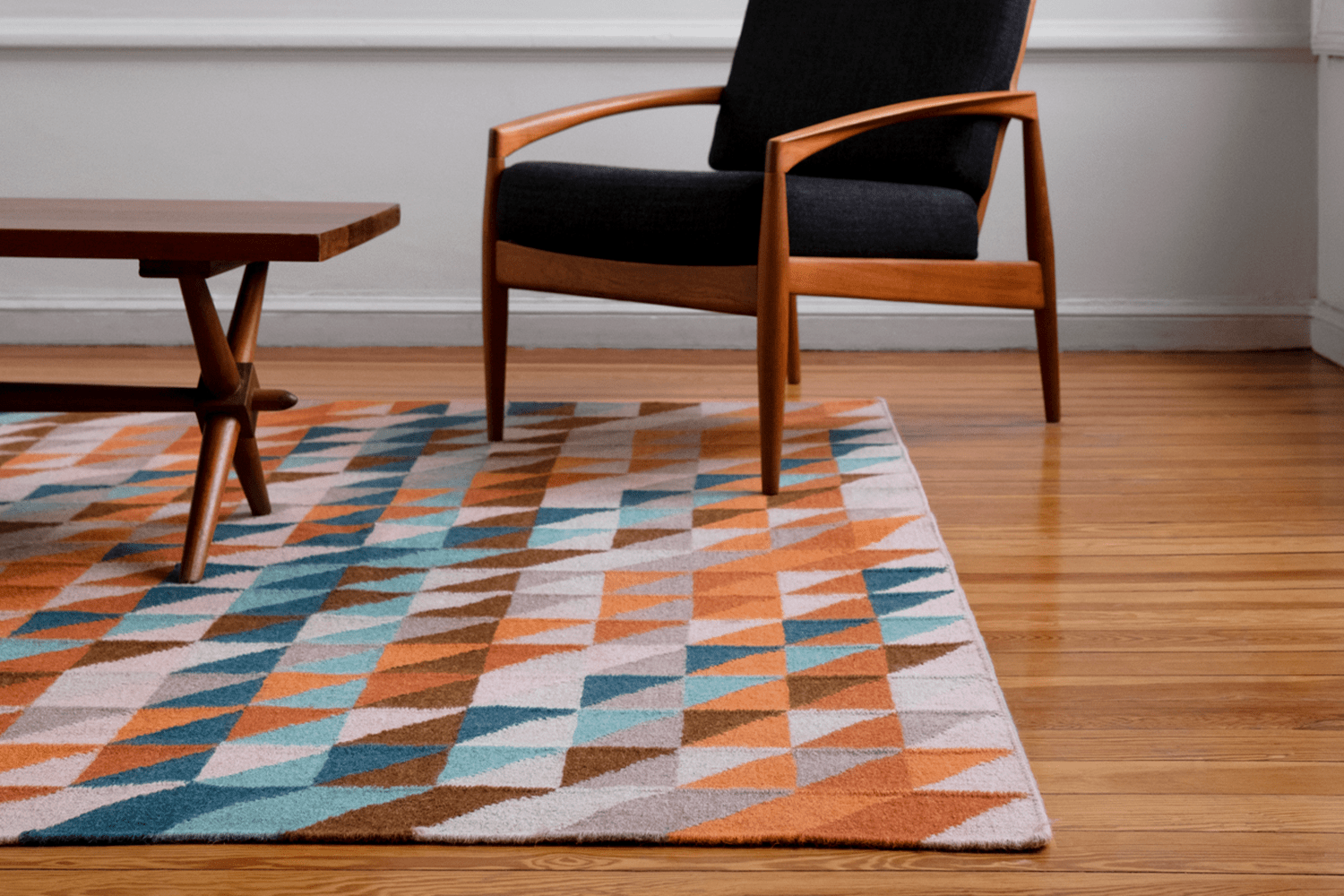 As someone who now teaches industrial design, how challenging is it to teach students what  "good design" is?
It's tricky because it's subjective. Over time you develop a trained eye and the knowledge of the processes, etcetera. You understand how developed something is and how far a concept could go, that's part of it for sure.
But, you have to know the designer / the student and what they are trying to achieve. What is their approach? For me, the object is about the person who makes it, and what it expresses, it has to have like this kind of glow, something that makes it special, that makes you want to look at it or engage with it.
For me, when you see something that moves you on a certain level, emotionally or provocatively, it has to create that connection – that feeling.
What advice do you give to your students, any rules or a motto that they should keep in mind in the long run?
I don't like to give them a motto, because I don't like to repeat myself, things and circumstances always change… I want them to feel free to express themselves. I try to pay attention to what they are naturally good at and empower them. The most important thing I can do is help them build a good attitude, to explore, to make their own mistakes and discoveries. It's really about me and them learning together, it's a lot of fun. I thought I would teach for maybe one or two years, and now it's been eighteen years.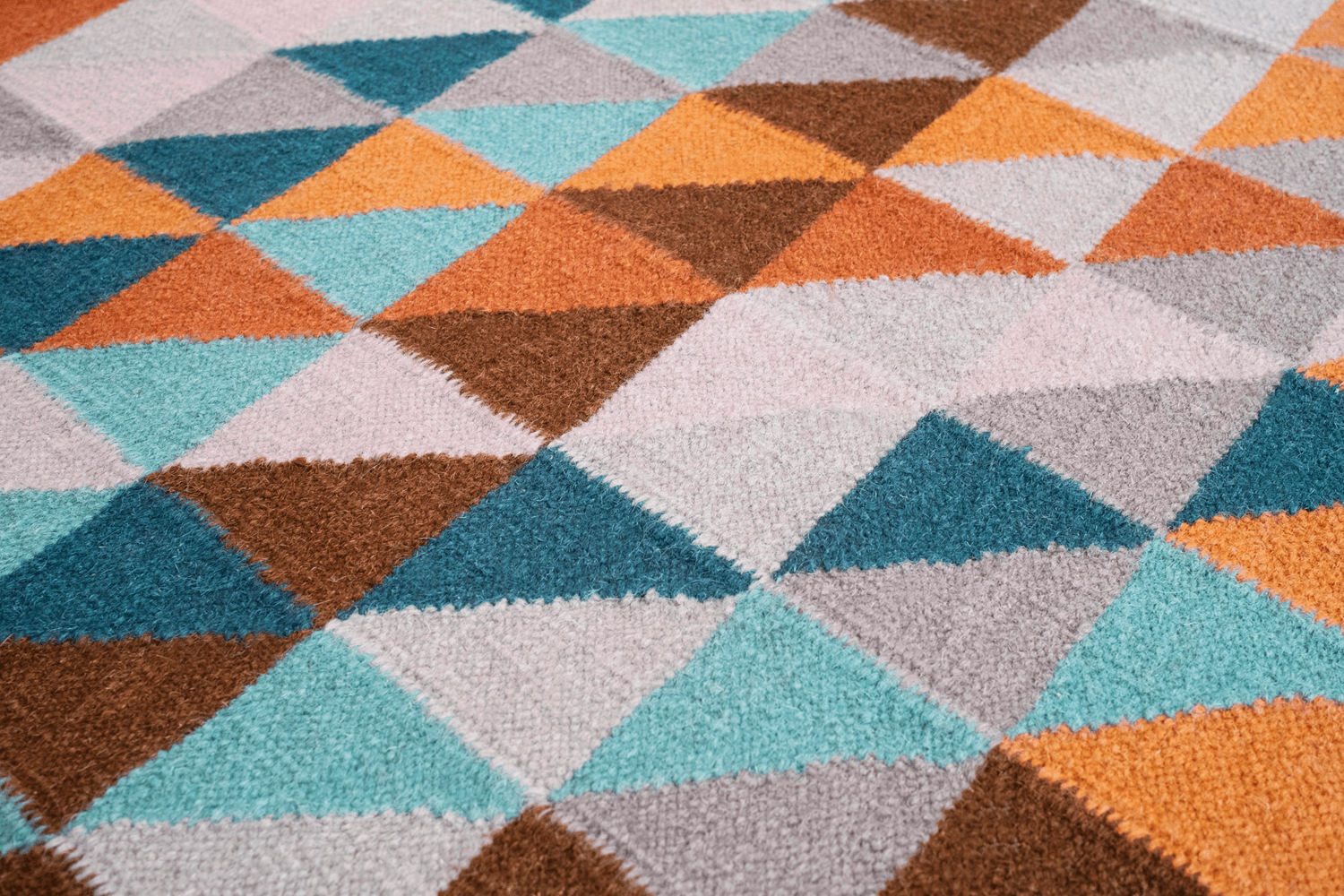 Mexican design has become more visible internationally in recent years… how do you think the scene has evolved over the last decade, and where do you see it heading?
I have been working in design for about twenty years now. Things have changed a lot in some ways but not in others: There are now a lot more designers in Mexico and a lot of great work. There is a bigger scene, a bigger pool of talent, and so it's more noticed internationally, which is amazing.
Our way of working is still very much the same, designers in Mexico are self producing for the most part – or collaborating with artisans or small workshops on their productions, so it remains the same in terms of approach – we see the same or similar themes in work because of this. In other countries, designers are closer to industrial processes and work with bigger companies for royalties, etc. In Mexico, you have to be good at several aspects of business as well as good at design in order to survive.
The value of design and its power is still not fully appreciated in Mexico but it's getting better. People are slowly understanding the value of investing in good design in terms of sustainability, environmental issues, brand awareness, and so on.
What would you consider the main characteristics of Mexican design?
That's tricky! Again, I would say this connection to artisanal techniques and local materials, which I think is a really good thing in many ways. You don't see the use of very industrialized processes here. You can see folklore, colors and craft in Mexican design, which I really love.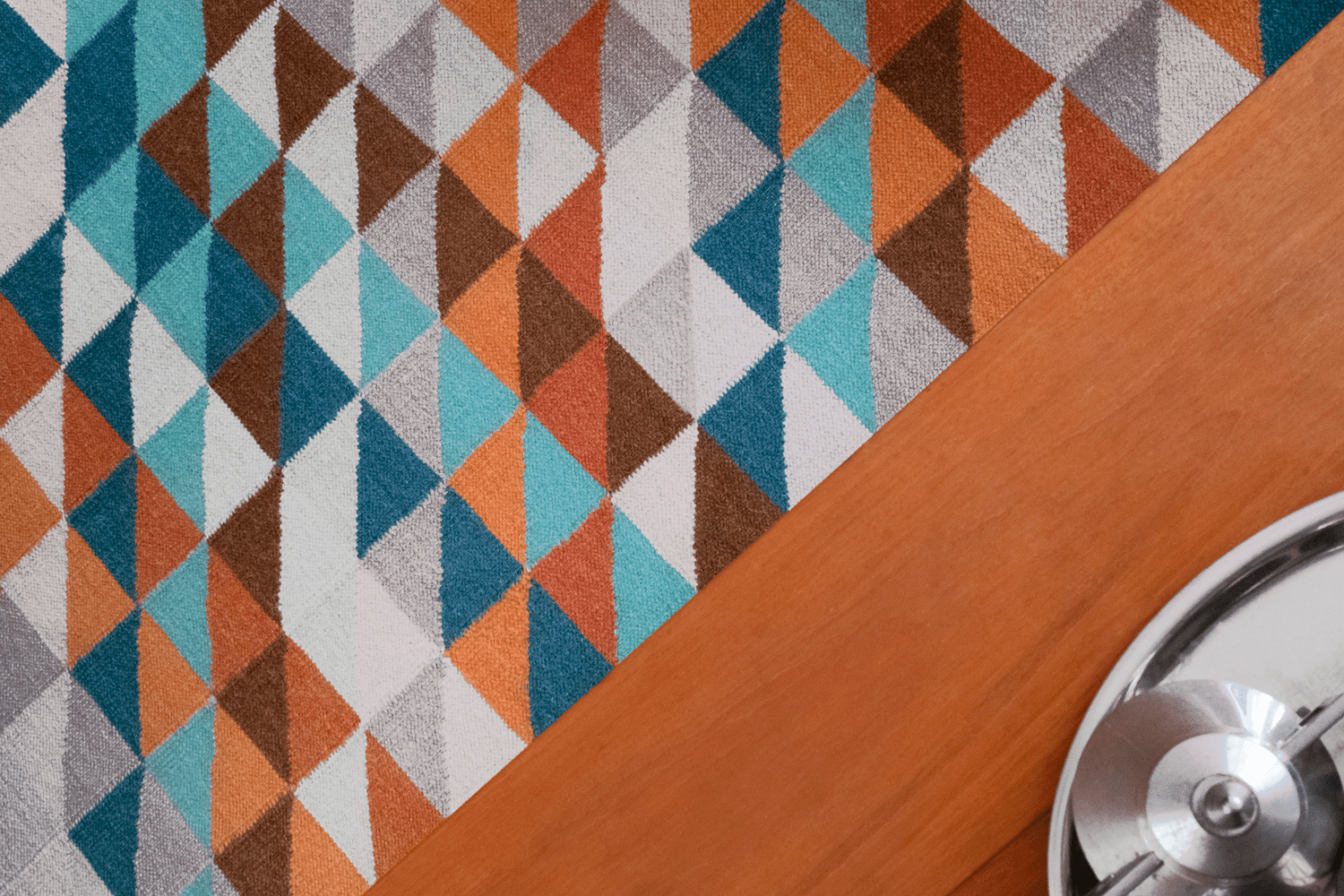 How did you come to work with Odabashian?
I met Jaime Odabachian through mutual friends many years ago, we were still in high school! We took different paths, but then eventually we reconnected again through work – Jaime was organizing an exhibition of rugs designed by Mexican designers at the Franz Mayer Museum and I was working in my first studio (MOB) at that time. When I saw the exhibit, I was like "finally a brand that is getting behind Mexican design talent." They were one of the first to really promote design in Mexico and give designers a platform. So, when I began curating the design section of Zona MACO Diseño, I immediately thought about inviting Odabashian to participate. They have been part of the fair for almost a decade now.
It was such an honor and a challenge when Jaime invited me to design a rug for Odabashian. I started to think about where the rug would live: in a home. The way you feel about a space often starts with the floor, but people don't always notice that. I knew I wanted to design something new for me and something colorful. Jaime told me I could use a maximum of eight colors and so that restraint was really the starting point.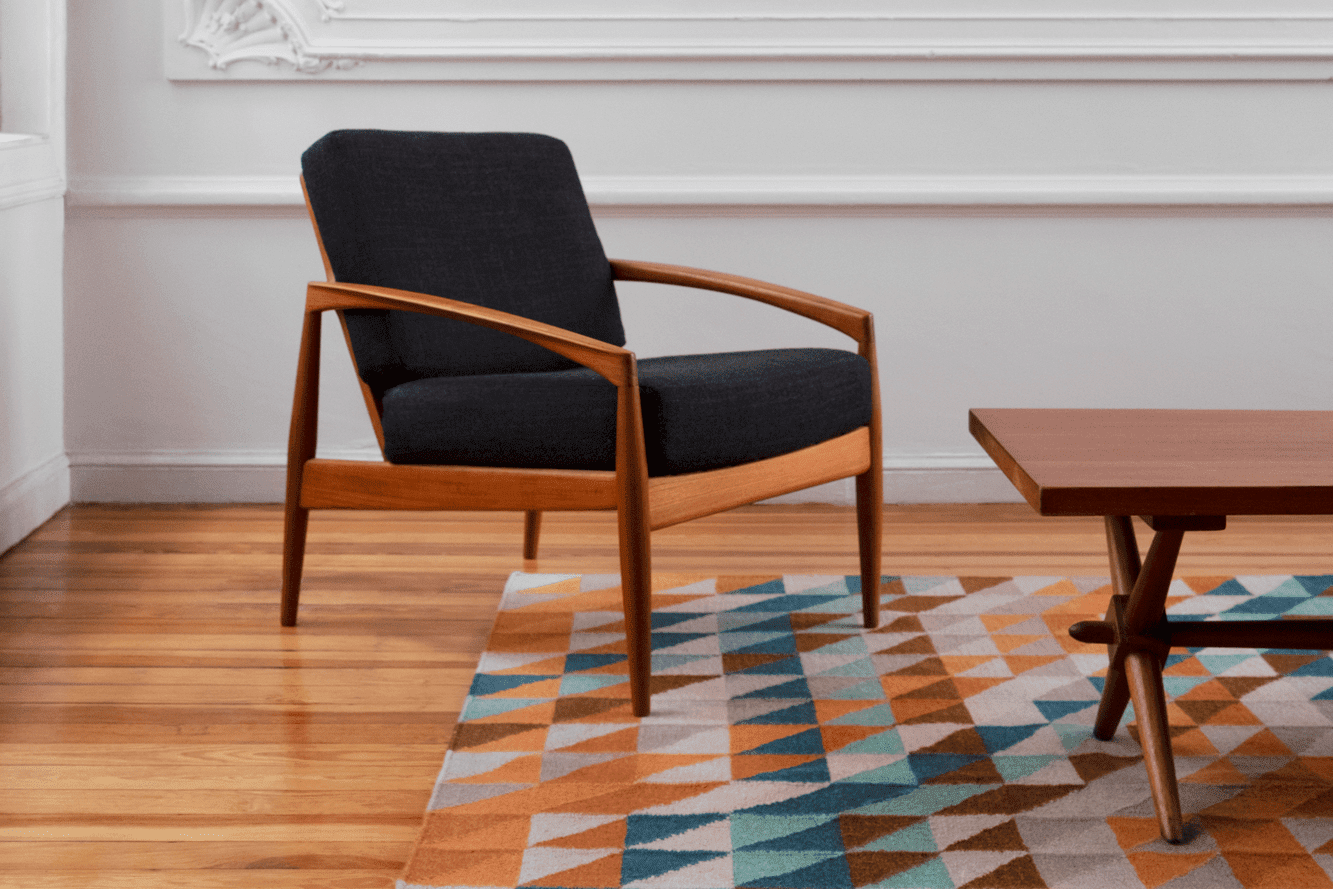 Is IT common for you to work using pure geometry?
Yes, at the beginning I like it because it gives me a layout, gives me an idea of what's going to happen, and then it can become a disaster, but it gives me kind of a structure, to see the limits and then what can really work inside of it.
I also knew that this would not be a Persian rug… In my mind, Persian rugs are so precious that they make me nervous! I wanted to create a flat woven rug, something that you would use at home and not be afraid to step on. I also like that the rugs are reversible but this also limits the complexity of patterns you can create.
How did you decide on the eight colors you would use?
I always imagined it as being a rug for a home, a living room. That made me think about using warm colors. I had a new batch of sharpies that I experimented with, developing different combinations that I liked. I started working and I found these browns, oranges, and blues, and I just started coloring the triangles and squares in a sequence – letting the sequence create the pattern… it was very intuitive and fun because the design creates itself almost. You know kind of what the result will be but it's also a surprise.
What did you learn about rug making from this collaboration?
Well, everything! Jaime was a real collaborator, not a client. He explained to me all the different things I needed to be aware of so that I would know how the rug would turn out. The materials, the techniques, and also guiding me towards the right colors. Now I have lots of ideas for the next time I design a rug!
What was your first impression of when you saw the finished rug?
Oh my God! In the beginning, I was kind of scared! I had always thought about how I wanted someone to use it, and this one was mine, should I use it or should I just save it. I like it so much, of course I put it in my living room. Every time I see it, it makes me happy.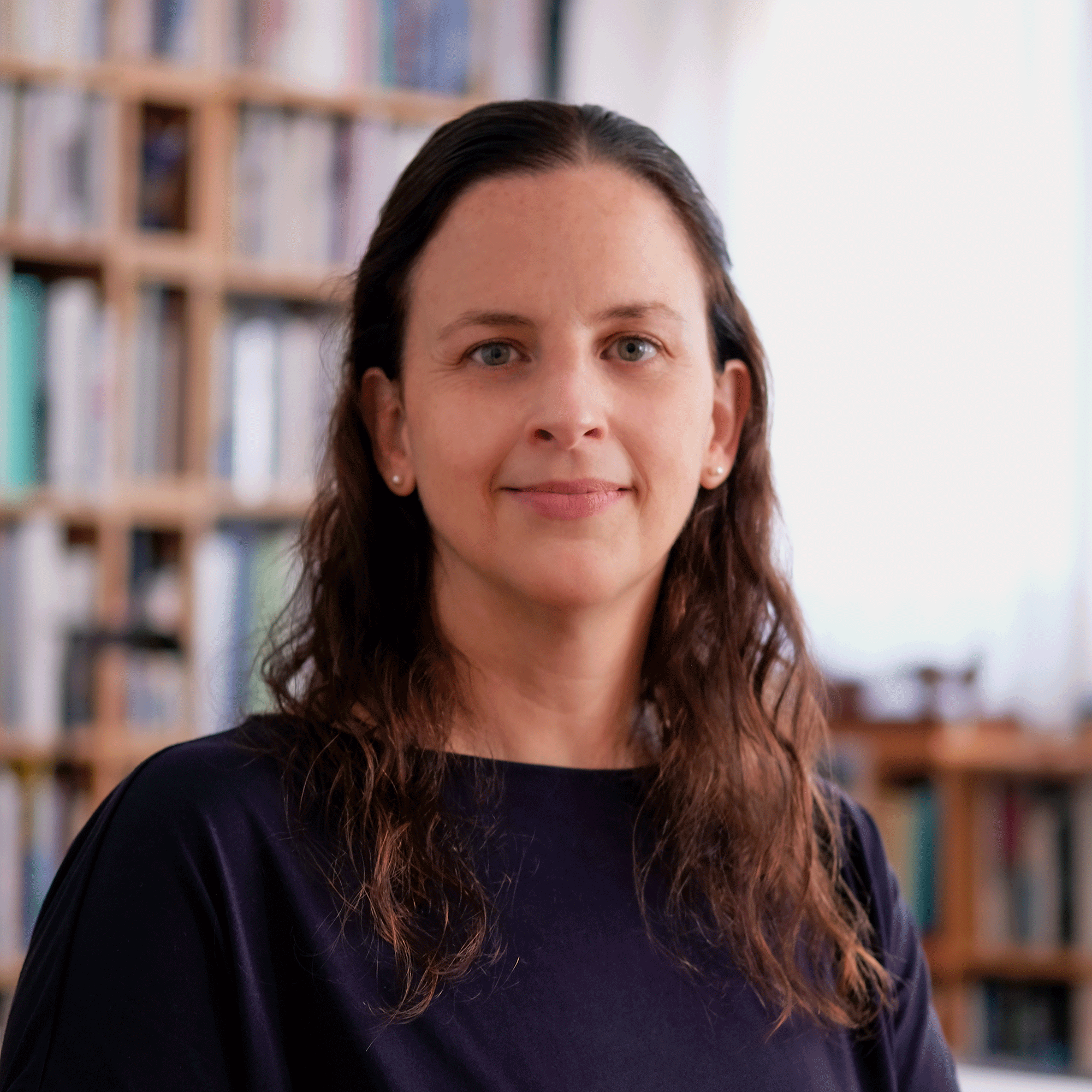 Cecilia Léon de la Barra
Cecilia Léon de la Barra is considered one of the leading industrial designers in Mexico, working across the fields of furniture, interiors, and product design.
Since 2014 she has curated the design section for the contemporary art fair ZsonaMACO along with other independent design exhibitions.
She has taught at the Universidad Iberoamericana and at CENTRO in the Industrial Design Degree since 2005.