Contemporary perspectives from the Silk Road
by Casa Gutiérrez Nájera and Odabashian
ZONA MACO
February 6 – 10, 2019
Weaving Design Stories explores how Spain's arrival in the Americas connected the world's trade routes and influenced its cultures. Via collaborations with Johanna Boccardo (Venezuela), Bernardo Gómez-Pimienta (Mexico), Todomuta (Spain), Carlos Torre Hütt (Mexico), Jacobo Zanella (Mexico) and 31/20 (Spain) each rug designs explores the historical threads of the Silk Road, tracing its cultural and social impact in various ways.
The exhibited pieces were produced by Odabashian, one of the longest established rug manufacturers in Latin America (Est. 1921). The rugs demonstrate ancient techniques such as the Tibetan hand knot and use premium New Zealand wool. They were hand made on the Ganges Plains near the holy city of Varanasi in India before arriving in Mexico.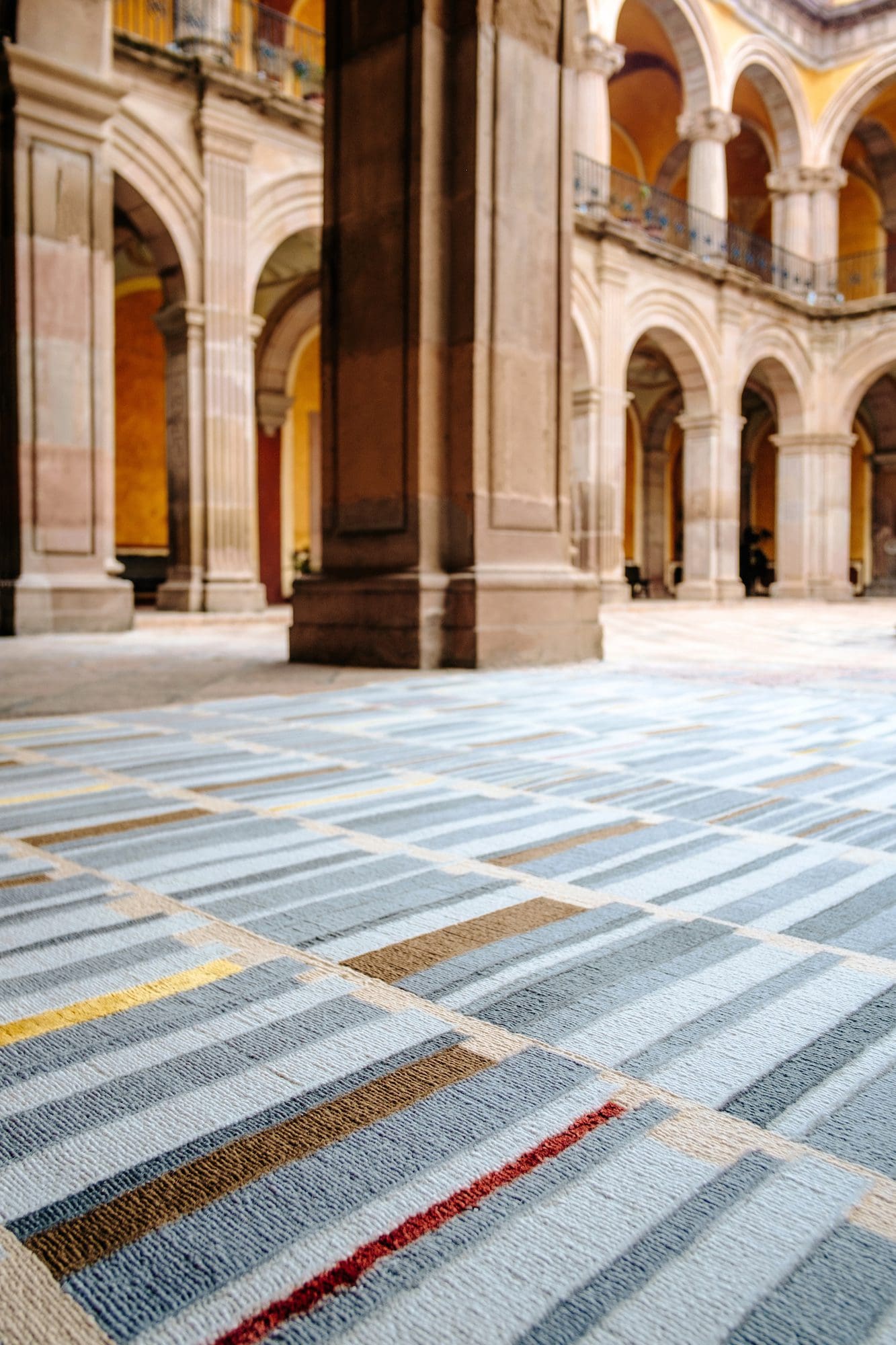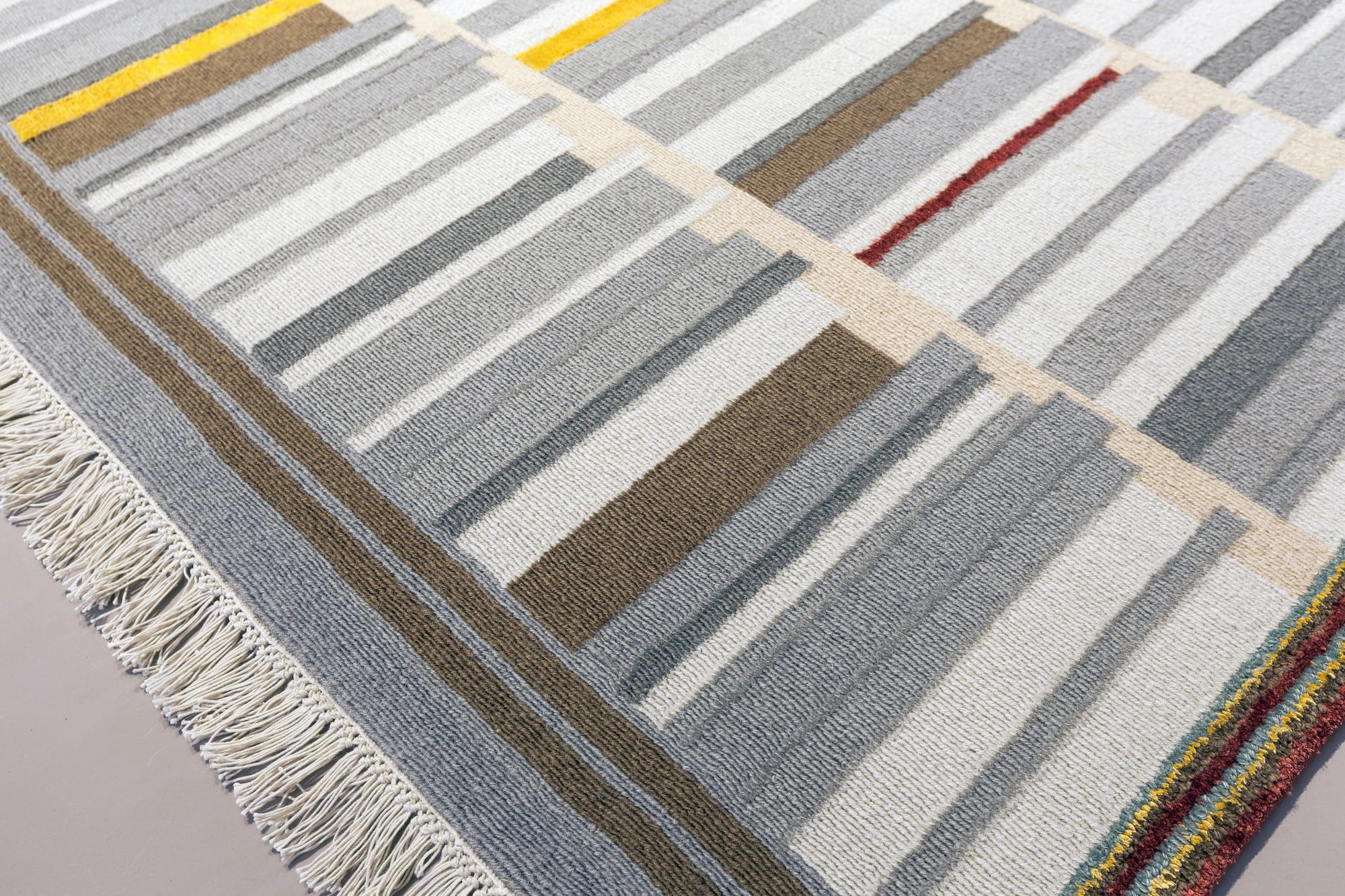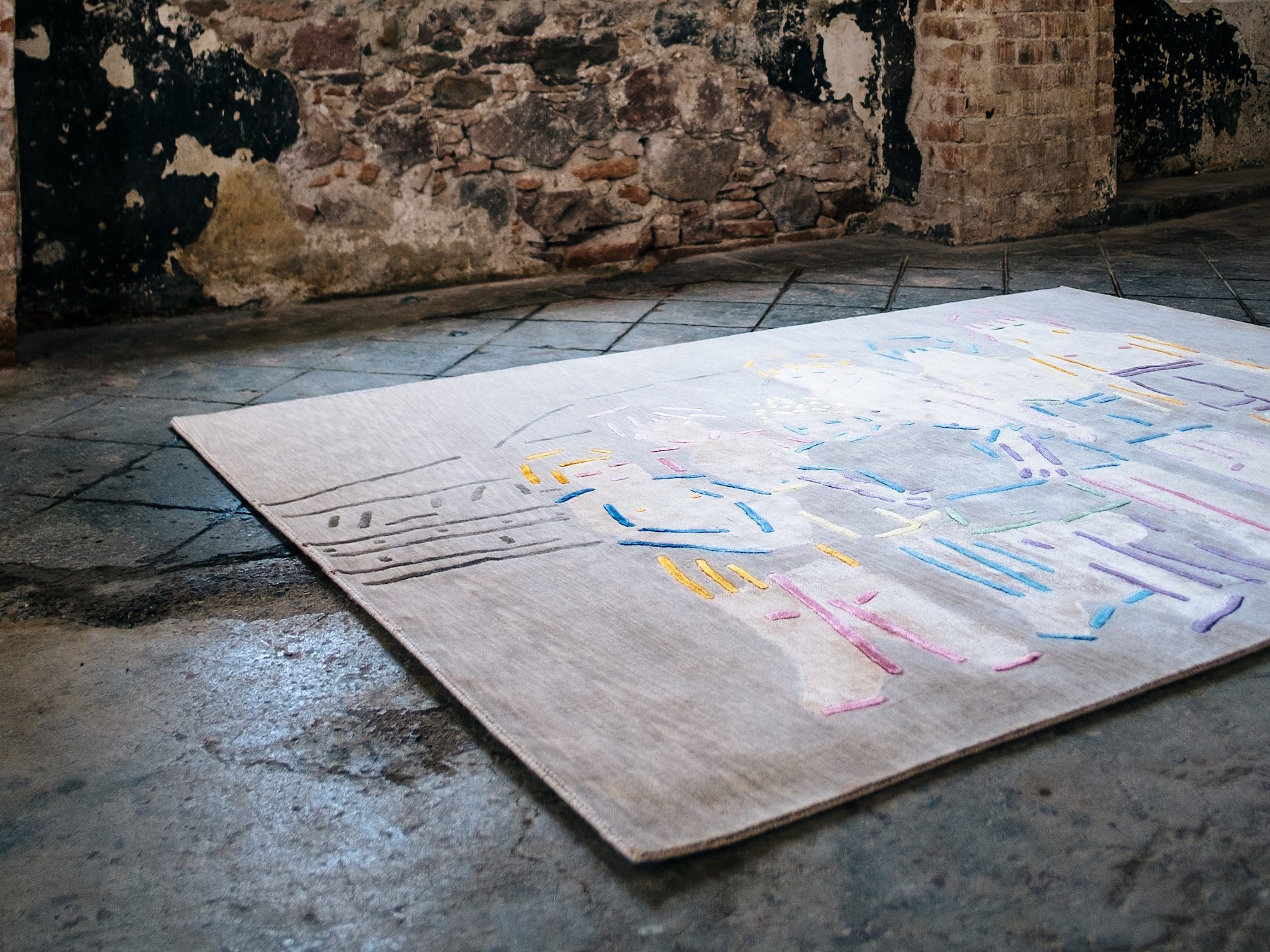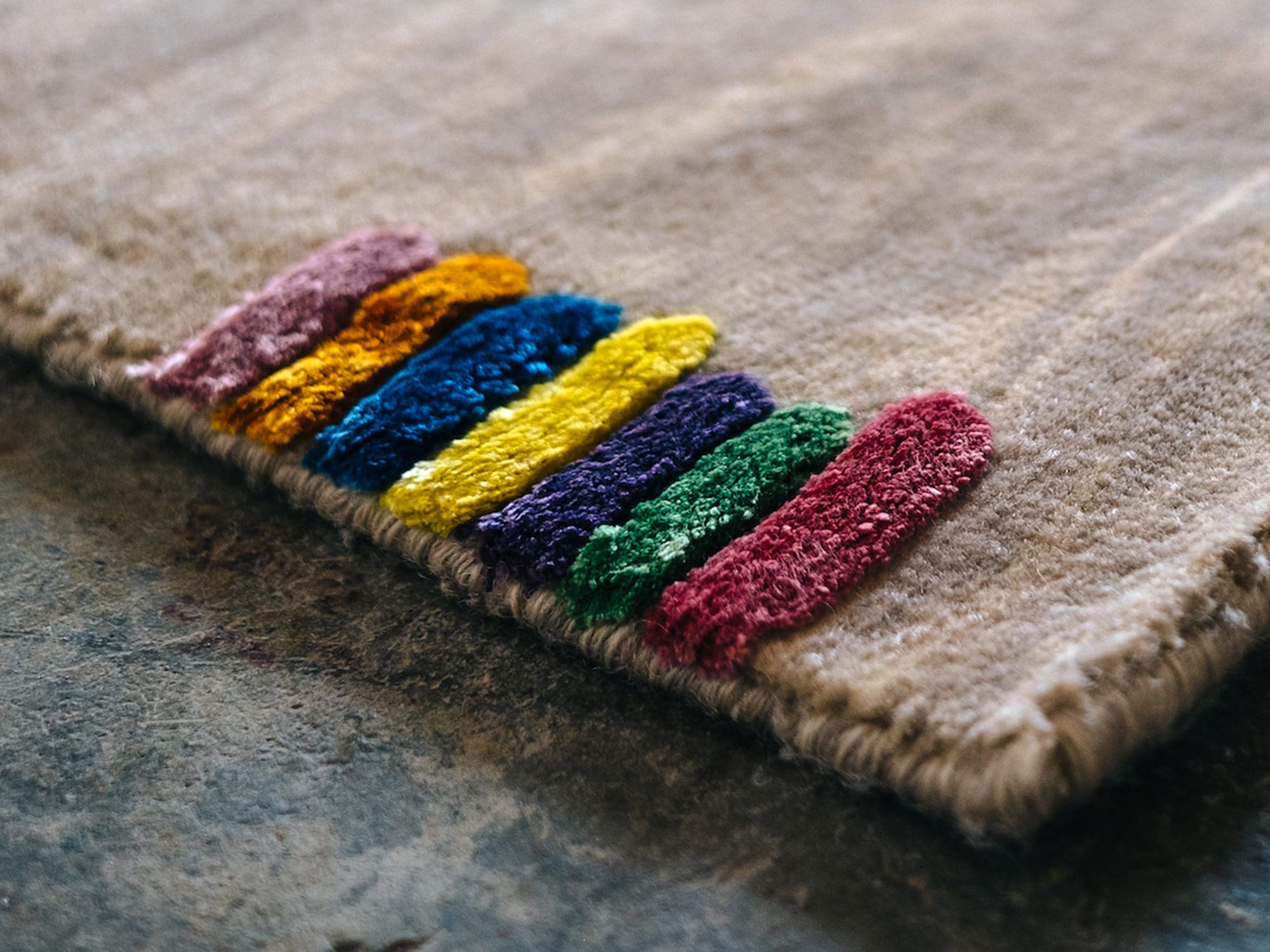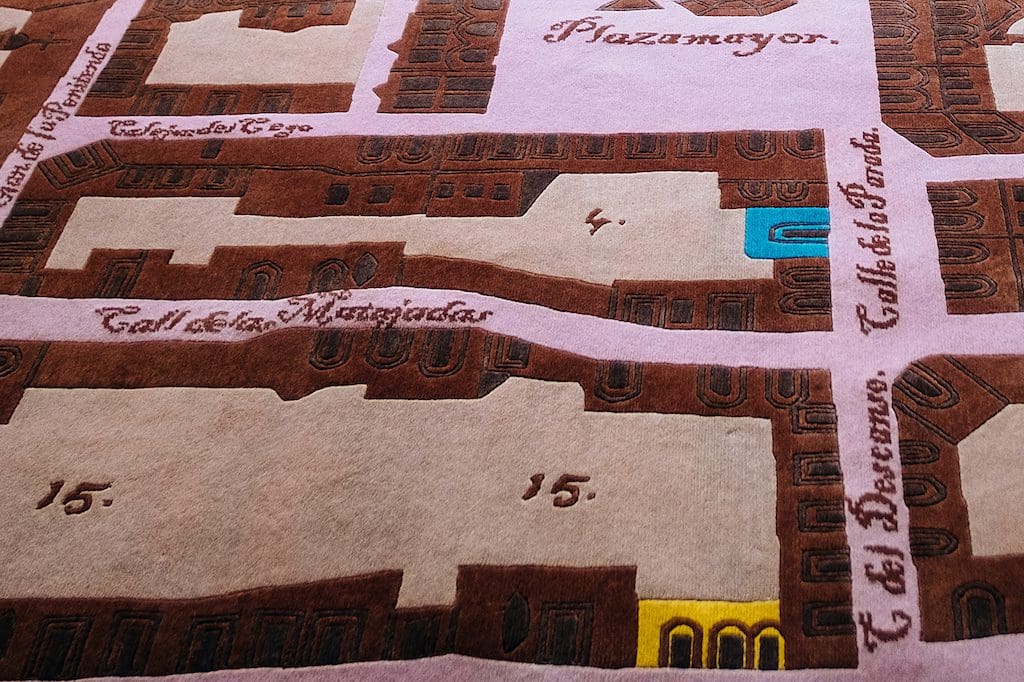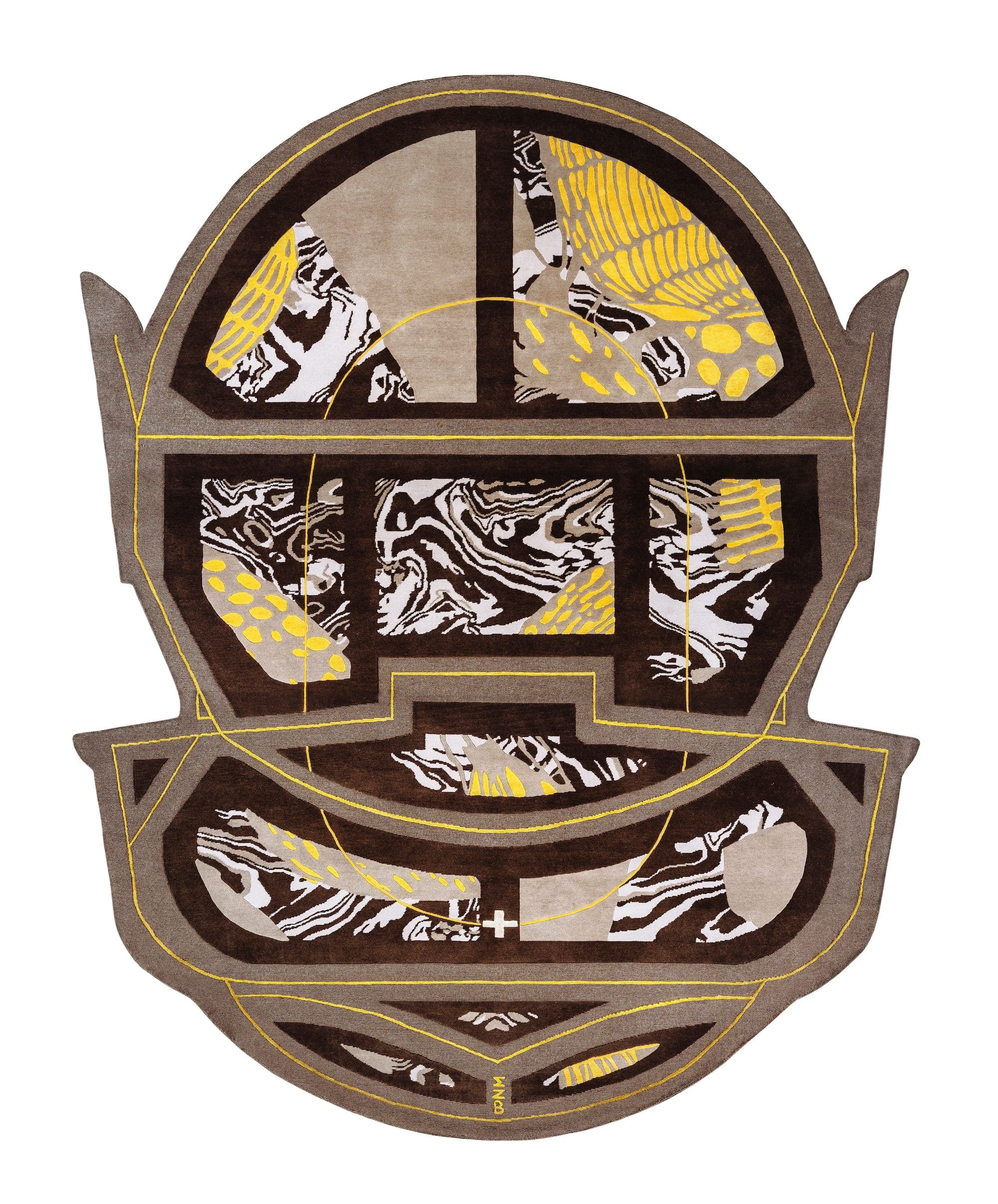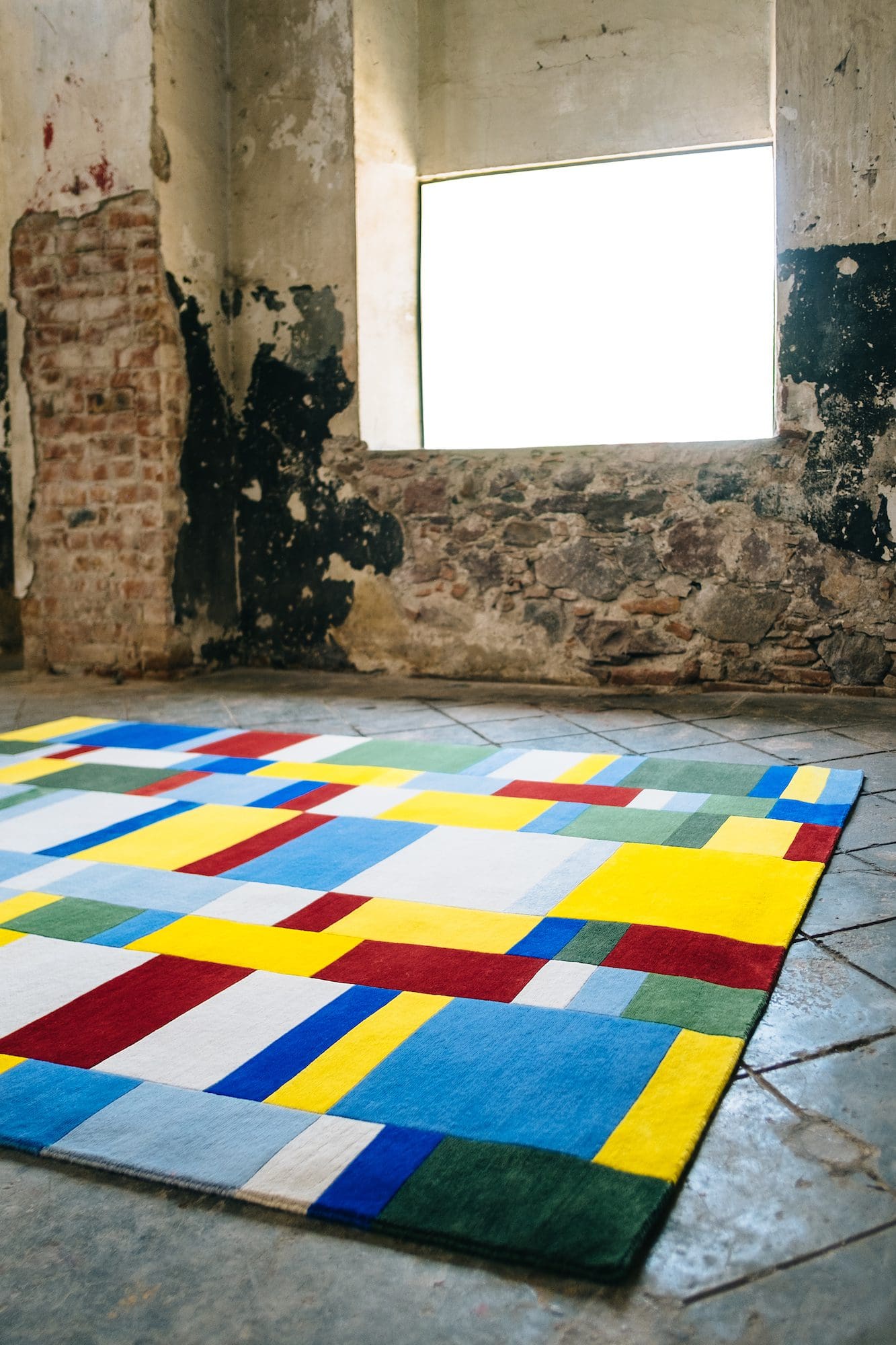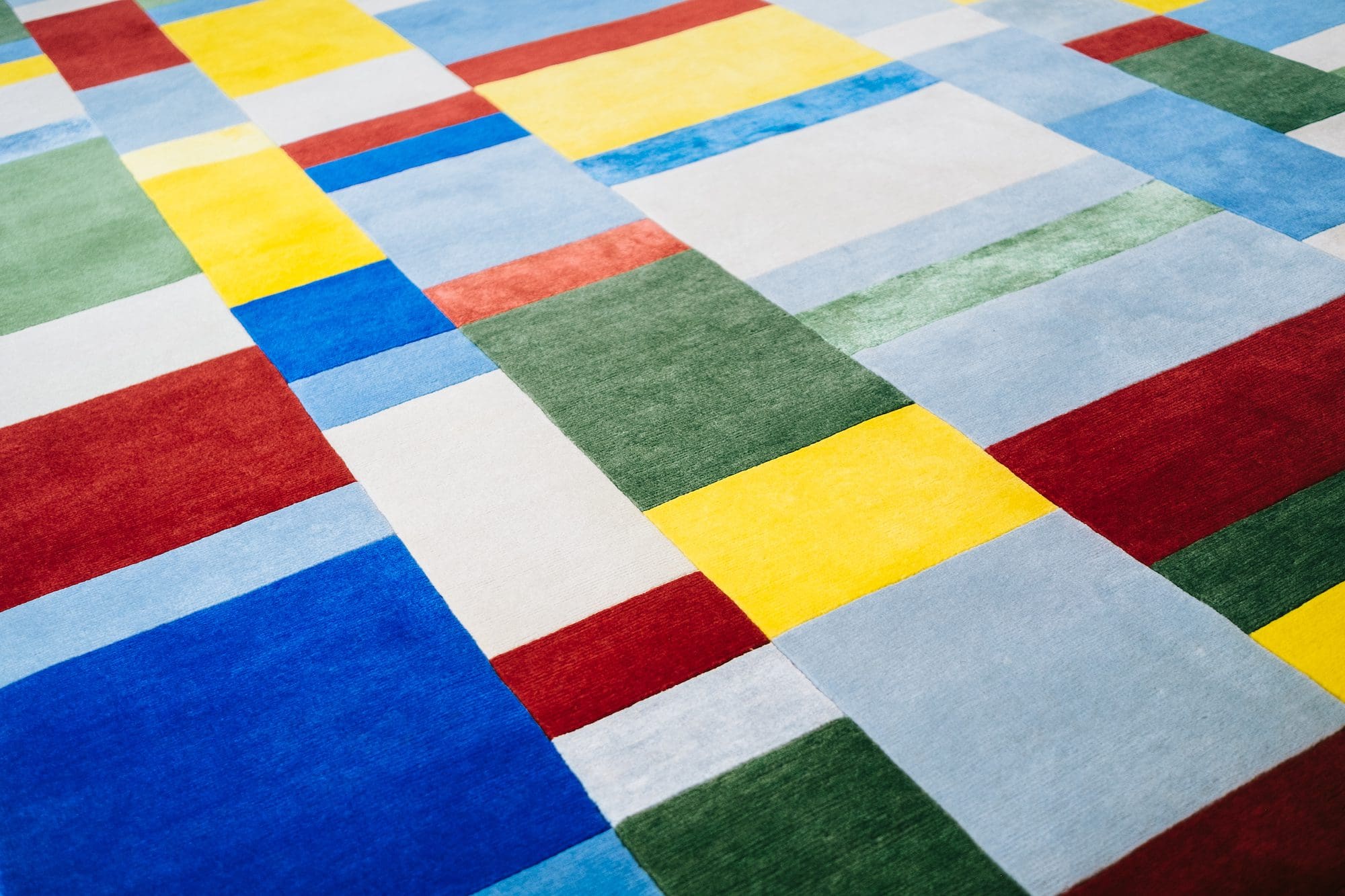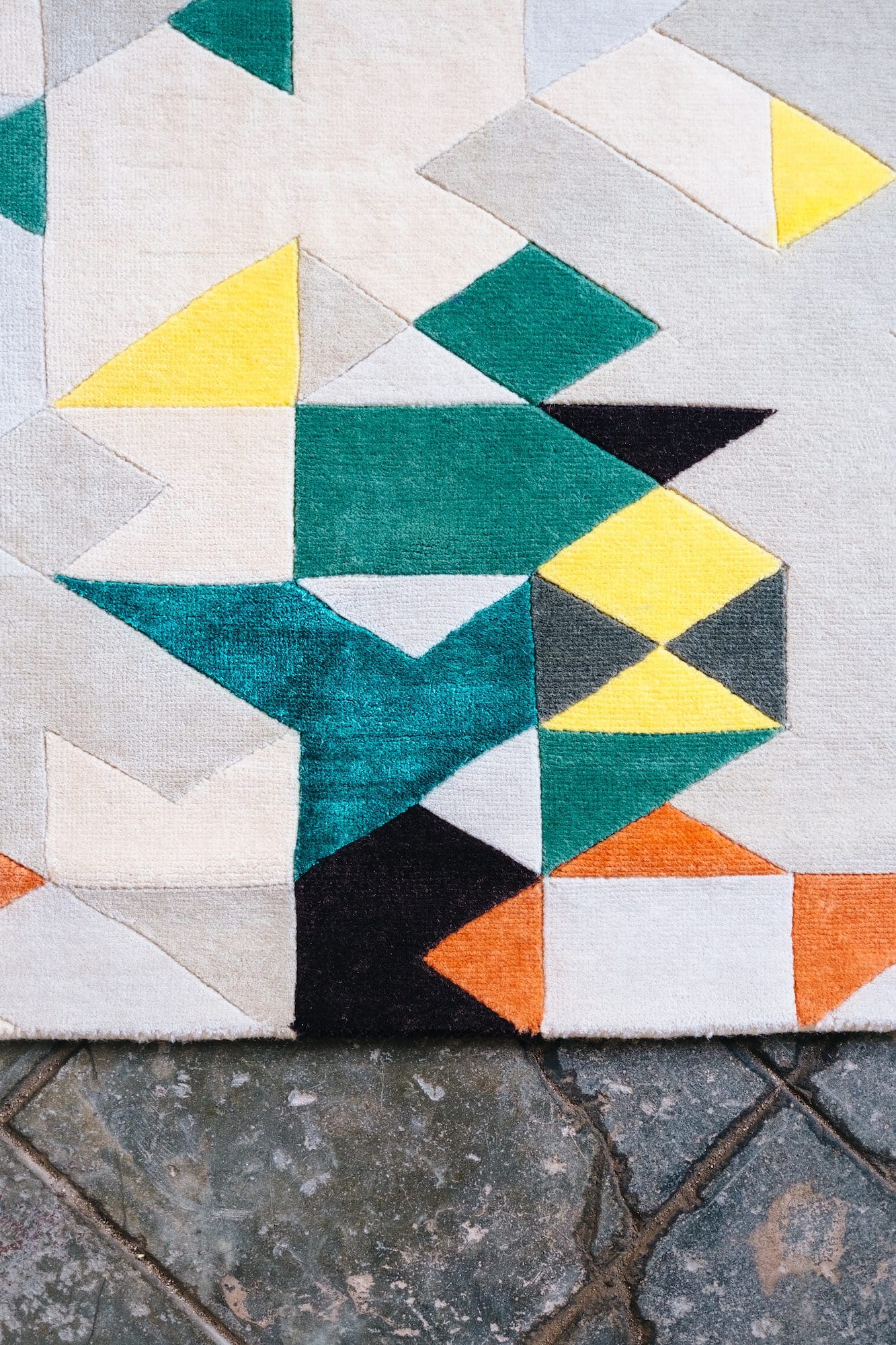 Clan by Johanna Boccardo
Tibetan hand knotted New Zealand wool with silk
180 x 240cm
Through a process of graphic synthesis that simplifies, unifies and makes independent the subjects of a family photo, and after reviewing the cultural and genetic diversity of the Venezuelan population, "Clan" reflects, from a very intimate and subjective perspective, the influence of the migratory process in Venezuela and the self-perception of a whole town regarding its origins.
Johanna Boccardo is a Venezuelan artist based in Miami. She is known for her chromatic mastery and her temporary installations around the world. Her work explores contemporary issues such as the fading value of privacy and intimate spaces in a post-connected era.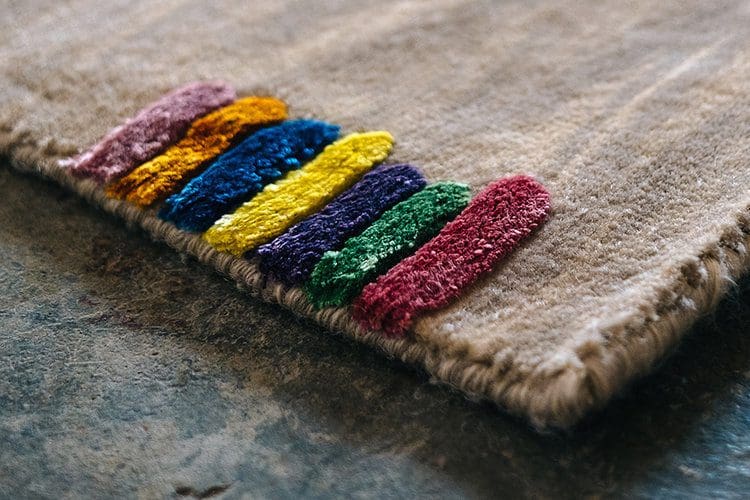 Hueyzacatlan by Bernardo Gómez-Pimienta
Tibetan hand knotted New Zealand wool with silk
240 x 310 cm
Hueyzacatlan is inspired by San Cristóbal de las Casas, the second oldest settlement in "New Spain". Hueyzacatlan was one of the original names of the city, and means "Beside the tall grass". In the city's colonial architecture with it's balconies, mouldings, high contrast light and washed out colors became the inspiration for this piece.
Bernardo Gómez-Pimienta is a Mexican architect and industrial designer, whose contemporary vocabulary brings together the aspirations of the modern world, with the cultural complexity of the Mexican tradition.
Pórtico by Todomuta
Tibetan hand knotted New Zealand wool with silk
240 x 300cm
"Pórtico" explores the connections and contrasts between two different worlds. A door that leads to the fifteenth century, where the darkness of the port of Seville contrasts with the luminosity from the "New World". An imaginary cartography created from the selection, reinterpretation and fusion of diverse representative elements of that historical moment. The structures of the caravels and the textures of the marble are highlighted.
Todomuta is a design studio based in Seville, Spain that was born from the shared desire of Laura Molina and Sergio Herrera to investigate and explore the frontiers between art, design and avant-garde craftsmanship.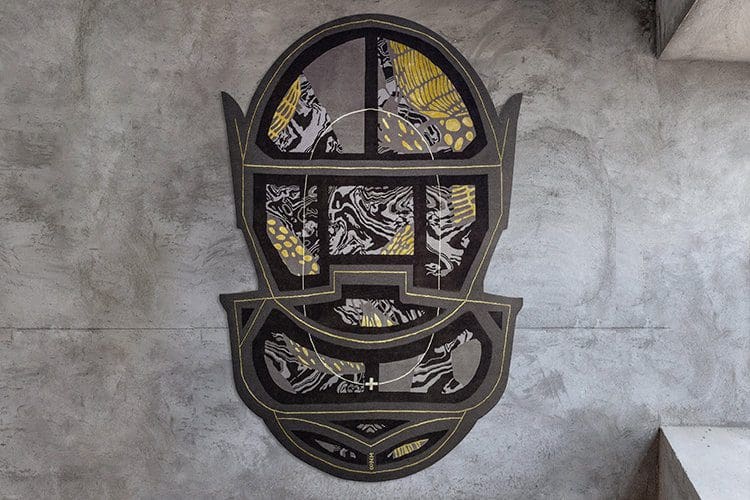 Querétaro Histórico by Carlos Torre Hütt
Tibetan hand knotted New Zealand wool
300 x 200cm
"Querétaro Histórico" was inspired by a map from 1759, created by José María Pantoja y Peña. This map, which is now housed at the Regional Museum in the former Convent of San Francisco, represents the 152 blocks that once formed Querétaro. This design takes the first two blocks of the city, which to date are preserved as at that time and uses colors marked by history.
Carlos Torre Hütt  is a Mexican architect, designer and museographer. He is the creative director of several cultural projects among them Casa Gutiérrez Nájera in Querétaro's historic center, which he founded in 2011.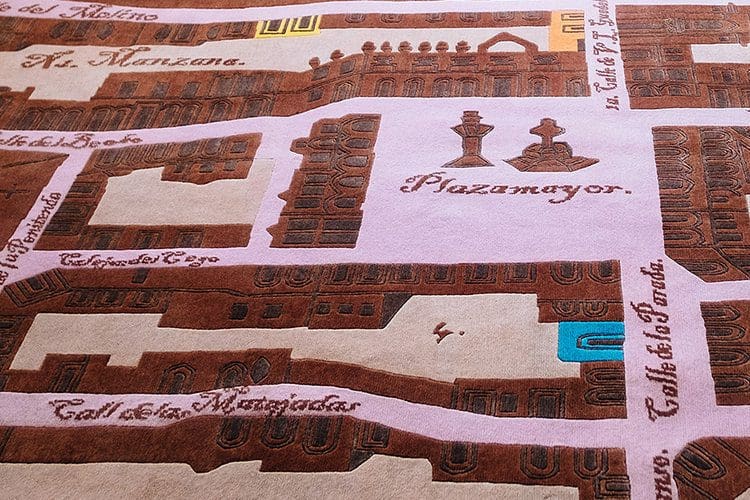 Los Colores del Español by Jacobo Zanella
Tibetan hand knotted New Zealand wool
180 x 240 cm
"Los colores del Español" is an abstraction of the colors in the flags of the countries where Spanish is spoken today. Today the Spanish language remains the most integral connection between Spain and Latin America; it is the one constant across a wealth of countries that have diverse cultures, religions and races.
Jacobo Zanella is a creative director, photographer, editor of books and cultural magazines in Querétaro and Mexico City. He has developed several projects and exhibitions in Mexico.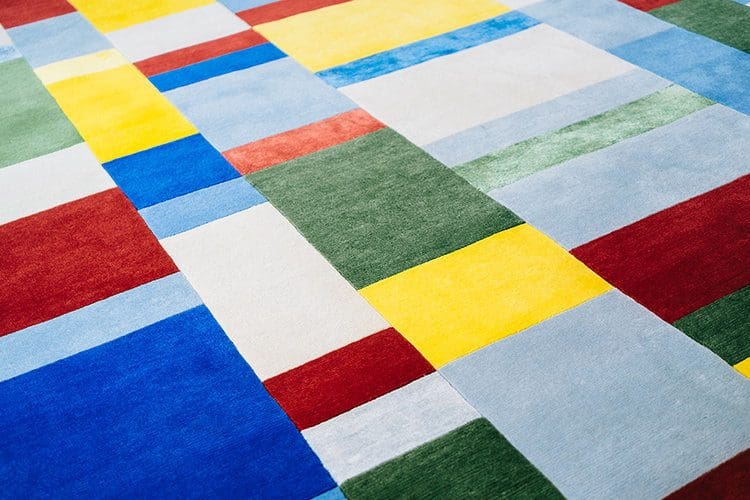 Tilos Glitch by 31/20
Tibetan hand knotted New Zealand wool
240 x 180cm
"Tilos Glitch" was inspired by an old rug that has an origami pattern resembling a bird. We updated the design making the bird suffer what is known as "generation loss", loss of quality between copies that generates faults replaced by the computer. Once passed through this filter we renewed the color palette.
31/20 (Pablo Lujambio + Cristina Pou) is a Bilbao-based studio, whose trajectory has seen them undertake architecture and design at different scales, from industrial projects to product design.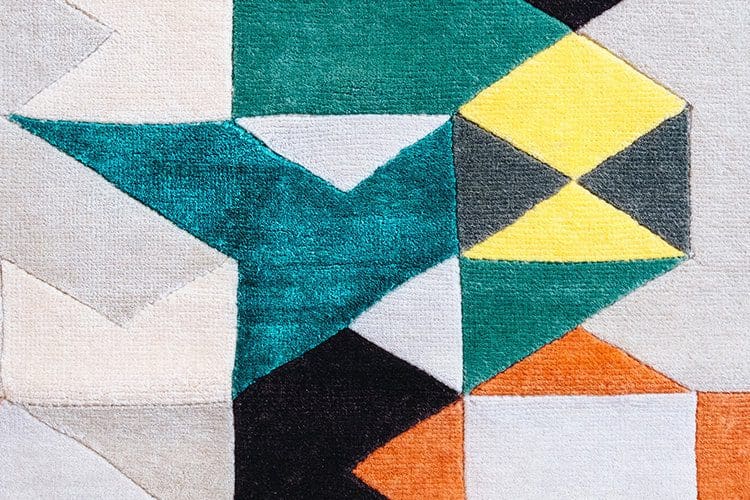 More
Weaving Design Stories – Tales from The Silk Road the exhibition was developed by Odabashian in partnership with Casa Gutiérrez Nájera. You can find out more information on the original exhibition at the Museo Regional de Querétaro here.